Mingled Chrissy Metz's road to success. Says, did not have money to buy the proper food so she used to buy ramen of $1
Chrissy Metz is an actor and singer from the USA. She is one mainstream actress loved by all despite her weight and chubbiness. She started her career as a child actor itself and used to do the side roles, but she came to fame after she got the movie, This Is Us.
Had only 81 cents in the bank account before This Is Us
Chrissy revealed that the movie This Is Us has literally changed her life. That movie was her break or the return of her hard work. She also shared with us that she was broke and had only 81 cents in her bank account. She was doing odd jobs in which she was not happy. She was not employed and nothing right was happening so she thought of going back her home. That time her mother told her,
"You can either be miserable here and not pursue your dreams, or you can be miserable in L.A. and at least pursue what you want."
She literally had tears remembering it. She did not have money to buy the proper food so she used to buy ramen which costs $1 in the supermarkets. But she says she is thankful that she never had to live on the streets. People who supported her told her,
"If you don't have money for food, I'll cook you dinner. You don't have money for acting class? Let's get together and read lines."
She says that she is very grateful to those who were her support system during her bad days. In the end, everything was worth it.
Did not give up
Chrissy did not give up even after so much hurdle came in her life. Despite no saving, no money, increasing credit card bills, she kept going believing herself. She ket auditioning to get roles in the movies.
In 2014, she auditioned for American Horror Story and she desperately wanted the role of Ima [Barbara] Wiggles. She got the role and thought that now everything will be okay. But after the movie was released, the response was not what she had thought it would be.
Even after that she did not give up and kept auditioning. Then This Is Us happened and she got the role of Kate. Getting the role of Kate then changed her life. It was her breakthrough movie. She said,
"It's crazy to go from not having enough money to buy food to getting free dinners."
She then slowly paid her bills, debts and bought herself her first pair of Alexander McQueen shoes. Now there are all shapes of women of all age telling her,
"Your role and this show has changed my life."
Weight: Struggle since her childhood
Chrissy said that weight is something she struggled to lose since she was of young age. In an interview she stated,
"I was born chubby, and as I got older, at different times in my life I was thinner or more active or playing sports, but I was definitely always a chubbier kid. My friends could eat whatever they wanted to, but I knew that as a kid if I ate certain things I would totally gain weight. I had to be really cognizant of what I ate."
She had to go to Weight Watchers when she was just eleven years old and she said that it was heart-breaking as she is the only child in that room who comes at Weight Watchers.
Romantic Relationships
Talking about the romantic relationship of Chrissy, she is dating someone. She is having an affair with Josh Stancil. He is a cameraman. The couple met on the sets of This Is Us. While he was having lunch she saw him and,
"I was like, 'Oh he's cute,' with shorts and his backward hat, kind of masculine."
Then they slowly became friends and after a month they started going out. In October 2017, he threw a surprise birthday party for her and she was stunned because she has never experienced such surprises in her life till then. She is now living happily with him and right now they have no plans to get married.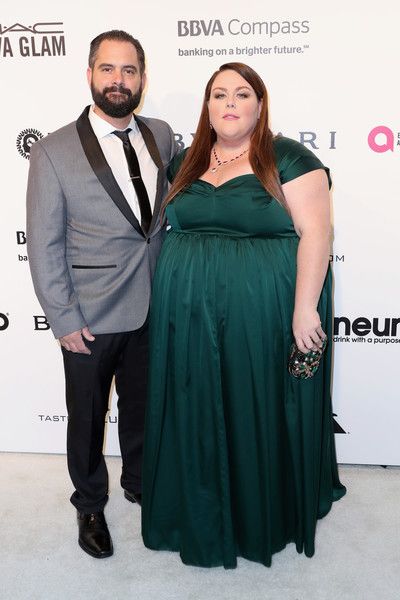 Source: zimbio.com(Chrissy Metz's boyfriend Josh Stancil)
Short Bio on Chrissy Metz
Beautiful and Gorgeous Chrissy Metz is an American actress as well as a singer who is active in the entertainment field since 2005. She is best known for her appearance in American Horror Story: Freak Show, Loveless in Los Angeles, and Solving Charlie. She is a singer in her band Chrissy and The Vapors. More Bio…