Missing Sailors Of the USS Fitzgerald Found Dead After It Crashes In A Collision In Japan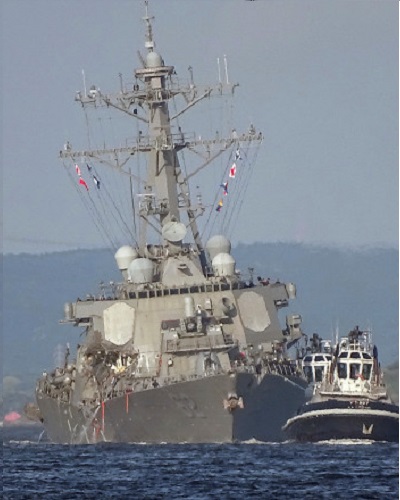 This Friday, A US Navy ship USS Fitzgerald crashed with a container ship near the Japanese port city of Yokosuka. Here, we will look into the crash incident and the loss and result of the crash.
The Crash
The crash took place around some 56 nautical miles south-west of the Japanese port city of Yokosuka, at about 0230 hours local time early on Saturday. Japanese broadcaster NHK said the collision led to the flooding of the crew's sleeping quarters while they were asleep.
"The damage was significant,"
7th Fleet commander Vice Admiral Joseph P Aucoin said.
"There was a big gash under the water."
He also added that the repairs of the damaged ship would take some time to complete.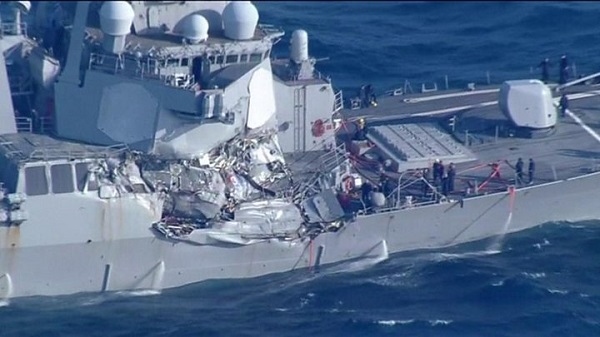 The marine traffic records suggest the ACX Crystal, a 222 m Filipino-flagged container ship, made a sudden U-turn roughly 25 minutes before the crash. It is not known yet why it changed its course. Similar records for the USS Fitzgerald however, are not publicly available.
The ship's starboard side was heavily damaged in the collision, but the vessel later managed to slowly return to its base in Yokosuka, with the assistance of some US Navy tugboats.
As per the Japanese coastguards, the ACX Crystal had a gross tonnage of just under 30,000 which is about three times than the gross tonnage of the USS Fitzgerald. ACX Crystal sustained some light damage to its port bow. The AP agency said there were no any injuries reported among the 20 Filipino crew members who were on board the ACX Crystal.
It remains at the port in Tokyo.
The Loss
Seven sailors were left missing and three injured after the collision, which as per the US Navy, almost sank the destroyer. The Navy said rescue workers found the bodies on Sunday after they were able to gain access to the damaged parts of the ship. It also said that the deceased ones would be taken to a Japanese hospital so as to be identified.
Also read The death of Dwarf actor Verne Troyer has been ruled as a suicide due to alcohol poisoning!
On Sunday, at a press conference in Japan, Vice Admiral Aucoin did not confirm how many remains had been found so far. He also said that the families of the sailors were being notified of the incident.
"This loss is something we all feel."
Also read Celebrity Cosmetic ENT doctor Dr. William Mooney's registrations stands suspended while he is under probe for post-op deaths of two patients!