MJ Javid is getting married. She has aimed to reduce much weight for her wedding day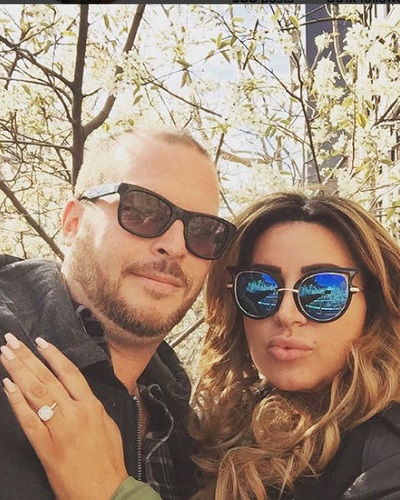 Marriage day is one of the special days in everyone's life that can never be forgotten.
This day comes once in our life and everybody dreams to get married and dressing and feels special on this day.
---
And mostly girls have more pressure than boys on their looks and dress up. And they try to look their best on this day and today we discuss will be discussing MJ Javid who had gained weight and is on the verge to reduce as much as weight she can because she had to look perfect and stunning on her wedding day.
Reducing much weight on her wedding day
Recently, MJ Javid revealed that she wanted to look mindblowing on her marital day and that is only possible when she loses her gained weight.
And her wedding dress is too fitting that it looks gorgeous for thin people and her aim is now to reduce her weight.
Tommy Feight, whom she dated is her finance. Similarly, MJ Javid is soon marrying her boyfriend. She engaged Tommy in 2015.
And when we talked about her weight loss, she is doing really hard work to reduce her weight and look smarter on her wedding day.
Similarly, MJ Javid opened up:
"I definitely need to shed, no matter what, Last year was a really tough year for me. I went through hell. I definitely wasn't watching what I was eating or taking care of myself, so now I really pulled an 180."
Then she again added:
"I work out every day, I'm really eating really clean, I'm not drinking as much alcohol … I just feel completely different."
Looking at her hard work, she would definitely lose weight and recently revealed that she had already reduced 15 pounds for her wedding day and is still on the verge to continue shedding.
Talking about their wedding day, they are planning to make their wedding the best one and said:
"We know so far it'll be 200 guests, hopefully, less, I think the lower number, the sexier. It will be local [and] in less than a year. That's the most I can go."
We bless them with many congratulations and blessings that their married life would last until the day they stop breathing and we hope she would be in touch with us to announce more about her marital life.
You may also like to read The Shahs of Sunset star Mercedes MJ Javid delivered a baby boy via C-section this Wednesday morning!
Short Bio on MJ Javid
MJ Javid is an American reality TV star and a real estate agent. She is best known for starring on the hit Bravo reality show Shahs of Sunset. She appeared on Shahs of Sunset from 2012 to 2016. More Bio…