Molly Ringwald: Her take on reboots of old classic films, her attire and her bag contents: Read on all that here!
Molly's views on the reboot of old classics
American actress, singer, dancer and author, Molly Ringwald was recently spotted at the 20th Anniversary Moth Gala in NYC on 6th June 2017. This talented veteran actress had shot to fame as a teen icon when she did the John Hughes series in the 1980s. She had played the memorable role of Claire in the 1985 John Hughes movie 'The Breakfast Club'. When inquired about a possible reboot of this classic, Molly Ringwald told US Weekly while on the red carpet:
"I don't think it should be done and I don't think it could be done because of the John Hughes estate. They're very protective about [it]. Also, it couldn't be redone because it's a different time."
This beloved film of John Hughes was written and directed by him. The story centered around 5 high school students who get on the wrong side of the law and end up in detention together on a Saturday night. The other four cast of the group included Emilio Estevez (as Andrew), Anthony Michael Hall (as Brian), Judd Nelson (as Bender) and Ally Sheedy (as Allison). Though Molly Ringwald is not in favor of a remake of this film, she does not mind witnessing the princess, athlete, brain, criminal and basket case again in some other form. She added:
"Somebody should do a movie or something that has more diversity in it. I actually think it would make a great series that is inspired by it, but I don't think they could do that. [Cast reunions are] always nice, but no, I don't think you could remake it now, they would all just be on their phones and no one would speak to each other."
When asked about the remake of 'Facts of Life', this 49-year-old actress said:
"I don't feel one way or the other about it. As long as I'm not asked to play one of the moms! Or Ms. Garrett, then I'm OK with it!"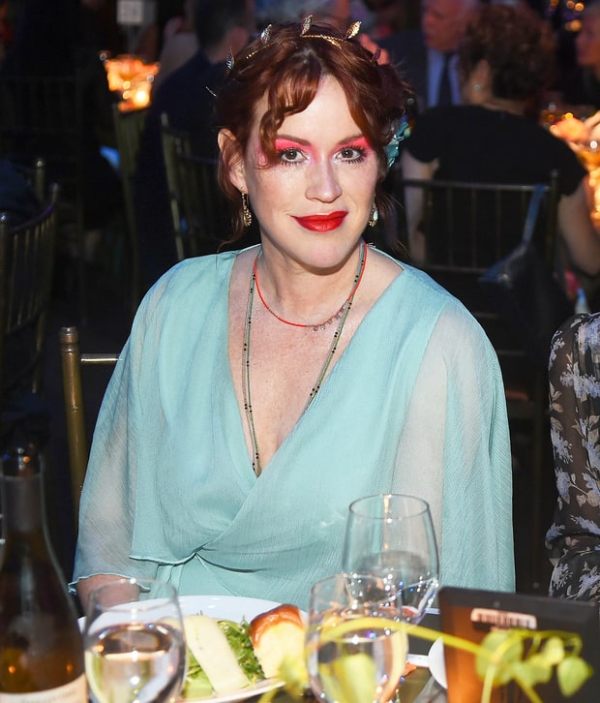 Molly's character and dress in 'Pretty in Pink'
Molly Ringwald had also appeared in John Hughes 'Pretty in Pink' which was released in 1986. Molly's role in the movie was different from the other girls. She supposedly had her own individual and original thinking and marched to a different tune. Hence while designing the dress for her, her costume designer Marilyn Vance had to keep this as well in mind. She had to design a prom dress for her keeping the era of the 1980s, her role traits and the budget in mind. Remembering those days, Marilyn told US Magazine last year:
"I said, 'This is Molly! I can't just give her a prom dress,'" 
She continued:
"I just went in the other direction. I didn't want to date anything."
So instead of the puffy sleeves, voluminous tiered knee length skirt, and ruched taffeta, she went on to make her own prom dress which had exposed shoulders, polka dots, and a lace yoke. She got some ideas from a vintage prom dress and used the cloth from her father. She sewed the dress herself and the neck design she picked up from her own black top which she was wearing during the making of this dress. Vance disclosed that even Molly did not like the anti-1980s dress. She wanted to wear something similar to what the other girls wore (strapless and full skirt type). Marilyn revealed that they had never thought that the dress would be such a ground-breaking design. They had just wanted it to be a bit different from what was the style and trend at that time. Marilyn Vance concluded:
"I won't say that I was in love with it. But [the era's run-of-the-mill gowns were] not the character. The character was so original. She had a mind of her own, she marched to a different drummer."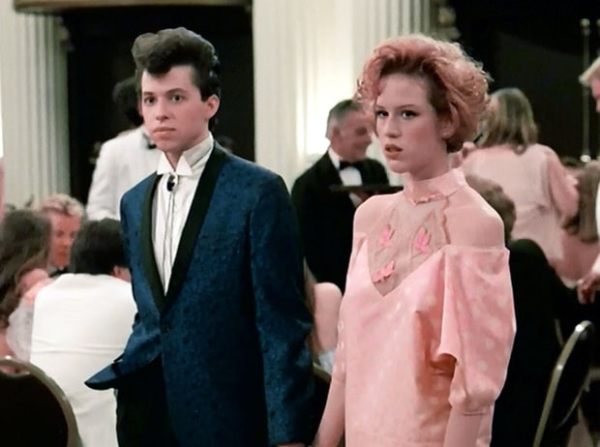 What's in Molly's Bag?
Molly Ringwald claims that she is eco-friendly and hence prefers second-hand bag. She admits that it is better for the planet. In April 2017, she had poured out the contents of her Prada Milano purse on the request of the US reporter. Her purse had a lot of lipsticks. Molly said:
"It's embarrassing the amount of lipstick that accumulates in my bag. Right now I'm into this Charlotte Tilbury Lipstick in a coral-y pink. I wear it for day or night."
There was also her passport in her bag. She justifies it by saying:
"There's a funny line in Breakfast Club: Ally Sheedy says, 'You never know when you're gonna have to jam.' I carry my passport — you never know when you're gonna have to hop on a plane."
There were three little circular pins that one puts on the jacket in her bag. Molly says:
"I don't know where or why I got them, but they're there."
There was a paper with a poem written on it. Molly said:
"My husband and I just celebrated our 16th anniversary. He's written me a poem every year, so I've been carrying this year's poem with me. Everyone says, 'Ugh, I'm lucky if I get a spa treatment!'"
There was a packet of popcorn in her bag. She said:
"My kids love popcorn, so I have the healthy stuff. I'm the only person in the world who doesn't like popcorn, but they love it."
Besides the above, her tote also contained a rose gold iPhone 6, Bose noise-canceling headphones, Maybelline Fresh Lash mascara, Revlon lip balm, Charlotte Tilbury and Trish McEvoy lip pencils, a Metrocard, bobby pins, spare change, a navy blue sleep mask, makeup brushes, an eyelash curler, Trident gum, a comb and spare change. A great assortment!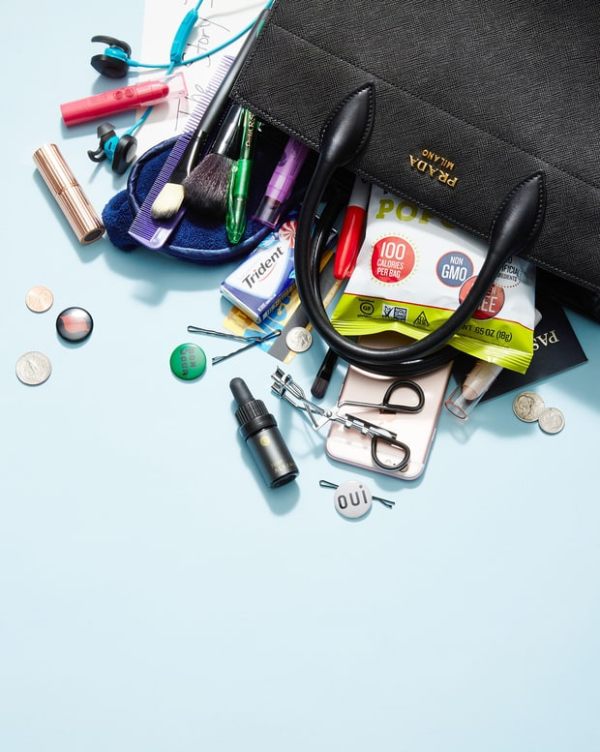 Short Bio on Molly Ringwald
Molly Ringwald is an American actress, singer, dancer, and author. She is best known as a cast member in The Facts of Life (1979–80), in which she played the role of Molly. She has also appeared in the films Sixteen Candles (1984), The Breakfast Club (1985), and Pretty in Pink (1986). Molly was ranked #1 in VH1's list of the "100 Greatest Teen Stars." More Bio…