Nancy Pelosi's teenage daughter's response to the President Trump! What is the controversy all about?
Christine Pelosi reacted to the image of her mother(Nancy Pelosi) clapping for President's Trump's State of The Union address on Tuesday night, February 4, 2019, and went viral.
Christine Pelosi reacts to her mother's clap at Donald Trump's State of Union Adress
Nancy Pelosi is an American political server. She serves as speaker of the United States House of Representatives since January 2019.
Pelosi was seated next to Vice President Pence and behind Trump during the speech. She rose several times to give standing ovations, including one to honor World War II veterans. After Trump spoke about migrants, she was also seen motioning for Democrats to refrain from groaning and booing.
As were a large group of other female congresswomen, she was wearing all white.
What did Nancy Pelosi do?
After President Trump said,
"we must reject the politics of revenge, resistance, and retribution – and embrace the boundless potential of cooperation, compromise, and the common good",.
The viral moment was born after Pelosi looked at Trump, he turned around, and
Locking eyes with Trump, Nancy distinctively applauded.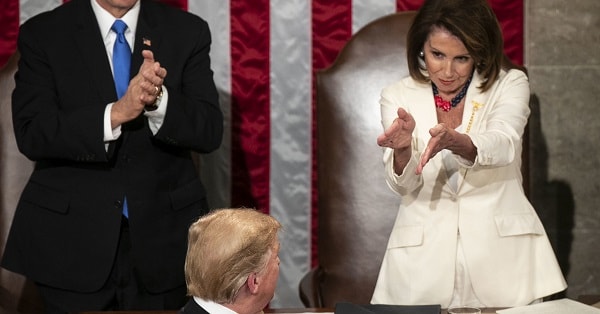 What was the reason for the controversy?
The interaction came weeks after a standoff between congressional Democrats led by Pelosi and Trump and led to a partial government shutdown that lasted for more than a month.
As Trump demanded to fund for a border wall, Pelosi insisted negotiations must occur while the government was open.  Even though the short-term funding bill included no money for his border wall, Trump ultimately agreed to temporarily end a 35-day government shutdown in late January.
On the 20th day of Shutdown, Nancy said,
"Federal workers will not be receiving their pay checks and what that means in their lives is tragic in terms of their credit rating, paying their mortgage, paying their rent, paying their children's tuition and the rest.

The president seems to be insensitive to that.

He thinks maybe they could just ask their father for money, but they can't. They can't."
Know more about Michelle Visage to be on the Judge panel of the BBC3 show RuPaul's Drag Race UK!
House Speaker(Nancy Pelosi) criticized Trump's Speech
The president broke the tradition when he began his roughly 80-minute speech before waiting for the Speaker to introduce him. 
Nancy Pelosi wrote in a statement that,
"Instead of fear-mongering and manufacturing a crisis at the border, President Trump should commit to signing the bipartisan conference committee's bill to keep the government open and provide strong, smart border security solutions," .
She added,
"Sadly, while talking about perceived threats to the safety of the American people, he completely ignored the gun violence epidemic that is claiming lives across the country,".
Know more about Jennifer Garner purchases a new house for herself after her divorce from Ben Affleck!
Christine Pelosi Tweeted a post
Christine tweeted and captioned as,
 "She knows. And she knows that you know. And frankly, she's disappointed that you thought this would work. But here's a clap. #youtriedit"."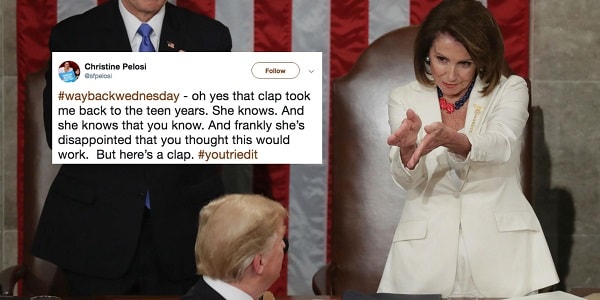 Short Bio of Christine Pelosi
Christine Pelosi is an American Democratic Party political strategist representing California. She is the author of 'Campaign Boot Camp'. Her parents are Paul Pelosi and Nancy Pelosi. Christine has four siblings. She has been married to Peter Kaufman on February 16, 2008, and they have one daughter. More Bio…