Nation's best forward in American soccer, Kealia Ohai suffers a knee injury! Know on her relationship and career!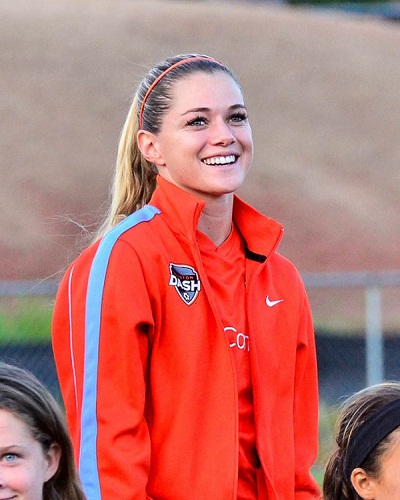 Soccer Star
Ohai plays midfielder and forward for the Houston Dash and wears the number seven on her uniform.
Ohai was a prized recruit for the North Carolina Tar Heel, where she was a starter from 2010 to 2013. She was also a member of the 2012 championship-winning team.
Houston Dash head coach, Randy Waldrum, considers her one of the nation's best forwards and considers her an asset to the team. Ohai is also a member of the U.S. U-23 women's national soccer team, which has always been a dream of hers.
J.J. Watt
J.J. Watt and Kealia Ohai have confirmed their relationship. The 24-year-old soccer star admitted on the 2 Up Front podcast, that she and Watt are indeed dating.
Kealia Ohai is currently dating J. J. Watt of the NFL's Houston Texans and a teammate of her brother-in-law Brian Cushing.
The two met through Kealia's sister Megan. The pair recently confirmed their relationship. Kealia admitted on the 2 Up Front podcasts, that she and Watt are indeed dating.
Ohai said in the 2 Up Front podcast,
"The rumors are true. We are dating, I've known J.J. for a really long time, and we've always been really great friends, and yeah, I'm really proud of him for everything he's been going through, but it's been pretty crazy with all the rumors."
Kealia Ohai out for the season with a knee injury
Kealia Ohai suffered a Non-contact knee injury in the second half of Houston's 2-0 victory over the Orlando Pride. It turned out to be as bad as it looked.
Ohai was diagnosed with a grade 3 ACL sprain and medial 'Meniscus Tear' in her left knee. She has been ruled out for the rest of the season.
 Interim coach Omar Morales said,
"We are losing not only a great player but a leader on our team, The expectation is to continue to fight and compete as we did on Saturday while also having the idea of fighting for her, our leader."
In the 67th minute, Ohai appeared to suffer the injury when she ran after a ball that Orlando defender Ali Krieger got to first. The referee called for a hydration break shortly after the play.
Morales said a medical trainer examined her during the break and cleared her to return. After the break, Ohai stayed in the game and appeared to be jogging normally.
You may also like to read The American soccer player Julie Ertz brings USWNT's World Cup trophy home ahead of New York parade
Active on Social Media 
Kealia is quite active over social media. She has a huge number of followers on social networking sites such as Facebook, Twitter as well as Instagram. She has more than 28K followers on Twitter.
In addition, she has more than 125k followers on Instagram. Similarly, her Facebook page has more than 5k followers.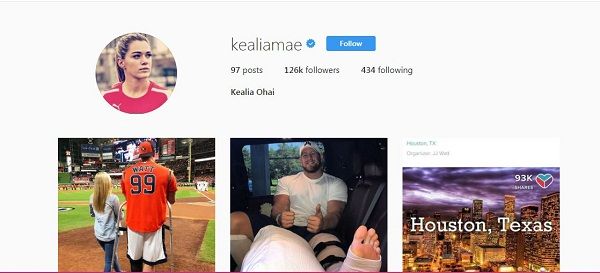 It seems she likes being in touch with her fans and loves sharing information with her fans.
There was a rumor that suggested that Kealia will miss the remainder of the current season due to ACL tear. This rumor turned out to be true. Additionally, she has not been part of any notable controversies in her career.
Also read Soccer player Rose Lavelle won't play for Washington in World Cup! Her family, net worth, match…
Short bio on Kealia Ohai
Kealia Ohai is an American soccer player. Currently, she captains the Houston Dash and is also a member of the United States women's national soccer team. Previously, she was started with Tar Heels from 2010 to 2013. more bio…