NBC anchor Stefan Holt, Son of Lester Holt is a Married man! All the details on his wife
Stefan Holt who is best known as a son of NBC Nightly News anchor Lester Holt followed the path of his father and now himself is an anchor. The handsome hunk also moderated the first presidential debate on September 29. He has already made his way to the success at his young age.
The 29-year-old anchor Stefan has lots of viewers from all around the world. There are many of his followers out there who really want to know about his life behind the curtains. So, here are the details of his married life, wife, and much more.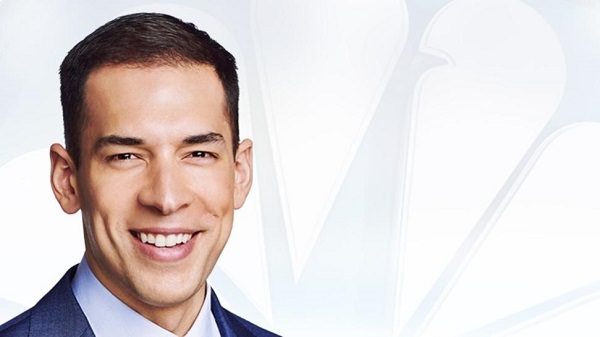 The married life of Stefan Holt! Who is his wife?
In 2009, Stefan Holt achieved his degree in broadcast journalism and political science from Pepperdine University in Malibu. During that time, he met his soul mate and current wife Morgan.
The duo turned their relationship in the marital bond in July 2012. The ceremony was held in at Pepperfine's chapel while they had a wedding reception at Fairmont Miramar Hotel in Santa Monica.
Since then the duo is together with hand in hand in every roller coaster of the life. The duo bought $520,000 for a Lakeview East condominium just a year before they moved to New York.
Afterwards, in March they listed the condo for $539,000. They got the buyer just after the month of listing. During the talk with the Tribune, he revealed his view about the moving on New York and the house saying: 
"It's amazing how things change. And we love the building, we love the apartment and we love the neighborhood. It is bittersweet. I think we're really excited to take on this next adventure in New York City, but we're going to miss our home and all our friends in Chicago."
The couple is also the proud parent of the new baby as they recently turned to parents. Stefan and his wife announced that they are having a first baby on  March 8, 2017.
Father-Son Duo in the same career path 
As we know Stefan Holt and his father Lester Holt is on the same career pathway. Or we can also say that Stefan followed the path of his father and he is doing his best with his talent. Every time Lester goes on the vacation, he cannot cover any breaking story as his phone can go off at any time.
At the time when he took a week off for Thanksgiving in November 2012, he collaged with his son on Thanksgiving NBC 5. Lester explained to NBC-5:
"I asked him: You're not working on Thanksgiving are you?. He said, 'Actually I am. I said, if you guys are short, if Daniella Guzman wants the day off, I can fill in."
Moreover, he also revealed that he was joking but Stefan agreed to his father. Lester should be proud of his son as he said he always knew that his son would become the news anchor just like him. Furthermore, he added:
"I have a picture of Stefan sitting at the desk at WBBM from right around the time I started as an anchor there. Stefan was up there, with his arms crossed, ready to go. At 2 ½ years old he already had the look."
More About Lester Holt
California-born Lester Holt is a famous veteran journalist. Lester Holt possesses American nationality. He is currently working on NBC network. Presently, he works as the anchor of the weekday edition of 'NBC Nightly News'. Additionally, he also anchors another show on NBC named, 'Dateline NBC'. Previously, he worked for the CBS News from 1981 to 2000. His recent notable work is moderating U.S. Presidential Debate in 2016. See more bio…
More About Stefan Holt
Stefan Holt is an American journalist who is currently working with NBC 5, WNBC in New York. Previously, he has worked with NBC in Chicago station. Furthermore, he is the son of veteran journalists Lester Holt and Carol Hagen Holt. See more bio….