Nepal Plane Crash Updates: 70 Deaths, No Hopes Of Survivors, and Horrific Last Moment Videos
Yeti Airlines ATR 72 crashed en route from Kathmandu to Pokhara on Sunday leaving the nation traumatized.
70dead bodies have been found so far from the plane crash with 2 bodies missing.
Last-moment videos filmed during the crash have surfaced on the internet.
---
Nepal Plane Crash 2023 has left the country devastated
It was Nepal's worst plane crash in the last three decades. The Yeti Airlines ATR 72 crashed in Pokhara on Sunday at about 11 a.m. carrying 72 people including crew and passengers.
What caused the crash is yet unknown. On Monday, about 300 rescuers picked through the burned debris as they continued their search.
The government of Nepal has established a panel to look into the disaster's causes, and Prime Minister, Pushpa Kamal Dahal has announced Monday as a national day of mourning.
Just after 10:30 (04:45 GMT), the airplane headed south from the Nepalese capital to the popular tourist destination of Pokhara. There were four crew members and 68 passengers, 15 of whom were foreigners.
On the plane, there were two Koreans, five Russians, and five Indians. In addition, there was one traveler each from Ireland, Australia, Argentina, and France.
Also, read: Steven Ensminger Jr, widower of the late air crash victim, sportscaster Carley McCord files a lawsuit for damages!
Two bodies missing and with no hopes of survival
The local rescuers have given hope of finding any survivors after the devastating crash with four bodies yet to be found.
Kaski's Chief District Officer Tek Bahadur claims the chances of finding a survivor were "nil". Fortunately, the airplane's flight data and recorders have been found. He said:
"We have collected 68 bodies so far. We are searching for four more bodies"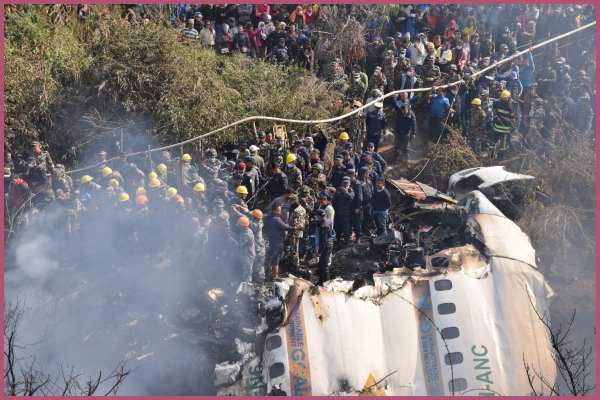 Horrifying videos of the crash have emerged on social media
Less than 48 hours after the crash, videos gone viral on social media of the crash. Footage from inside the plane has emerged on social media of a passenger recording what he thought was a normal video when suddenly the frame shook violently and the plane was in flames.
Watch the footage below at your own risk:
Passenger films when onboard Yeti Airlines aircraft before crashing near Pokhara Airport in Nepal. Via @AmardipSpeaks
Don't watch if you can't handle it! pic.twitter.com/2V0EUpnSWp

— Ali Hashem علي هاشم (@alihashem_tv) January 15, 2023
In addition to this, a selfie from a Russian passenger named Elena Banduro, who has been declared dead, has also gone viral. It was due to the fact that she posted a selfie on her socials captioned: "Go to Nepal" from inside the plane.
La bloguera de viajes de Moscú Elena Banduro, de 33 años, publicó esto antes de #NepalPlaneCrash

El accidente se transmitió en vivo desde el interior del avión y también se grabó en video de los espectadores que estaban debajo. #Nepal #15Enero2023 pic.twitter.com/C3WAHIgbLk

— Reporte Global (@RadioReporte) January 15, 2023
You may also like to read: RIP!!! 'Buffy the Vampire Slayer' icon Margo Chase dies in plane crash