New Love!! Jake Paul's Ex-girlfriend Alissa Violet Has Got The New Boyfriend None Other Than Fellow YouTuber Faze Banks ; The Couple Publicly Announced Their Love In One Of The Video
Jake Paul and his former girlfriend Alissa Violet had really messed up break-up. They had a very bad fight in the social media like Twitter including their YouTube channel. On one hand, Alissa was stating that Jake cheated her with many other girls, while according to the Jake, he was the victim. Both came up with many tweets in their own defense. Alissa also made the video saying that Jake threw her out of the team 10 house. Well! Both are making their point, yet the truth is still below the lane and uncovered.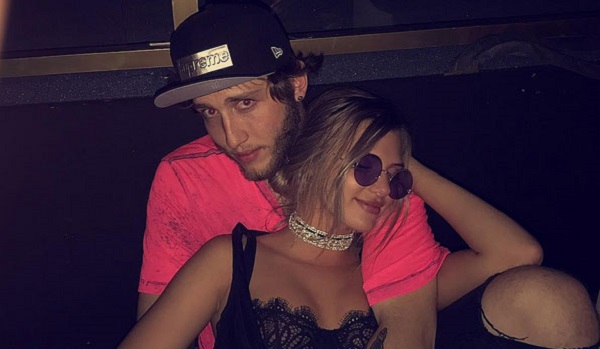 But now, it seems, both of them have moved on to their own destination. After the huge fight and allegation, Alissa Violet is officially over Jake Paul. As seen in the recent video, Alissa is moving on from her break-up with Jake and now has new boyfriend YouTuber Ricky 'Faze' Banks. Let's find out more about their love story.
Alissa Violet finally moving on from the break-up with another YouTube star Ricky 'Faze' Banks
Being the YouTube star, it's quite obvious that Faze and Alissa both open up about their personal life on the social media platform. With the huge number of subscribers and followers, they both are the public figure. That is the reason we are little curious in knowing what's cooking between them.
Some time back, she visited Electric Daisy Carnival in Las Vegas with her besties Kellie Stewart and Saxon Paige Sharbino. However, there was someone else in appearance that Alissa couldn't keep her hands, er lips, off of! Guess what? The person is none other than Ricky 'Faze' Banks. She also shared the photo of her with Faze on her Instagram account. She captioned the picture saying:
We're cute, right? @banks
Alissa captured a very hot picture of her with fellow YouTuber Faze where the duo is sharing the kiss. Moreover, Faz himself is finding happiness in the companion of Alissa. As if that didn't compress the new relationship, FaZe posted one as well. He captioned his shot:
"Crazy weekend with crazy people."
Well, the things are not only up to sharing photos and kisses. On the occasion of Alissa's birthday, Faze brought a very lovely gift to her. In his last vlog, he talked about Alissa saying:
"Over the past week we've kinda developed, like, a weird little thing. I've been with her every day for the past week; we've been spending a lot of time together and I really f-cking like this girl."
Messy Breakup Of Alissa Violet and Jake Paul!! Click Here To Read…
Later on, in the vlog, you can see Faze brought Alissa a Channel black purse. The smile he brought to the face of her is priceless. Isn't the couple cute?
We'd like to wish this couple a very happy and healthy life and also congratulate to both of them.
Click Here To Watch The Video Where Faze Bought The Gift To Alissa
More About Alissa Violet
Alissa Violet is an American model and Instagram who is immensely popular for her work as a Viner who collaborates on videos with Logan Paul, Jake Paul, George Janko & many others and has 375,000 followers on her Vine Channel along with over 3.3 million followers on Instagram. See more bio…