NFL Coach Nick Sirianni's Married Life, Wife, Salary!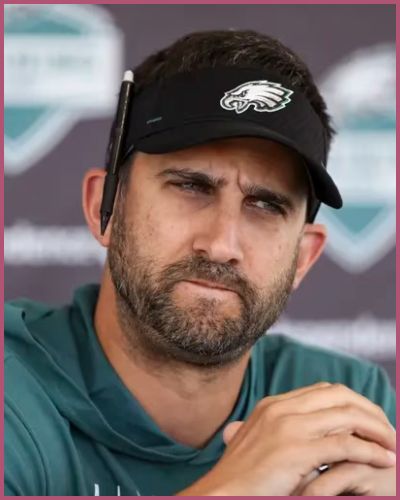 Nick Sirianni is a football coach who currently serves as the head coach of the NFL's Philadelphia Eagles.
Sirianni is married to Brett Ashley Sirianni and has three children with her.
---
How old is Nick Sirianni? Age, Family, Parents, Siblings
Nick Sirianni was born Nicholas John Sirianni on June 15, 1981, in New York. As of 2023, his age is 41.
His parents are Fran and Amy Sirianni. Sirianni comes from a football family. His father was the head coach of Southwestern Central High School in West Ellicott, New York.
He has two old brothers both of whom are associated with football. His brother Mike Sirianni is the head coach at Washington & Jefferson, while his brother Jay won two state championships at Southwestern Central before retiring in 2015.
Who is Nick Sirianni married to? Wife, Children
Nick Sirianni is married to Brett Ashley Sirianni. The couple exchanged wedding vows on June 22, 2013, in Kansas City.
From their long and happy marriage, the couple now has three kids.
Brett gave birth to their first son, Jacob, in 2015, before having a daughter named Taylor a couple of years later.
Miles, the couple's third child was born in 2020.
Also read: What Is The Net Worth Of Kansas City Player Kadarius Toney?
Who is Nick Sirianni's wife, Brett Ashley Sirianni and how did they meet?
Nick's wife, Brett Ashley Sirianni is a former school teacher. Brett, unlike many other NFL spouses and girlfriends, is not on social media.
She was born on August 26, 1986, in Springfield, Missouri. Nick, who was born on June 15, 1981, is five years older than his wife
After moving to Kansas City to begin her teaching career, Brett met her future husband. Brett reportedly had to be persuaded to go on a date with Nick by her sister.
They went on a date in 2011 and a year later, in 2012, the couple got engaged.
At that time, Nick was still working in Kansas and Brett even relocated there and pursued her elementary school teaching career.
What is his Net Worth? Salary, Contract
Nick Sirianni has an estimated net worth of around $5 million as of 2023. His main source of income is his role as the head coach of the Philadelphia Eagles. He earns around $6 million – $7 million per year excluding bonuses.
As a young coach, his salary is not among the highest in the league. The highest-paid coach is Sean Payton of the Denver Broncos who earns between $17 million – $20 million per year.
Nick Sirianni's career so far as the head coach of the Philadelphia Eagles
Nick Sirianni was hired as the head coach of the Philadelphia Eagles on January 24, 2021, following the sacking of Doug Pederson.
Sirianni made his regular-season coaching debut against the Atlanta Falcons on September 12, 2021, and guided the Eagles to a 32-6 victory. He finished his first season as head coach with a 9-8 record and a wild card berth despite a 2-5 start.
Sirianni was the first first-year coach to take a team to the playoffs in the 2021 NFL season, and the third Eagles head coach to do it, joining Chip Kelly in 2013 and Ray Rhodes in 1995.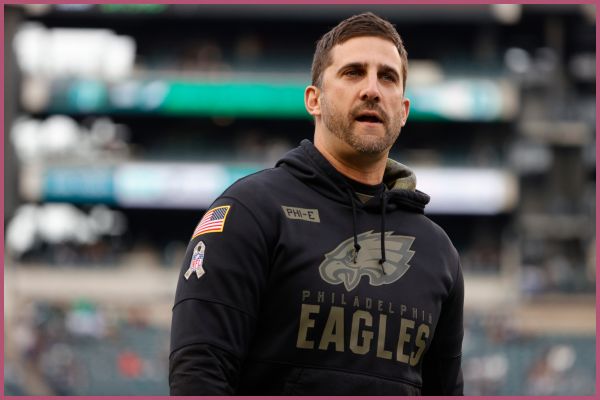 The 2022 Eagles went 14-3 during the regular season, winning the NFC East division title and a first-round bye in the playoffs. The Eagles became the first team since the Minnesota Vikings in 1989 to have at least 70 sacks, lead the league in passing yards allowed, and set a franchise record for victories and points scored in a season.
Sirianni guided the Eagles to their fourth Super Bowl appearance after a 38-7 Divisional Round playoff victory over the New York Giants and a 31-7 NFC Championship victory over the San Francisco 49ers.
You may also like to read: Tom Brady, 45, announced his retirement from the NFL after 23 seasons