Who is NFL Player Mecole Hardman's Partner Chariah Gordon? Their Relationship, Kids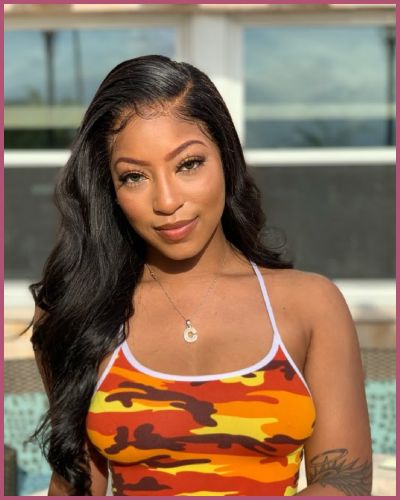 Mecole Hardman is currently dating Chariah Gordon, an entrepreneur, and Instagram model.
The couple had their first child hours after the Chiefs' win over the Eagles in Super Bowl.
---
Who is Mecole Hardman's girlfriend Chariah Gordon?
Chariah Gordon is an entrepreneur, Instagram model, and singer. She was born on March 4, 1995, in Chicago, Illinois. As of 2023, her age is 27. The model graduated from Thornton Township High School in Harvey, Illinois.
She is an Instagram model and businesswoman who own The Glo Collection, a skincare and apparel brand. @comeglowwithme_, the company's Instagram account, has around 4,000 followers whereas
Her personal Instagram account, @chariah_, has more than 190,000 followers.
In addition to being a businesswoman and Instagram model, she is also a singer. Her music is available on her YouTube channel, @chariahgordon5741.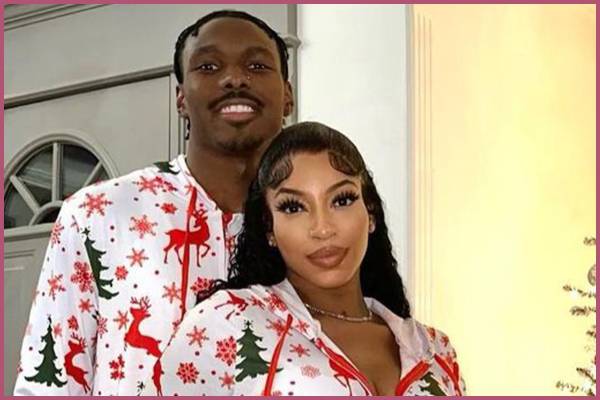 The singer released her debut single, 'Drownin', featuring rapper Fat Trel on March 10, 2016. She then released the song 'Pressure' on January 1, 2022.
Also, read: Why did Kyle Jacobs Commit Suicide? Kellie Pickler's husband died from an apparent self-inflicted gunshot  
Their child was born hours after Hardman's Chiefs won the Super Bowl
During Chariah's labor, she used Instagram to provide updates to fans of the couple. She shared pictures and videos from the hospital and mentioned that her water had broken several hours before the game. However, even though the Chiefs won shortly after 10pm EST, Chariah had not given birth yet.
Despite being in the hospital, she found time to praise her boyfriend's teammates for their significant victory, and posted a selfie video of herself doing so.and writing:
"2x Champ!!! Congratulations. Baby now come on son! We're ready." 
She subsequently verified that her male infant was born almost a day after she initially disclosed that her amniotic sac ruptured, by reposting an Instagram Story from an acquaintance. "Omg he's the cutest, I'm in love all over… Y'all snapped."
The NFL player posted a pic on Instagram in hospital where Chariah gave birth. He captioned it:
 "He's here."
The couple announced last October they were expecting a baby boy and posted a picture during the holidays with the caption:
 "Last Christmas we have to ourselves."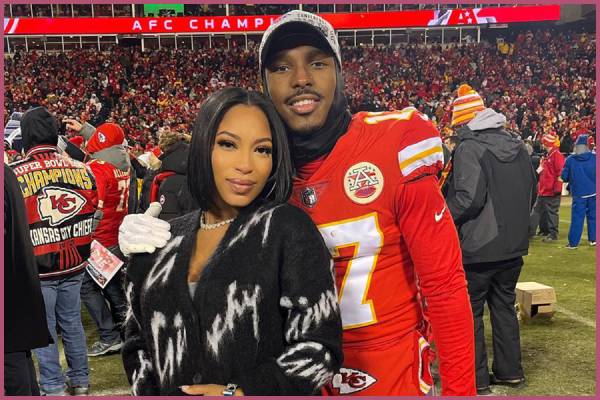 Who is Mecole Hardman?
Mecole Hardman, who played football for Georgia in college, currently serves as a wide receiver for the Kansas City Chiefs in the National Football League (NFL). In 2019, he was drafted by the Chiefs in the second round of the NFL Draft, specifically chosen as the 56th overall pick.
Hardman recently won the Super Bowl with the Chiefs in 2023. However, Mecole did not play. On November 17, 2022, Hardman was added to the list of injured players after hurting his abdomen during Week 9. On January 4, 2023, he was removed from the injured list and able to play again.
Although he returned for the AFC Championship Game, he hurt his abdomen again and was not able to play in Super Bowl LVII. Despite his absence, the Kansas City Chiefs won the game against the Philadelphia Eagles with a score of 38-35.
You may also like to read about: Dad to 3! NFL player Jason Kelce Welcomed third Baby Girl Bennett Llewellyn