NFL Star Matthew Stafford and His Wife Kelly welcomed 'Healthy and Happy' Twins!! Find out the Gender of Babies!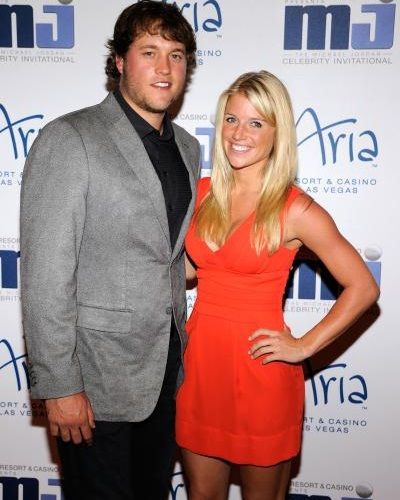 Being a Dad is one proud moment for any father but the happiness doubles when it's twins. NFL Star Matthew Stafford and his wife, Kelly Stafford have recently welcomed Twins and the couple is very happy!
Update: Matthew and Kelly have welcomed their third child, Hunter Hope Stafford in August 2018.
Welcoming the Baby
Detroit Lions quarterback, Matthew, and his wife, Kelly welcomed twins, Chandler Stafford, Sawyer Stafford but both didn't announce it until Sunday when the couple enjoyed their first date night since becoming parents. How romantic!
She said,
"First night out as a mom and a dad! Our babies were born March 31st and are healthy and happy! Thanks for all the well wishes!"
She revealed on Instagram that she and her husband have planned to name their twin girls Sawyer and Chandler.
You may like to read "I want to own the world"-UCLA Bruins' Quarterback Josh Rosen's candid interview about the academics-sports clash and its consequences!
Love Life
The couple met for the first time while they attended the University of Georgia in Athens. They are college sweethearts. They started seeing each other when they were in college and since then till now they are standing together with each other. Now, they have two little symbols of their love.
Matthew told the Detroit Free Press in January that he was anxious to experience fatherhood,
"I'm assuming it's going to be a big change. Not as many naps, which is disappointing."
Matthew also shared that he asked parenting advice from his teammates who were parents but said he did not get any constructive advice from them. He also said his wife, Kelly had given him reading the material, but he hadn't touched it at the time. He said,
"I'll kind of figure it out on my guess. Kind of one of those things I think you have to experience to really know. You can get all the advice in the world but every situation I assume is different, and ours will be."
Also read Model Breana Tiesi and her secret wedding to American football quarterback Johnny Manziel!
Short Bio on Matthew Stafford
John Matthew Stafford is an American football quarterback for the Detroit Lions of the National Football League (NFL). He was raised in Dallas, Texas, and attended Highland Park High School. He played college football at Georgia and was drafted by the Lions first overall in the 2009 NFL Draft. More Bio…