Nicki Minaj is a Beauty in Black at the Met Gala!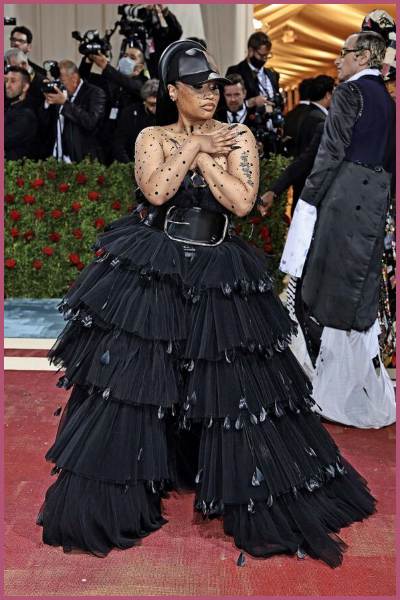 Nicki Minaj made a stylish entry at the 2022 Met Gala.
The rapper looked ravishing in black from head to toe.
She wore the feathery ball gown dress by Riccardo Tisci with matching leggings.
Her stylish baseball cap gave a casual addition to her black dress.
---
Nicki Minaj attends the Met Gala after declining last year's invitation.
Nicki Minaj was absent at last year's Met Gala due to vaccination problems. Only the celebs who got vaccinated were able to attend the 2021 Met Gala. Back then, the rapper queen tweeted:
 "If I get vaccinated it won't for the Met. It'll be once I feel I've done enough research." 
This year, the Anaconda singer graced the red carpet and looked very stylish.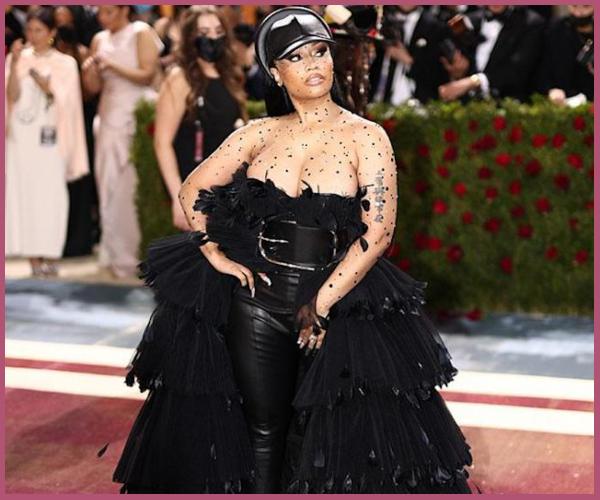 According to The New York Times, the attendees of this year's Met Gala had to give proof that they are vaccinated and are tested negative in the COVID-19 PCR test.
Also, Read, What important announcement did rapper Nicki Minaj make?
Nicki Minaj's cleavage-revealing dress almost got her into trouble
Minaj was a vision in her black Burberry gown but she said that it was a bit too small for her ample cleavage.
On the red carpet, she said:
'The only unplanned thing about my look is my boobs popping out, because they made my cup size a little small,'
She also joked saying:
'Enjoy these ti****s, 'cause y'all ain't gonna see that ever again.'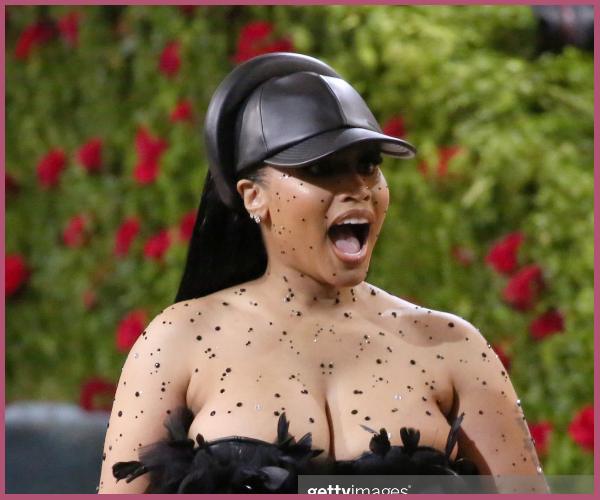 The star had crystals covering her chest, arms, and face. She wore built-in high-heeled boots matching her designer outfit.
She wore her long black hair in a sleek style, cascading it down her back from underneath her baseball cap.
The rapper accentuated her outfit with a big diamond ring and beautiful pair of diamond-studded earrings. For the makeup, Nicki went for a smokey eye with winger liner matching it perfectly with her nude lipstick.
The singer took to Instagram to share a snap with the designer of her beautiful dress, Riccardo Tisci,47. Riccardo is the Chief Creative Officer at Burberry.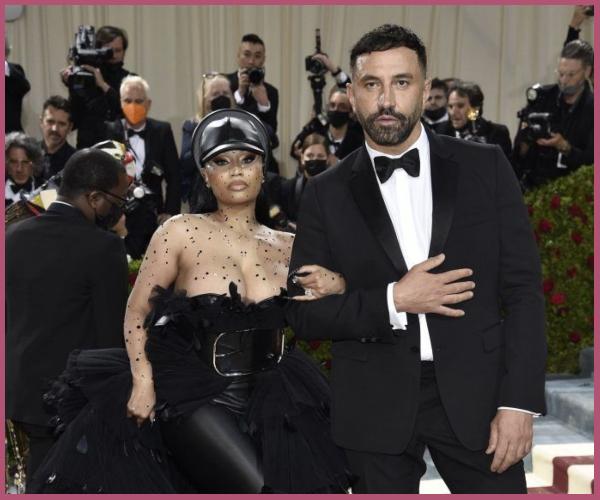 Ahead of the event, the rapper left the Carlyle Hotel in New York as a big number of fans swarmed her.
Also, Read Nicki Minaj to retire from showbiz to start a family with her boyfriend Petty!