Is Nicky Jam still married to his wife Angelica Cruz? Know about his past affairs, children, and dating rumors!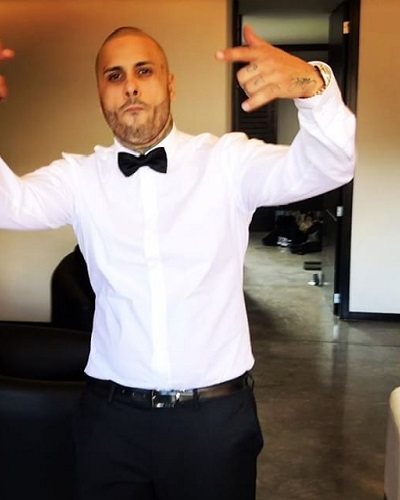 The famous American singer and songwriter Nicky Jam is in the field of music since 1994. He has several hit songs to his name and is married to Angelica Cruz.
Nicky Jam and Angelica Cruz-the Meeting
Angelica is a Colombian model and TV host and the two met online. The Latin singer said in an interview:
"I was mesmerized when he first laid eyes on Cruz. She was very pretty."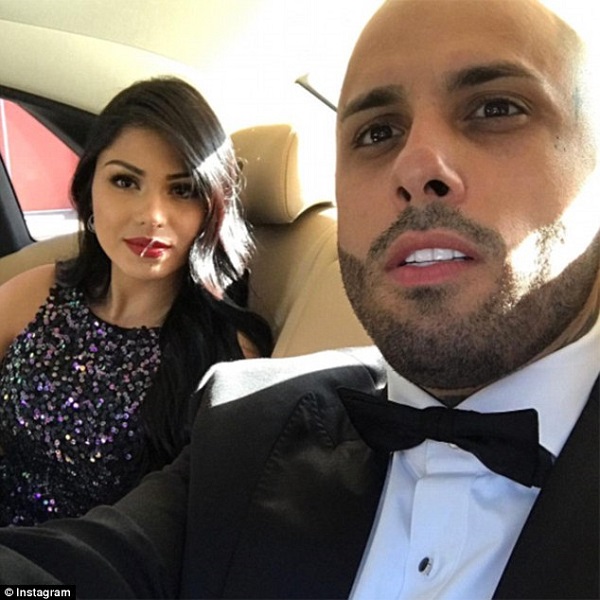 He sent her a photo of himself and asked her whether she would be his friend. Thinking it to be a hoax, she did not respond first. But Nicky persisted and she yielded. Nicky said that he is happy to have her in his life and enjoys coming home to her now after the wedding.
Telemundo had first reported about the relationship of Nicky and Angelica on their show Suelta la Sopa. They had sighted the couple arriving together at the Miami international airport.
When the reporter questioned about Angelica, Nicky had replied at that time:
"Yes, she's my lady. We've been together for a little over a year."
When probed further about wedding plans, Nicky was a bit uncomfortable and said that he does not want to be pressurized on it and added, whatever happens, would be as God pleases.
You may like to read The American social media artist Domo Wilson sparks dating rumors with Lawrence Robinson! Know about her
Nicky Jam and his wife Angelica Cruz-The Wedding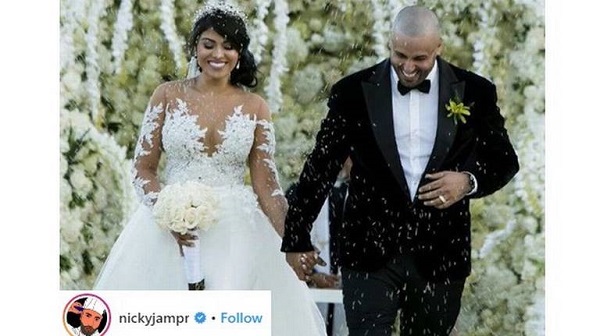 Nicky Jam whose real name is Nick Rivera Caminero married his wife the beautiful and gorgeous Angelica Cruz on 3 February 2017 in Medellin in Colombia. The 37-year-old musician Nicky and Angelica's marriage had many celebrity guests which included Vin Diesel, Gente de Zona, Enrique Iglesias, and J Balvin. The wedding had a no-cell-phone policy during the ceremony. There were superb performances by Jerry Rivera and Gente de Zona.
Nicky shares videos online
Nicky had shared on his social media videos of him getting ready for the big day with his friends and family. This was posted a few hours before the actual wedding. Vin Diesel was seen in the video which he posted on his Facebook and he said:
"This is a very, very special day. I'm so blessed to be here with my brother,"
Nicky interrupted:
"Someone's getting married today! Is it me? It's me! Oh, my God, I'm getting married."
Vin added:
"This is the best wedding I've ever been to. I mean that in my heart, Nicky. It's the best wedding, and I've been to weddings all over the world by all kinds of people, and I've never seen a wedding like this."
Nicky Jam and his affairs
Nicky Jam has been into several relationships in the past. The names of the various women in his life have not been disclosed but Nicky has four children out of these relationships. The kids are daughters Yarimar Rivera and Alyssa Rivera and also Luciana and Joe Martin.
Currently, he is in a relationship. He is dating a girl named, DaniLeigh. She is an American singer, dancer, rapper, and choreographer.
Is the couple divorced?
In August 2018 there was a report on miami.com that stated that the couple has divorced. There were rumors of their separation and the Telemundo gossip show "Suelta la Sopa" confirmed it after seeing the divorce documents.
Additionally, in July 2018, the couple had sold their Miami property. One month after that, Nicky had posted on his Instagram a picture of him alone and wrote:
"I see myself alone but I am with God thank you so much."
He then purchased a house in Miami Beach for $ 3 million. After this separation, he has not been seen with any other girl and no dating rumors have emerged to date.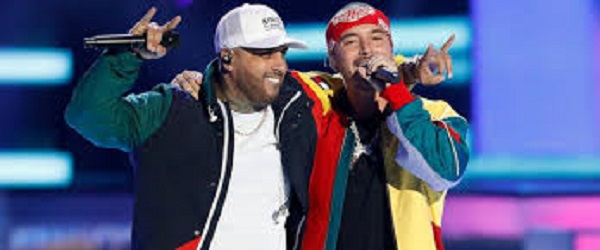 Also read Explore about Luian Malave Nieves popular stage name as DJ Luian who is a DJ and a music producer and also a producer and owner of the Alqaedas Studio!
Short Bio on Nicky Jam
Nicky Jam is famous for great songwriting, acting and he is known as the singer of all America. He is popular for the song like Travesuras, EI Perdon, EI Amante and other. He also won Billboard Latin Music Awards 13 times and many other awards. More Bio…
Source; wikipedia, people, miami.com