List of all the Exes of Nicolas Cage before 5th wife Riko Shibata!
Kick-Ass star Nicolas Cage has a long history of dating and failed marriages.
The American actor has also set the record for the filing of annulment 4 days after the marriage.
Dig deep into the failed relationship and marriage of Nicolas Cage before marrying his baby mother Riko Shibata.
---
Nicolas Cage, 58 has been married five times in total. If you are wondering it is huge just see how many girls he ran after to find love with!
How many times did Nicolas Cage got married? History of his divorces
Nicolas Cage had his first marriage to his first wife actress Patricia Arquette in April 1995. He got divorced from the True Romance star in 2004 after marrying her for 9 years. They do not share any kids though.
After their split in 2001, Cage married Elvis Presley's daughter, singer and songwriter Lisa Marie Presley on August 10, 2022. They only remained married for short tenure after filing for divorce right after 107 days of marriage. Their divorce finalization was possible only on May 16, 2004.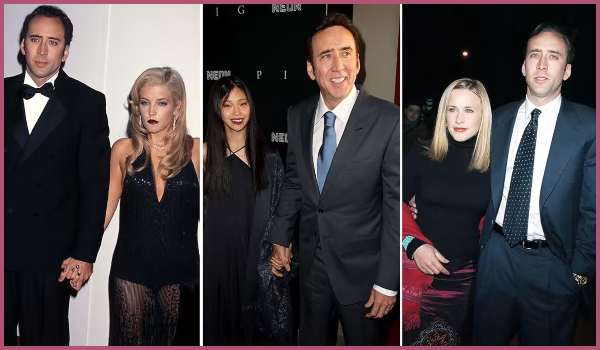 The Unbearable Weight of Massive Talent is currently married to his daughter's mother Riko Shibata. His Japanese entrepreneur wife walked down the aisle with him on February 16, 2021, and has a 30 years age difference with him. The duo recently welcomed baby August Francesca Coppola Cage.
Who was Nicolas Cage married to for the longest?
He was married to his third wife Alice Kim when she was just 19 on July 30, 2004. Though the former spouses had a 20 years age gap they lead a blissful conjugal life for 12 years. But they had an unfortunate divorce in 2014.
The couple also shares a 16-year-old son Kal-El, his name is inspired by the birthname of Spiderman after daddy featured in Spider-Man: Into the Spider-Verse.
Nicolas had a 4 days marriage after divorce with his wife of 12 years
Nicolas Cage married makeup artist Erika Koike in Las Vegas in March 2019 but was bound to file for annulment four days later. They had a divorce after 3 months of marriage in the year 2019.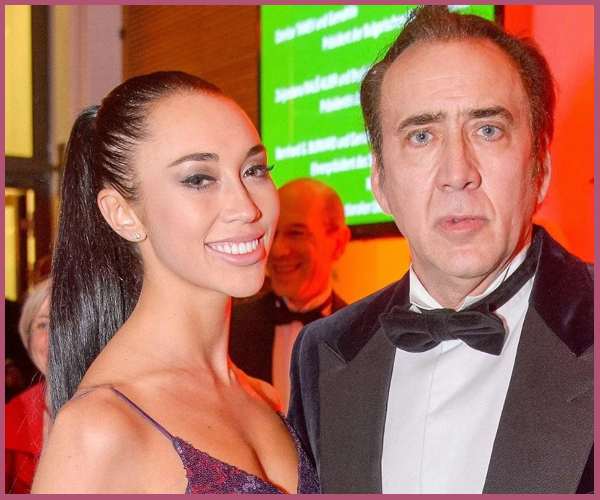 Also, Read 'I was pretty upset' actor Nicolas talks about his brief wedding to makeup artist Erika Koike!
List of all girls Nicolas dated before and after his first baby mother Christina Fulton
He was dating his baby mother Christina Fulton in 1988 and give birth to his son Weston Coppola Cage who is now 31 years old on December 26, 1990.
Nicolas had dated 12 girls in the past including the famous Angelina Jolie, his 4 ex-wives, and Sarah Jessica Parker. He also had brief romances with Elizabeth Daily, Lisa Stothard, Maria Conchita, Kristen Zang, and Brooke Shields.
Also, Read Harry Jowsey Reflects on His Difficult Relationship with Georgia Hassarati!