Why Did Nike End Their Relationship With NBA's Kyrie Irving? $11 million deal per annum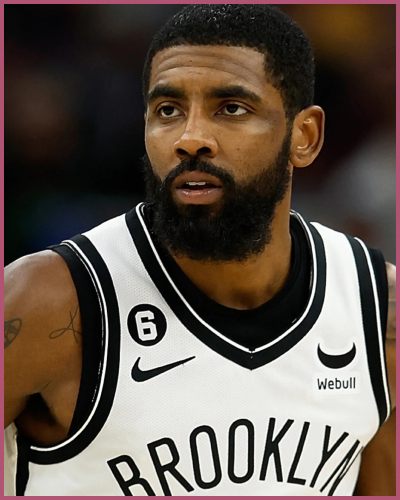 Nike ended their relationship with Kyrie Irving a month after suspending their relationship with the NBA player.
Kyrie's sneakers were among Nike's best-selling sneakers in the world.
The deal was worth around $11 million per year.
---
The star guard for the Nets tweeted a link to the movie "Hebrews to Negroes: Wake Up Black America." The 2018 movie "uncovers the true identity of the Children of Israel," according to the Amazon summary.
According to the summary, the video is "filled with heaps of research," and viewers will "find out what Islam, Judaism, and Christianity have covered up in respect to the genuine biblical identity of the so-called "Negro" for generations."
According to Rolling Stone, the film contends that "many famous high-ranking Jews" have "admitted" to "worship[ing] Satan or Lucifer."
After this incident, his team released the following statement,
 "The Brooklyn Nets strongly condemn and have no tolerance for the promotion of any form of hate speech. We believe that in these situations, our first action must be open, honest dialogue. We thank those, including the ADL, who have been supportive during this time."
Nike followed up by suspending their multi-million dollar partnership with Kyrie on November 4, 2022.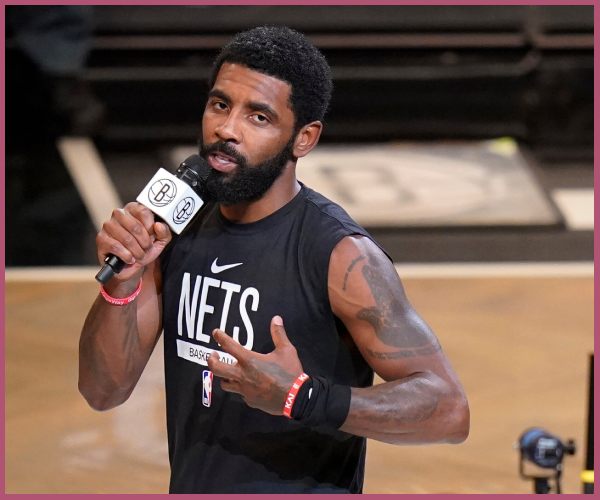 Irving's public apology
A week after the incident, Kyrie publicly apologized on Instagram with a lengthy statement. The statement read:
"While doing research on YHWH, I posted a Documentary that contained some false anti-Semitic statements, narratives, and language that were untrue and offensive to the Jewish Race/Religion, and I take full accountability and responsibility for my actions."
He added:
"To All Jewish families and Communities that are hurt and affected from my post, I am deeply sorry to have caused you pain, and I apologize. I initially reacted out of emotion to being unjustly labeled Anti-Semitic, instead of focusing on the healing process of my Jewish Brothers and Sisters that were hurt from the hateful remarks made in the Documentary."
Read more: Happy New Year! Cher Celebrates New Year Eve with Beau Alexander AE Edwards amid their Engagement Rumors!
Nike ended their relationship with Kyrie Irving a month after the suspension
Nike said in a statement,
"Kyrie Irving is no longer a Nike athlete." 
The basketball player's deal with Nike, which has been making his shoe line since 2014, was due to expire in October 2023. The company declared that it would not release his most recent shoe, the Kyrie 8, at the time of the suspension.
Kyrie's agent, Shetellia Riley Irving also confirmed saying:
"We mutually decided to part ways and we just wish Nike all the best."
The partnership officially ended a month after Nike suspended Kyrie.
The Aftermath and Kyrie's Reaction
Celebrities and Jewish organizations have requested that Barnes & Noble and Amazon remove the movie from their sites, but Amazon CEO Andy Jassy stated last week that the e-commerce business has no intentions to do so.
Right after releasing the statement, Nike slashed prices on all remaining Kyrie products with up to 50% discount to clear stock.
Shortly after the news broke, Irving posted a 'gif' on Twitter that said "There's nothing more priceless than to be free".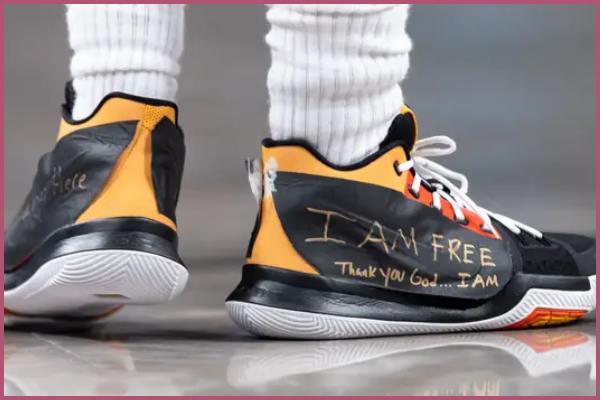 Moreover, Irving played in redesigned shoes just two days after being released by Nike. Irving wore his Nike shoes but taped over the brand's emblem during the Brooklyn Nets' victory over the Charlotte Hornets on Wednesday.
On one shoe, he wrote, "I am free" and "Thank you God… I am" while on the other, he wrote: "Logo here."
Kyrie's Sneakers were among Nike's best-selling
Kyrie's collaboration with Nike began in 2014, and it swiftly rose to the top of the market for footwear. Irving and Nike had an $11 million-per-year shoe deal. The second-best-selling line of sneakers in 2017 was his, after LeBron James'.
Popular TV Shows, 'Friends' and 'SpongeBob SquarePants' have been featured in Irving's themed sneaker partnerships with the latter selling out very quickly.
Also, read: Prince Harry Said He Wants to Get His Father and Brother Back Just a Week Before the Release of His Memoir Book!