Nikki Haley resigns as the US Ambassador to the UN!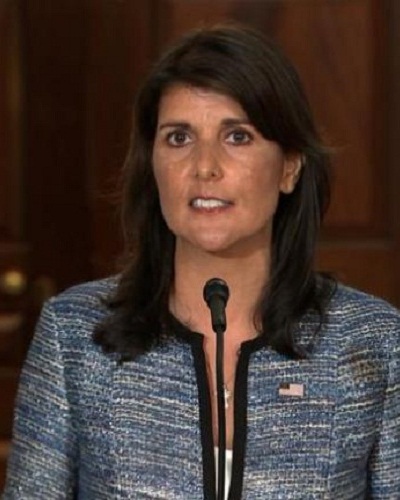 In another blow to the Trump administration, Nikki Haley in a surprise move has put in her resignation papers from her post as the US Ambassador to the UN which she had joined in January 2017
---
Nikki Haley and her resignation
Nikki is a pro-Trump politician and joined the ranks of an ambassador from the US to the UN in January 2017. She has resigned from her post today the 9th of October 2018.
The move was a surprise and it is another blow to the dysfunctional Trump administration which has seen a number of casualties over the last few months. The administration and nation seem to be heading for a mid-term poll.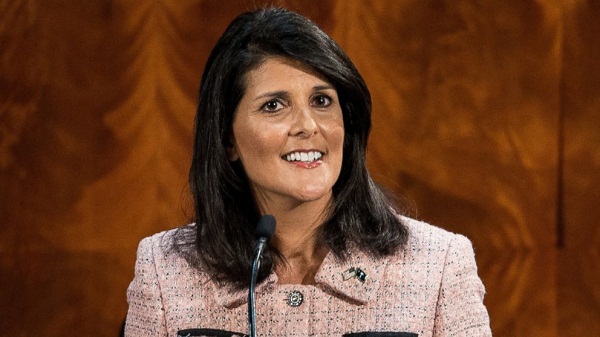 Donald Trump accepts the resignation and praises Nikki
The President of the US, Donald Trump has accepted his resignation, it has been reported. He also praised her for all her work during her tenure as a US Ambassador to the UN.
He stated that her work has been incredible and she was an excellent American diplomat at the UN. Trump had made her resignation known to the public when they all were at the Oval Office.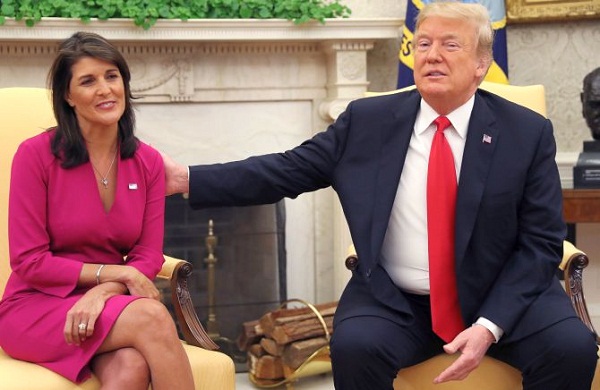 Trump said:
"I wanted to do this (Oval Office send-off) because Nikki Haley, ambassador to the United Nations, has been very special to me. She's done an incredible job. She's a fantastic person, very importantly. But she also is somebody that gets it,"
It was a hastily arranged meeting of Trump with the reporters. He added:
"She told me probably six months ago, I want to take a little time off'."
He further said:
"She got to know the players, She got to know China, Russia, India, She knows everybody on a first-name basis, and they like her, except maybe a couple, which is normal,"
What did Nikki say?
Nikki is a moderate Republican and has ruled out a 2020 Presidential bid. She also said that she would join Trump's campaign during the 2020 re-elections.
Nikki also considers that it was a lifetime opportunity for her to serve as the US representative to the UN. She said:
"It has been an honour of a lifetime. I — you know, I said I am such a lucky girl. To have been able to lead the state that raised me and to serve a country I love so much has really been a blessing and I want to thank you for that,"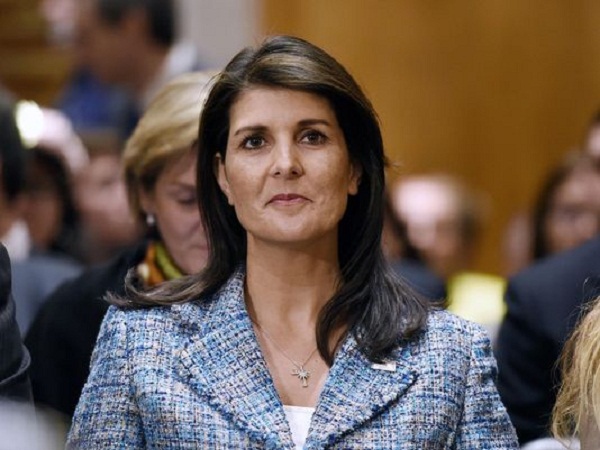 Nikki Haley and her career
Nikki is the daughter of immigrants from India who had first migrated o Canada before they settled in South Carolina. She has served as the Governor of South Carolina from 2004 to 2010.
Nikki said that she would like to have some break after her 8 years in the political domain of the US and all of these years according to her has been hectic.
She said:
"You have to be selfless enough to know when you step aside and allow someone else to do the job,"
Nikki was asked the reason for her resignation and exit and she said:
"My family is very supportive. So no, there's no personal reasons," 
She said that it is time for her to resign. She has done a global trip in the last 1.5 years as a UN envoy and has an important contribution to the New York-based world body.
Short Bio on Nikki Haley
Nikki Haley is an American politician and philanthropist. Haley is the  116th Governor of South Carolina. She served in the post of Governor from January 2011 to January 2017.
In addition, she is the first female to appoint to the post of Governor of South Carolina. On 9th October 2018, she resigns from her post as US Ambassador to the USA. More Bio…
Source: rediff.com