No time for each other during their first year of marriage! The American gymnast, Shawn Johnson and her husband NFL player, Andrew East shares about Miscarriage in Heartbreaking Video!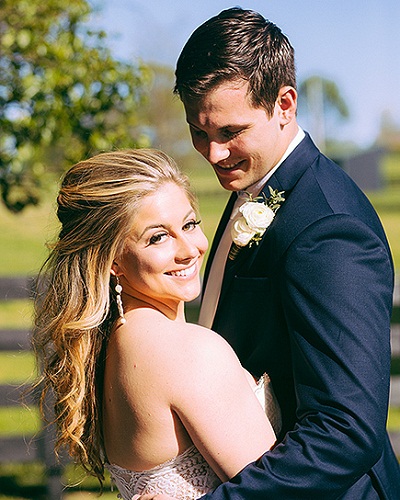 The American gymnast, Shawn Johnson East who first rose to fame in the 2008 Olympics. She married an NFL player Andrew East a year ago on April 16.
The couple now speaks about how difficult their first year was. They further said how their relationship became stronger.
No time for personal life
In an interview with People, the 25-year-old  Shawn (who recently caught some flak for her April Fools' Day pregnancy joke) discussed what new marriage has looked like for her — and it's been a rocky start. Shawn Johnson said,
"It's been the craziest year of our lives, One day doesn't look like the next for us!"
 The team had to pack up and wave goodbye to their rural wedding venue to start their life together in Oakland after their wedding.
Before she flew out to Rio to be a commentator for the 2016 Olympics, Johnson East said that the two "lived out of a Hampton Inn for 4 months". So basically, it was not the greatest honeymoon one could hope for.
During their first year of marriage Johnson East and her husband were apart for more time than they were together. They are now living together in Nashville.
Despite the ups and downs, Johnson East said that after "the hardest and best year" of her life they are "happier and more in love than ever."
To mark their need to one another in spite of the occasional long-distance stretches. With the help of jeweler Lindsey Scoggins, the two even designed an anniversary ring together for Johnson East.
At the end of the day, despite the struggle, it's all good for the couple. Johnson East admitted,
"I still can't believe I'm married to my best friend, It's a comfort to be able to come home to him when we are together and to go through life together."
You may also like to read Andrew East's wife, Shawn Johnson suffers a miscarriage! The couple shares the heartbreaking news on their social media!
Shawn Johnson Opens Up About Her Miscarriage 
Shawn Johnson and her husband, Andrew East, uploaded a video to Youtube this weekend about her recent miscarriage. The video was about how the couple has been dealing with the emotional few days.
Turning to her husband with a small smile, The Olympic gold medalist says,
"Today's video is a little bit sensitive, It's not the happiest video, but we feel like a lot of people go through this, so we wanted to share it."
Johnson said in a YouTube video,
"We feel like a lot of people go through this so we wanted to share it, The past 48 hours have been some of the happiest, scariest, and saddest times of my life, My husband Andrew and I found out that we were unexpectedly pregnant, only to find out hours later some tragic news. I have been crying more than I ever have, but am still optimistic about what is next."
In the video, two digital home pregnancy tests are shown and are positive. Johnson then expresses, tearfully,
"We're going to have a baby. I definitely wasn't planning this but it's really, really exciting. How am I gonna tell Andrew? He's going to be a daddy."
Reason behind miscarriage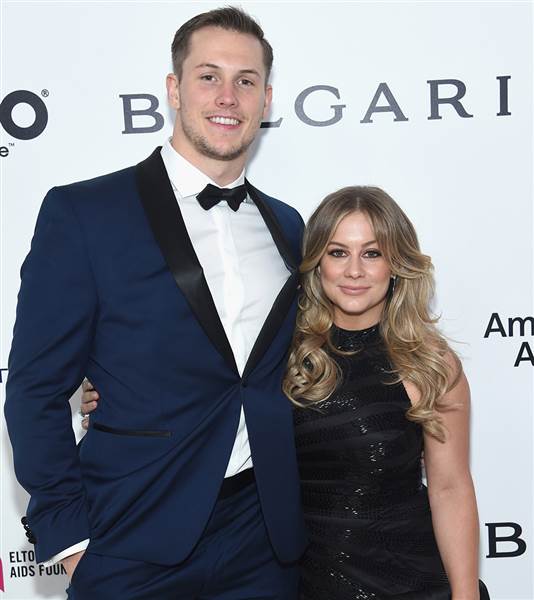 At the doctor's office, an ultrasound showed bleeding in her uterus and no gestational sac. This meant she had miscarried naturally. She was six weeks along —just two weeks after a pregnancy test can show a positive result.
The couple appeared to be in good spirits. They said they did not plan to get pregnant. Johnson said,
"We know everything happens for a reason, We believe God's got a bigger plan for us. All we can do is be positive otherwise we just sink into a hole."
Also read Big Brother 20 star Haleigh Broucher still dating Faysal Shawn Shafaat! Know about her age, social media, biography
A short bio on Andrew East and Shawn Johnson
Andrew East is an American football player who plays as a long snapper. He is also the husband of Olympic gold medalist Shawn Johnson. During his college time, he had played football at Vanderbilt. Previously, he has played football for the Oakland Raiders. more bio…
Shawn Johnson is a retired American gymnast who was introduced to gymnast at the age of Three. At the age of 12, she started to compete for the National Junior Events and also won many titles. Shawn also held the title of US all-around championship by winning it once as a junior and twice as a senior gymnast and held the position of 4th women to win World Championship title. She ruled the world of gymnastics by winning the gold in Balance Beem Event in 2008 just at the age of 16. more bio…