On the 85th birthday Billie Lourd remembered her late grand mom: Debbie Reynolds
Billie Lourd
Lourd was born in Los Angeles, California, and she is the daughter of actress Carrie Fisher and talent agent, Bryan Lourd. Her maternal grandparents are actress Debbie Reynolds and singer Eddie Fisher.
She is the niece of Todd Fisher, Joely Fisher, and Tricia Leigh Fisher. Her godmother is actress Meryl Streep. Currently, Billie is in a relationship with the hot Twilight star, Taylor Lautner.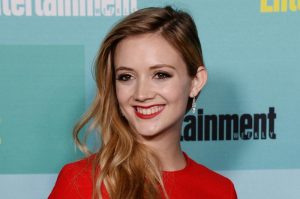 Ethnicity: She is of Russian Jewish, Scottish-Irish and English descent. Writer Bruce Wagner is Lourd's godfather.
Billie celebrated her late granny's 85th birthday remembering her
'Happy 85th!'
Billie Lourd wishes grandmother Debbie Reynolds a happy birthday after the Singin' In The Rain icon died in December.she celebrated her granny's 85th birthday with tribute and shared many photos on Instagram.
Billie Lourd shared a beautiful photo of the Debbie Reynolds and her deceased mother Carrie Fisher on what would have been her grandmother's 85th birthday.
See the emotional message Billie wrote for Debbie here: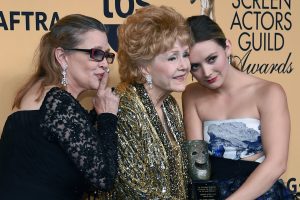 Billie Lourd celebrated her grandmother Debbie Reynolds' 85th birthday with a touching photo. The 24-year-old actress shared a picture of Debbie and her daughter Carrie Fisher, who was Billie's mother on Instagram. Both beloved actresses passed away at the end of Dec.Happy 85th to my constantly classily clad Abadaba beneath an adorable photo of Debbie in all green with Carrie behind her. The mother and daughter appeared to be in mid-song.
Bruce Bozzi, her stepdad also posted Lourd's picture wither her mom and grandmom with a sweet message on Instagram,
Billie Lourd Pays Tribute to "Classily Clad" Debbie Reynolds on Her Birthday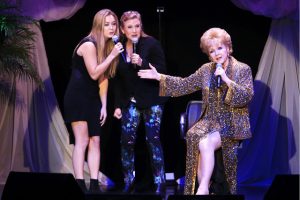 On Debbie Reynolds's 85th birthday, her 24-year-old granddaughter, Billie Lourd, paid tribute to her with a sweet post on Instagram.
Along with a shot of Debbie and Billie's mom, Carrie Fisher, the Scream Queens actress wrote,
" Happy 85th to my constantly classily clad Abadaba."
A public memorial for Carrie and Debbie was held at Forest Lawn Cemetery in LA the week before, and even though Billie didn't attend, she stopped to smell the flowers during her day date with boyfriend Taylor Lautner at the Antelope Valley California Poppy Reserve.
Relation between Billie Lourd and Debbie Reynolds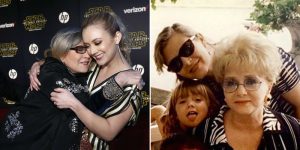 Billie Lourd and her granny(Debbie Reynolds) had very strong bonding with each other. Her grandmother died one day before her mother (Carrier Fisher).
She was completely shocked and silent after the death of her mother and grandma because they had very strong relationships and could not express her feelings quickly.
You may like to read Behind The Scenes of Star Wars!! Have A Look At The Last Carrie Fisher's Final Scenes in New 'Star Wars: The Last Jedi' Teaser Video
Billie shares her granny's birthday tribute on social media
Billie Lourd is continuing to celebrate the life of her late grandmother, movie legend Debbie Reynolds.
The 24-year-old remembered the screen icon in a sweet Instagram photo on Saturday, which would have been Reynolds' 85th birthday.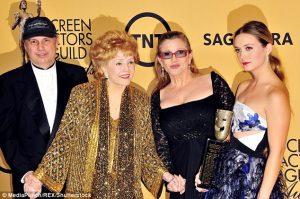 "Happy 85th to my constantly classily clad Abadaba,"
Lourd wrote alongside the photo of Reynolds and Lourd's late mother, Star Wars actress Carrie Fisher.
Also read Billie Lourd, Carrie Fisher's daughter is engaged to her boyfriend actor Austen Rydell!
Short bio on Billie Lourd
California-born Billie Lourd was born as Billie Catherine Lourd on July 17, 1992. She possesses American nationality and is a famous actress. She is popular among the TV and film viewers for playing some major roles.
Presently, she is a prominent figure in the media for starring in horror-comedy series "Scream Queens". She plays the character of Sadie Swenson/Chanel #3 in that TV series. Additionally, she is popular for playing in the 2015 film "Star Wars: The Force Awakens". She played the character of Lieutenant Connix in the film. More bio…