Pamela Anderson steals the beach-inspired show of Chanel Spring 2019 event in Paris!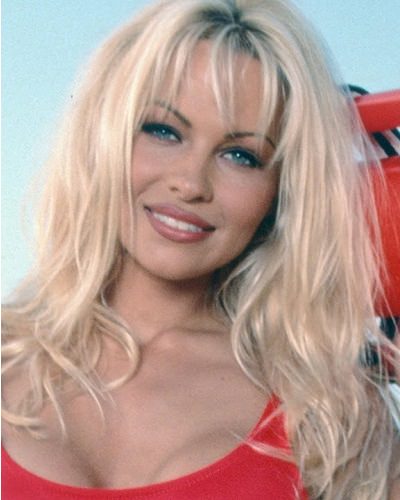 American-Canadian actress Pamela Anderson, 51 was at the Paris Chanel Spring Fashion Show and with the beach theme, Pamela had replaced her red one-piece with a chic tweed suit!
Pamela Anderson and the Paris Chanel Spring Fashion Show
The Chanel Spring 2019 Fashion Show was held in Paris this week and for this great occasion, Karl Lagerfeld of this iconic French brand had taken everyone to the seaside-not a natural one but a fake beachside which was complete with water and sand. There were also surf, dock, and lifeguards. It was recreated within Grand Palais in Paris.
Present for this event were celebrities such as Baywatch queen Pamela Anderson, Laura Smet, Poppy Delevigne, and more. These were all ready to have some fun in the faux sun.
Pamela Anderson and the event
The 1990's icon Pamela Anderson enjoyed the attention and fist posed for pictures. She got her pictures clicked alone as well as with her fellow seatmates Pharrell Williams and his wife Helen Lasichanh.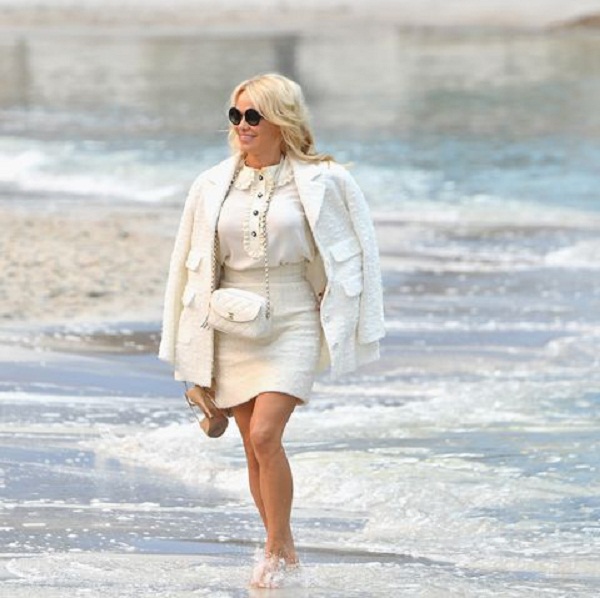 After this celeb thing, Pamela did what everyone wanted her to do at the event. After the show ended, she kicked off her Chanel shoes and had fun in the water. She upped her skirt and ran down the artificial beach. It was a sight worth seeing!
Pamela Anderson and her outfit
Pamela was on the front row at the fashion show. Instead of her iconic red bathing suit, she had worn the Chanel label and this was a white skirt and suit with black and beige Mary Janes and a white quilted bag. The photographers were clicking pictures and making videos of her time in the water.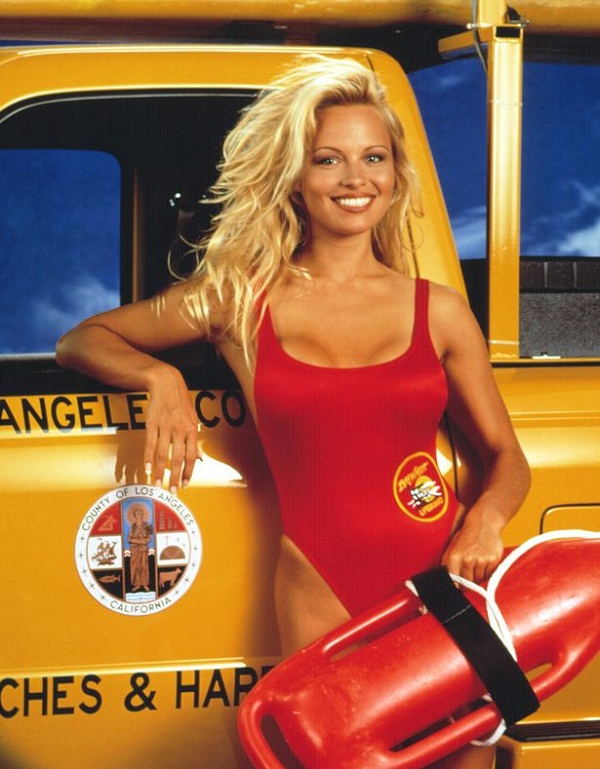 Pamela Anderson is not so much of a regular at the Paris Fashion weeks like Kim Kardashian but she is most of the time in the City of Love.
Pamela Anderson and her current boyfriend
She is participating in the current season of the French version of Dancing with the Stars which is called Dans Avec Les Stars. Her last work was a cameo role in the Hollywood remake of Baywatch which was produced by Dwayne Johnson.
Pamela was dating French soccer player Adil Rami since the year 2017. In July 2018, she had introduced her to her mom and everything seemed to be going fine. But in early September 2018, the news was out that she has split from Adil. As reported by Page Six, she made a selfless move since she realized that due to her Adil was unable to meet his twin sons.
She is now alone in Paris. She had been in relationships with several celebrities and her last marriage which ended in a divorce was with American poker player, Rick Salomon.
What the other celebrities wore for the show?
Pharrell Williams had put on a more casual look with a gray and white zip-up covered with the brand's name and had matched it with cropped Khaki pants. Poppy Delevigne had a wife-legged tweed suit and this had a satin shawl tuxedo-collar. Irene Kim had preferred a leather version of the outfit.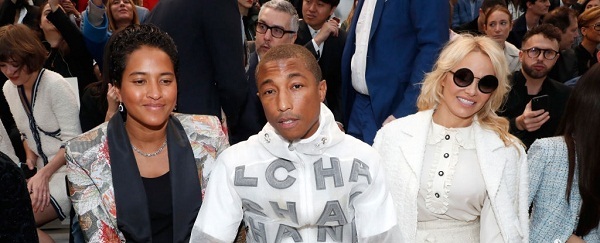 Short Bio on Pamela Anderson
Pamela Anderson is a Canadian American actress and model. People mostly recognize her for her roles on the television series 'Home Improvement', 'Baywatch' and 'V.I.P.'. Additionally, she rose to fame as Playmate of the Month for Playboy magazine in February 1990. More Bio…
Source: fashinista.com, elle.com, glamour.com