Pamela Anderson Net Worth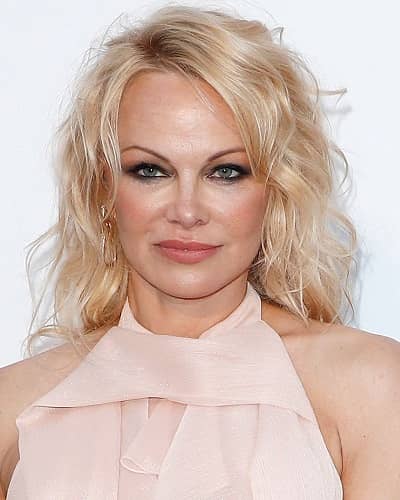 As of 2022, Pamela Anderson has a Net Worth of $ 20 Million Dollars. 
At the peak of the show's run, Pamela earned $300,000 per episode, roughly $6.6 million per season.
In 2000 she paid $1.8 million for a Malibu home
---
What is Pamela Anderson's Net Worth?
Pamela Anderson is a former showgirl and Canadian-American actress, glamour model, producer, playwright, animal rights activist, and author. Pamela Anderson has a $20 million Net Worth. She has become more famous for her life off-screen over the years, but she first gained international attention after appearing on the show "Baywatch" and marrying Motley Crüe drummer Tommy Lee.
Pamela Anderson's meteoric journey to international fame happened by chance. She was seen on the stadium's big screen while attending a BC Lions Canadian Football League game in Vancouver, Canada, where she was living and working. The crowd erupted as she appeared in an extremely formfitting Labatt's beer t-shirt. She was then carried into the field to thunderous acclaim. That one incident resulted in her first appearance on the cover of Playboy, and she has had a long and fruitful relationship with the magazine.
She began a moderately successful acting career after relocating to Los Angeles, greatly broadening her following. Anderson has acted in films such as "Raw Justice" and "Barb Wire," as well as recurring or major parts on shows such as "Home Improvement," "Baywatch," "The Nanny," and "V.I.P." She also participated on E"Pam: !'s Girl on the Loose," a short-lived reality show about her life. Anderson has also appeared on "Dancing with the Stars," "Dancing on Ice," and "VIP Brother," a Bulgarian spin-off of the "Big Brother" franchise.
| | |
| --- | --- |
| Net Worth: | $20 Million |
| Date of Birth: | Jul 1, 1967 (55 years old) |
| Place of Birth: | Ladysmith |
| Gender: | Female |
| Height: | 5 ft 6 in (1.7 m) |
| Profession: | Nude Glamour Model, Author, Model, Television producer, Actor, Television Director, Activist, Showgirl |
| Nationality: | United States of America |
KEY FACTS
Made $300,000 per episode at the peak of "Baywatch"
That worked out to $6.6 million per season
After adjusting for inflation, she was earning $12 million per season
In 2000 she paid $1.8 million for a Malibu home
She spent $8 million on renovations
Rented the home for $50,000 per month for many years
Sold the home in 2021 for $11.8 million
Did not make any money off her infamous adult home movie
Early Life
Pamela Denise Anderson was born on July 1, 1967, on Vancouver Island, British Columbia, Canada. She was born on the 100th anniversary of Canada's formal foundation and gained some attention as a "Centennial Baby" when she was born. Her father, Barry, works as a furnace repairman, and her mother, Carol, works as a waitress. Anderson was sexually abused as a child by a female babysitter from the age of six to ten. A 25-year-old man raped her when she was 12, and when she was 14, her then-boyfriend and six of his friends gang-raped her.
Anderson graduated in 1985 after playing volleyball in high school. In 1998, she relocated to Vancouver to work as a fitness instructor while pursuing a modeling career. Her first paid modeling job was in 1989 for Labatt Beer, a Canadian corporation. Around this time, Anderson began making inquiries about becoming a Playboy Playmate, which, of course, was the catalyst for her fame and career.
Career, Net Worth 
Pamela Anderson graced the cover of Playboy in October 1989. She was then named Playmate of the Month in February 1990 and appeared on the centerfold of that issue. Anderson has been featured on more Playboy covers than anyone else as of this writing, and her tenure with the magazine spans three decades.
Anderson appeared in a number of sitcom guest roles in the early 1990s. Then, from 1991 to 1993, she appeared on "Home Improvement" as Lisa, the Tool Time Girl. However, it was her portrayal as Los Angeles lifeguard C.J. Parker on "Baywatch," which premiered in 1992, that propelled her to stardom. "Baywatch" ran from 1992 to 1997, with a total of 76 episodes. Anderson played the title character in the 1996 film "Barb Wire." For her efforts on "Barb Wire," she received a Razzie Award for Worst New Star. In April 1997, she hosted "Saturday Night Live."
From 1998 until 2002, she was a regular on the TV show "V.I.P." She starred in the TV show "Stacked" from 2005 to 2006. She also starred in Sacha Baron Cohen's mockumentary "Borat: Cultural Learnings of America for the Glorious Nation of Kazakhstan" in 2006. Near the end of the film, she appears as herself at a book signing. Borat showed up to her book event and attempted to kidnap her.
Anderson appeared in the miniseries "Sur-Vie" and the film "Baywatch" in 2017.
Anderson has also published four autobiographies and two novels. "Star: A Novel" was published in 2004, "Star Struck: A Novel" in 2005, and "Patches of Life," a compilation of her poems, was also published in 2005. Anderson contributed to the 2011 publication "Paul Ricoeur: Honoring and Continuing the Work." "Connect and Transform: Simple Everyday Changes for Spectacular Health," written with John Pierre, was published in 2015; "Raw" was also published in 2015, and "Lust for Love: Rekindling Intimacy and Passion in Your Relationship" was published in 2018.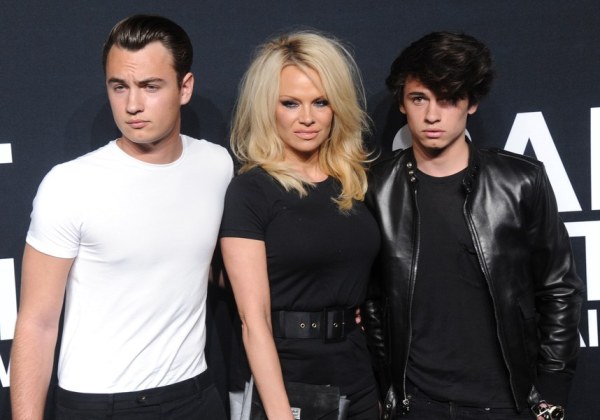 Reality TV Career
Anderson appeared on the fourth season of the Indian version of "Big Brother" in 2010. ("Bigg Boss"). She allegedly received $550,000 for her three days in the house. Andeson appeared on the UK, Bulgarian, and German versions of "Big Brother" over the next few years (2011, 2012, and 2013).
Anderson also worked on several "Dancing with the Stars" franchises, beginning with the tenth season of the American edition in 2010. They were removed after seven weeks of being paired with Damian Whitewood. Anderson then appeared on the All-Star team in 2012, but was cut after only one week. She also appeared on the Argentine and French versions of the show, as well as "Dancing on Ice" in the United Kingdom.
Personal Life
Anderson underwent breast implant surgery in 1990, raising her bust size to 34D. Several years later, she grew her bust size to 34DD. Anderson got her breast implants removed in April 1999.
Anderson married Tommy Lee, Motley Crue's drummer, on February 19, 1995, after only knowing him for four days. People magazine informed Anderson's mother of her daughter's marriage. Brandon Thomas (born June 5, 1996) and Dylan Jagger are their two sons (born December 29, 1997). Lee was arrested for hitting Anderson during their turbulent marriage. For marital abuse, he was sentenced to six months in the Los Angeles County Jail. In 1998, the couple divorced.
Anderson married model Marcus Schenkenberg after divorcing Tommy Lee. They split up in 2001.
Anderson later married Kid Rock. They split up in 2003 and married in late July 2006 on a yacht in Saint-Tropez, France. She filed for divorce from Kid Rock in late November of the same year.
Anderson admitted in February 2007 that she and her ex-husband Tommy Lee continued to have sex after their divorce. Lee stated in June 2008 that he and Anderson were attempting to work things out.
Anderson married film producer Rick Salomon on October 6, 2007. Two months later, the couple divorced, and Anderson filed for divorce through the courts on February 22, 2008. Anderson revealed in early 2014 that she had remarried Salomon. A year later, Anderson filed for divorce from Salomon once more.
She had a relationship with Julian Assange, the founder of Wikileaks.
In 2017, Anderson began dating French soccer player Adil Rami. Anderson announced on her Instagram account in late June 2019 that she and Rami had split up. Rami's old teammate stated Rami and Anderson had sex 12 times in one night in the summer of 2020.
Anderson married her boyfriend, Hollywood producer Jon Peters, on January 20, 2020. Pam and Peters confirmed their divorce on February 1, 2020. Anderson stated in May 2020 that she and Peters never legally married. Peters (or someone claiming to be him) appeared on the website SeekingArrangements.com in August 2020 looking for a "Sugar Baby."
During her marriage to Tommy Lee, she created a sex tape that has since become famous in pop culture.
She is a vegetarian who actively supports PETA (People for the Ethical Treatment of Animals).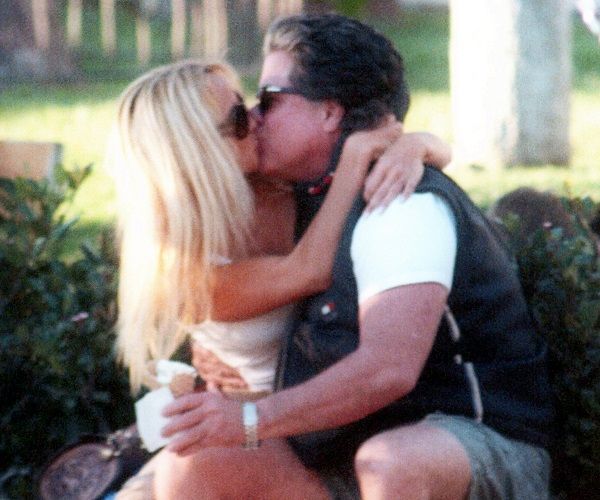 "Baywatch" Salary
At the peak of the show's run, Pamela earned $300,000 per episode, roughly $6.6 million per season.
Financial Problems
After their 12-day breakup, Jon Peters hinted in an interview that Pam's financial situation was one of the reasons their relationship terminated. He also stated that he had to pay off $200,000 in debt for Pam. She's experienced a few financial mishaps over the years. Anderson was named to the state of California's list of the Top 500 Delinquent Tax Payers in 2009 after a $1.7 million lien for unpaid taxes was issued against her. Pam owed the IRS $260,000, while the state of California claimed she owed $112,000.
Real Estate
Pamela paid $1.8 million for a Malibu property in 2000. She demolished the previous house and spent $8 million on a new modern construction. Pamela Anderson's Malibu home has an open-concept living area, a cutting-edge kitchen, a private movie theater, and a sauna. There's a roof-top sun deck, a little courtyard with an olive grove, and a stone gate in front. She advertised the house for $7.75 million in March 2013. Pamela marketed the house for rent for as much as $50,000 per month in high season after failing to locate a buyer. Anderson listed this home for sale for $14.9 million on March 4, 2021. She had a long-term tenant who was paying her $40,000 per month.
She formerly owned a property in Malibu that was directly on the beach. Unfortunately, when she returned home one day, she discovered a female fan who had strolled right from the sand into her bedroom. When Pamela returned home, she discovered the woman in her bedroom, dressed in one of her distinctive Baywatch bikinis retrieved from the wardrobe.
She has held a six-acre waterfront property on Vancouver Island, Canada, outside of Los Angeles for numerous decades. She actually purchased the land from her grandmother, who had run a general shop there for many years. Before Pam was born, her mother and father lived in a cabin on the land. Her parents married on the property afterwards. Pam has spent an estimated $1 million on major improvements to the property's structures in recent years. She plans to turn one of the barns into an animal sanctuary in November 2020.
Pamela Anderson Foundation/Activism
Pamela is one of the most well-known and outspoken celebrity animal rights activists. She has been a vegan for a long time. Anderson stripped down for a PETA campaign in the late 1990s and sat on the PETA board. She was on the board of directors of The International Sea Shepherd Conservation Society and has testified regarding animal cruelty on Capitol Hill.
Pamela has run the Pamela Anderson Foundation for nearly three decades, with the purpose of "being on the front lines in the preservation of human, animal, and environmental rights." The foundation has received the Sam Simon Award, the Linda McCartney Award, and the Spirit Award. Pam has indicated that after she meets her basic necessities, everything additional money goes to the organization.