Penelope Disick, 7 in Morning Cuddles with mother Kourtney Kardashian on Instagram!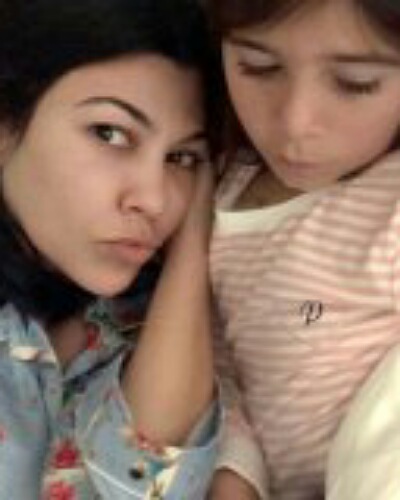 Penelope Disick is just 7 but this daughter of the eldest Kardashian sibling, Kourtney Kardashian and her ex-boyfriend Scott Disick is already turning out to be the cutest kid in town. She is a, fashion icon and wears unique stylish and expensive clothes. Proud mother Kourtney shared a lovely snap of the duo.
Kourtney Kardashian and Penelope Disick in Morning Cuddles
Kourtney Kardashian, 40 loves her kids and specially the morning bonding with them. She uploaded on her Instagram on 17 February 2020 a sweet snap of this bonding moment with her daughter with Scott Disick, Penelope who is now 7.
In the posted photo, Kourtney is seen in her blue collared pajamas which had a cute pink floral pattern. She looks fresh-faced with no makeup and is giving the camera a pout. And little Penelope is asleep in her pink and white striped pajamas on which is written the letter P. Kourtney captioned this post:
"Morning cuddles"
And followed it with a strawberry emoji.
Penelope and her unique fashion style
The daughter of Kourtney, Penelope has her own personal style sense. She is always in the best of clothes and these come with a heavy price tag. She always gives the feeling that she has just come out after posing for a kids' clothing commercial.
On 9 January 2020, she was in Nobu with her extended family having dinner. Her father Scott Disick, 36 was also there with the group. And little Penelope looked elegant in her Gucci trench coat. Penelope's aunt, Khloe had clicked her pic and posted it on her social media.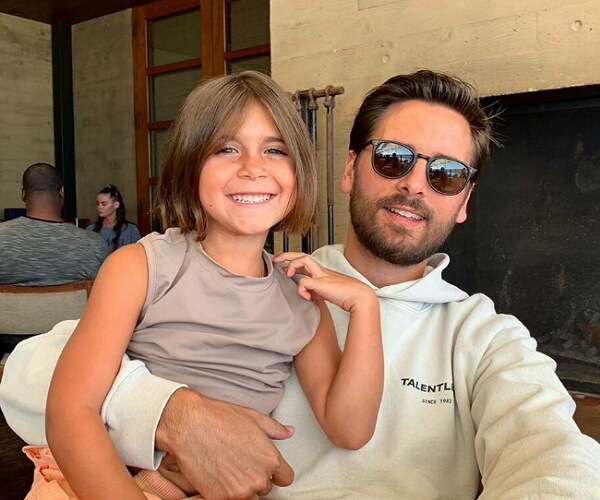 And Penelope walked after dinner holding her dad's hand as they moved to their parked car. And the cost of the Gucci trench coat that she was wearing was $ 1582.
Penelope: the fashion icon
For many years now, Penelope has revealed her unique dressing sense. She has worn Gucci coats of almost all colors. Additionally, she was, spotted with her own Louis Vuitton purse. After the New Year, she and Sofia Richie were skiing in Aspen. The pics of the time reaffirms that Penelope is unique in her style and dressing sense. The duo's ski gear matched; Sofia wore a hot-pink puffer jacket and also had head-to-toe punk outfit. Penelope remains fashionable even on Bunny Trail.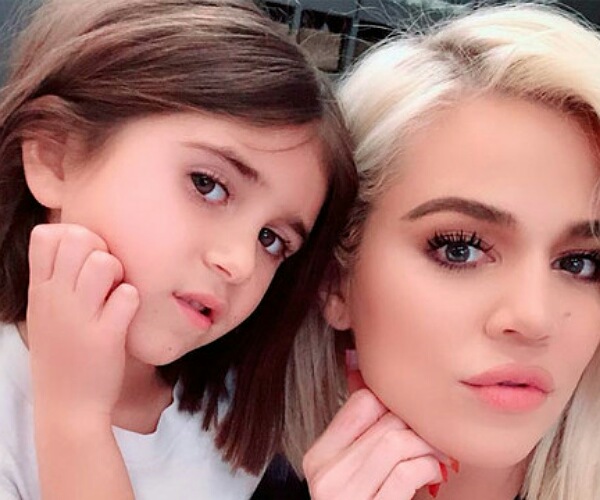 Click to read on The nanny of Kourtney Kardashian's daughter Penelope Disick quits after Penelope scratches her on the face in a fit of rage!
Penelope along with North West, 6 has, modeled for aunt Kim Kardashian's SKIMS line. In a, 25 January 2020 post, Penelope is seen in a fashionable pink attire of a robe and pajamas and has called herself Cardi P. Kim has clicked the video in which her daughter North introduced the Cardi Crew to the viewers. And Kim posted the video on her Instagram.
Click to read more on Kim Kardashian's daughter North West is a child fashion icon! See her new 'fake' nose ring!
Source: Hollywood Life