Pete Davidson and Ariana Grande share a sweet kiss onstage! Know more about their relationship and engagement!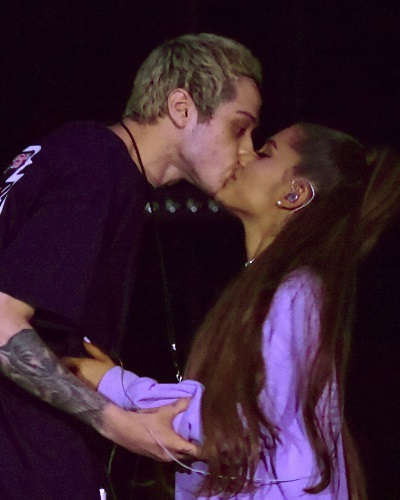 Pete Davidson and Ariana Grande were snapped as they shared a kiss on stage. The concert had taken place at the Ace Hotel in Los Angeles as she was promoting her new song Sweetener Sessions.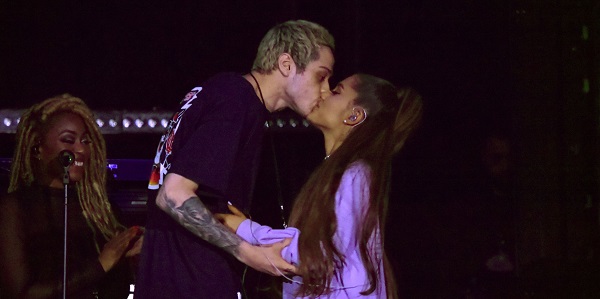 Pete had introduced her to the crowd:
"Tonight's going to be a good night, let me introduce you to my girl. Coming onto the stage, I can't believe she even talks to me, please welcome my love Ariana Grande.
He went on to welcome her onstage with a kiss on her lips. Ariana was on stage promoting her new album while her fiancé was backstage supporting her.
This is not the only time they have expressed their love publicly. They have been seen kissing in other events as well. In the 2018 MTV VMAs, the couple was touchy all night, cuddling and kissing each other.
Also read: The new couple Ariana Grande and Pete Davidson are already talking kids!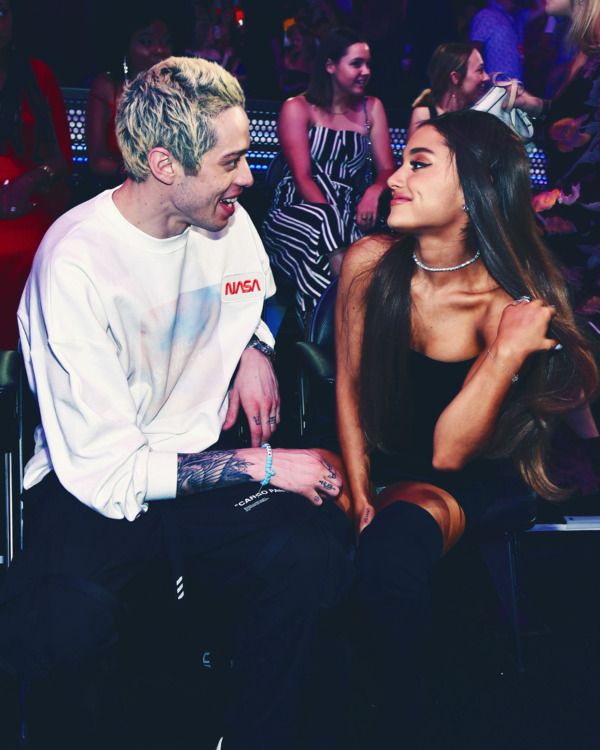 The controversy
With an interview with Daily Mail, there were talks about his relationship and engagement to Ariana. When asked what it was like to be engaged to Ariana, his reply was:
"I'm a very, very happy boy who is very, very loved and I'm very lucky. And my d*ck's forever hard."
Is that too much information or not? And his love Ariana approved his joke with a picture of them together on Instagram:
"Bae was funny as fuck and brilliant today as always."
Also read: Too soon, too good? Celebrities with whirlwind engagements within half a year of their dating!
Pete and Ariana relationship
Pete Davidson, 24 and Ariana Grande, 25 have been dating for quite a while now. The couple had first met in March 2016. Back then Pete was dating Cazzie David and Ariana was with Mac Miller. On 10th May, Ariana shares that she and Mac are no longer together.
After 2 days, she was seen with Pete, hanging out all night with him and Pete's mom. It was at the Saturday Night Live after-party.
On 16th May, Pete also announced that he and Cazzie are no longer dating. Only 4 days later, Pete and Ariana were seen hanging out "very close" backstage.
A source had revealed:
"After Ariana's performance, they were backstage and he had his arm around her. They seemed very lovey-dovey. He was hanging out with her and her friends with his arm around her. She seemed quite smitten."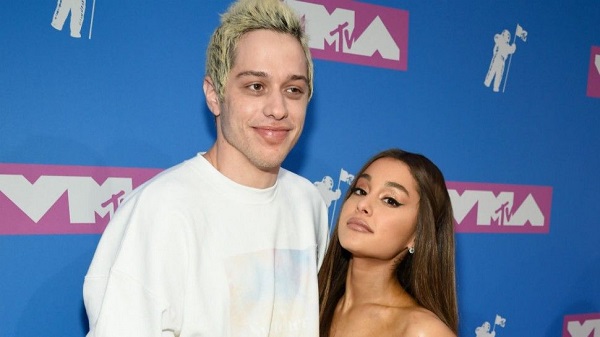 The next day, on 21st May, there was confirmation that the two were definitely dating!
Both of them have been vocal about their affair. Pete had shared:
"The day I met [Grande], I was like, 'Hey, I'll marry you tomorrow. She was calling my bluff. I sent her a picture [of engagement rings]. I was like, 'Do you like any of these?' She was like, 'Those are my favorite ones,' and I was like, 'Sick.'"
Talking about Pete and herself Ariana laughingly had said:
"It's just like a feeling, you know? That's so cheesy. People are always like, 'When you know you know,' and you're like, 'Yeah, okay, whatever.'…… You just feel it … He just ticks every box, and it gets better every day. I'm very grateful for him. Life is beautiful."
Also read: Ariana Grande gets a Bee tattooed to support Manchester after the hugely successful One Love Concert!
Pete and Ariana's engagement
Talking about his proposal, Pete had revealed:
"I didn't want to do something corny. We were in bed hanging, after watching a movie. I was like, 'Will you marry me?' It was really dope."
Fans are very much excited to see the couple tying the knot in an altar. So when Ariana was asked about the event plans, she replied:
 "We're gonna take our time to plan it… It's really fun like, I work so much I never spent this much time or energy planning something personal that feeds my soul so much, and my heart."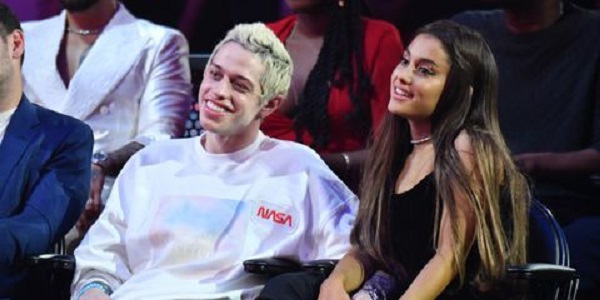 A short bio on Pete Davidson
Pete Davidson was born on November 16, 1993, in Staten Island, New York, U.S. He is an actor and a comedian. His mother is Amy Davidson and father was Scott Matthew Davidson, a firefighter. He has a younger sister named Casey Davidson.
When Pete was just 7 years the 9/11 happened. His father died in service during the attack. He was last seen running up the stairs just before the building collapsed.
After the tragic loss, he was very much affected. He has revealed he had suicidal thoughts when he was younger. His mental illness got so severe that at one point he was ripping out his hair until he was bald. Full bio…
Short bio on Ariana Grande
Ariana Grande is an American singer and actress. She is best known for portraying the character Cat Valentine on the Nickelodeon sitcom "Victorious" before getting a big break in the music. Her hit songs include One Last Time, Problem, Bang Bang, etc. More bio…
Also read: Ariana Grande Says She is 'Broken' After the Suspected Terrorist Attack at Her Manchester Concert and she's 'so so sorry,' reportedly suspends world tour!!
Reference: harpersbazaar.com, people.com, cosmopilotian.com, Wikipedia.com