PewDiePie's Net Worth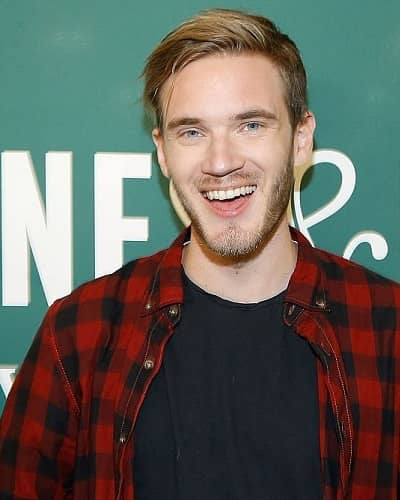 He is the highest-paid and most-subscribed YouTube star on the planet.
 PewDiePie (aka Felix Kjellberg) has a Net Worth of $ 40 Million Dollars. 
His gaming videos on YouTube have helped him gain 112 million subscribers, allowing him to become a gaming personality.
---
What is PewDiePie's Net Worth?
PewDiePie's Net Worth is predicted to be $40 million as of November 2022. Felix Arvid Ulf Kjellberg, better known by his online alias PewDiePie, is a Swedish YouTuber. He also has the most subscribers on YouTube.
His YouTube gaming videos aided him in becoming a gaming personality.
| PewDiePie's Net Worth : | $40 Million |
| --- | --- |
| Age: | 32 |
| Born: | October 24, 1989 |
| Gender: | Male |
| Height: | 1.75 m (5 ft 9 in) |
| Country of Origin: | Sweden |
| Source of Wealth: | YouTuber/Social Media Personality |
| Last Updated: | November 18, 2022 |
Early Life
Felix was born in Gothenburg, Sweden, on October 24, 1989. He was interested in painting from a young age and was an ardent gamer in high school.
In 2008, he graduated from Göteborgs Högre Samskola and went on to study at Chalmers University of Technology. But Felix felt he didn't fit there, so he dropped out to do what made him happiest.
Even though his early days were difficult, he stated in a video that he purchased equipment to get started by selling his Photoshop works. He came up with the term 'PewDiePie,' even though it was originally just Pewdie.
Career
PewDiePie's lively and amusing game commentary with spectacular reactions immediately made him a viral hit, and he swiftly became the most subscribed YouTube channel of 2012, with 5 million subscribers.
He eventually signed with Makers Studio and began to gain media notice. PewDiePie's YouTube channel now has over 3500 videos and over 104 million subscribers.
Over the years, his channel has featured a variety of game series and segments, the most popular of which has been his Let's Play series.
As his fame grew and tales of significant sums of money began to circulate publicly, he received both attention and criticism.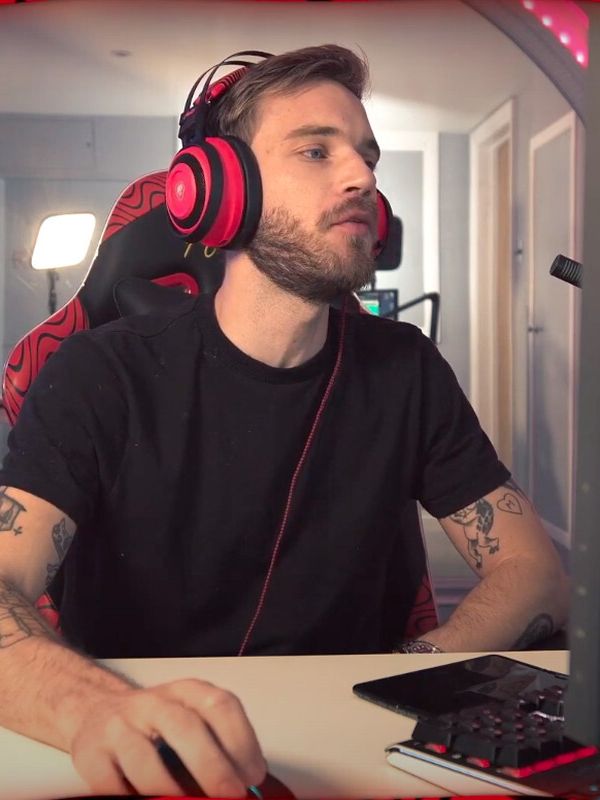 That's why he has a series of videos devoted to harsh remarks. His defining move is the brofist he performs at the finish of each video. He also often posts vlogs and has a larger following than any mainstream media.
He released his own game, PewDiePie: Legend of the Brofist, in 2015.
PewDiePie subsequently went on to write and publish his book, This Book Loves You. PewDiePie has received various honors in the gaming community on YouTube, most notably Best Gaming Channel, Show, or Series in the 5th Streamy Awards.
He was declared the highest-earning YouTuber by Forbes in 2016, with an annual salary of $15 million.
PewDiePie's income is definitely not limited to YouTube, since he is active in a variety of other productions and projects.
He is also a generous giver with an initiative called the 'Water Campaign.' He raised almost $400,000 through the program and has been involved in other collaborations throughout the years.
Following disputes over some of his films' content, Felix has recently given his channel a new edge with some of his free speech videos.
PewDiePie's Net Worth is predicted to be $40 million as of November 2022.
How Does PewDiePie Spend His Money?
PewDiePie must be blowing all of his money on new cars and homes, right?
Every wannabe YouTuber is always lacking in one area. That thing is called equipment. Throughout his tenure on YouTube, he's had the opportunity to upgrade his equipment collection, which includes everything from microphones to new cameras.
Speaking of equipment, you'll need something to put it all together. This is PewDiePie's computer.
Even though PewDiePie is mainly discreet about where he spends his money, we do know that he donates a significant portion of his earnings to various charities and groups in need. When he reached 25 million subscribers, he held a charity campaign to commemorate the occasion.
He's aided organizations such as Save the Children, Charity: Water, World Wildlife Fund, Child Rights for You, National Alliance on Mental Illness, and many more.
Highlighted Career of PewDiePie
Here are some of the best highlights of PewDiePie's career:
Created his YouTube Channel (2010)
PewDiePie Vs T-Series Competition (2018)
Total Subscribers: 104 Million (2020)
Total Views: 25 Billion (2020)
Frequently Asked Questions
How much is PewDiePie worth?
PewDiePie's Net Worth is estimated to be $40 Million.
How old is PewDiePie?
PewDiePie was born on October 24, 1989, and is currently 33 years old.
How tall is PewDiePie?
PewDiePie's height is 1.75 m, which is equal to 5 ft 9 in.
Summary
PewDiePie is the most popular YouTuber of all time, with millions of subscribers and a Net Worth that's starting to add up, much like Casey Neistat, Logan Paul, and Blippi.
PewDiePie's Net Worth is predicted to be $40 million as of November 2022.
 Full Bio and Net Worth on PewDiePie
PewDiePie is a Swedish gamer and YouTube sensation who is immensely eminent for his work as a YouTuber with the channel named 'PewDiePie'. It produces videos relevant to the hit game 'Grand Theft Auto' and some comedy videos as well. PewDiePie…….