A Dad Yet Again! Piers Morgan Announces the Arrival of Two New Additions to His Family in an Instagram Post!
Piers Morgan welcomed two new members to his family.
The broadcaster took to his Instagram to announce the arrival of two children.
Fans flooded the comment section with congratulatory messages.
---
Piers Morgan is a dad to two new kittens
Piers Morgan could not contain his excitement as he celebrated becoming a father again after welcoming two cute kittens to his family.
The British broadcaster, 57, took to Instagram to announce the arrival of the cute little ones and he beamed with happiness as he held the two in his hands.
Morgan has named the two Burmese kittens after football stars.
He shared the  adorable photo with a caption that read,
"BREAKING NEWS: I've become a father again," 
He added,
"Meet Dennis (named after Bergkamp, obviously) and _____ (still working on 'Thierry' but meeting resistance.) They're a Burmese brother and sister, 10 weeks old, and like their father, adorable,"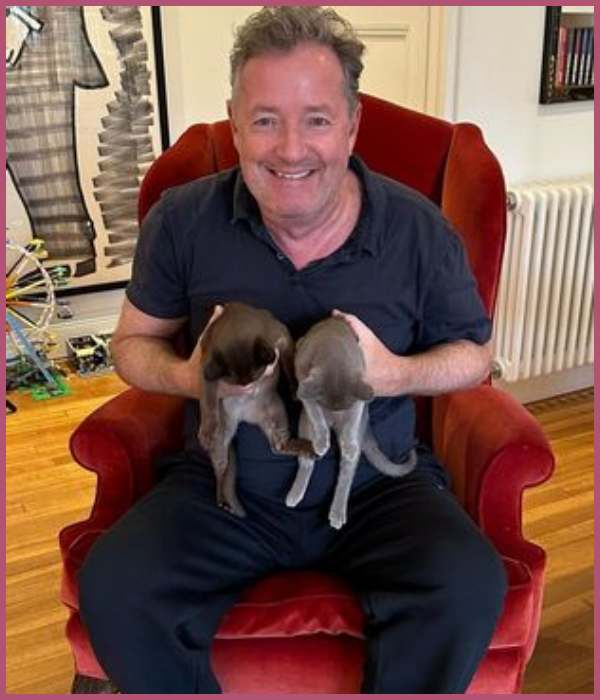 The picture got thousands of likes from his fans and they flooded the comment section with many congratulations.
One follower wrote,
"I have two Burmese cats. You  are going to fall  in love with them."
One fan joked,
"Can see they're trying to get away from you already."
Another fan added,
"Can you  please add a photo of  their faces?"
Also, Read Who Is Tes Lee From Swamp People? Her Husband, Marriage, Children
Fans did not appreciate Morgan's footwear
But there were some who were not impressed with Morgan's footwear in the picture. The presenter was wearing a bulky pair of slippers that tried to look like trainers.
Referring to his choice of footwear, one follower wrote:
"Possibly the worst footwear I've ever seen… they are that bad they are brilliant,"
Piers, however, replied to the comment by writing, "Haha.. they're slippers."
Another fan added,
"Proud father of the worst shoes ever. Can't even see the cats."
The father  of four also gave an update about the cats and said,
"After intensive negotiations, and a suggestion from @JLemariePires on Instagram, the female kitten has been named Bobby after the great Robert Piers."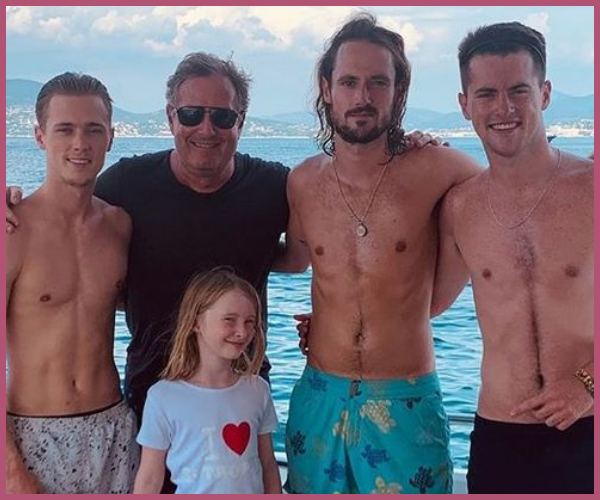 Piers' son Spencer joked in the comment section and wrote,
"There goes more of the inheritance. Fuming."
Morgan is a huge animal lover and is known to have soft spot for pets. In 2021, he mourned the death of his parents' dog. He said,
"RIP Kezzy, 14. My parents' wonderfully good-natured, intuitive, loyal, empathetic, and lovable dog. She will be greatly missed by all of us."
Apart from the two new kittens, Morgan is the father to four sons and a daughter. He shares sons Spencer,29, Stanley, 25, and Albert,21, with his first wife Marion Shalloe.
He also has an 11-year-old daughter Elise with his wife Celia. She happens to be the daughter of former Conservative MP George Walden.
They met during a photo shoot for men's GQ magazine.
Piers said that when he first met Celia, he thought she was out of his league and even compared her to Brigitte Bardot.
Also, Read A New Member in the Family! Family of Bianca Censori Finally Opens Up about Her Secret Wedding to Kanye West!