Porsha Williams shares her daughter Pilar's pictures and videos and the internet can't take it with her cuteness
Porsha Williams made everyone's morning delighted by showering us with her daughter Pilar Jhena's cuteness. Porsha's daughter, Pilar owns her own separate Instagram account where her mother updates us on her frequently.
Pilar Jhena keeps getting cuter by days
Pilar Jhena gets cuter by days and Porsha Williams proves us by sharing with us her pictures on Instagram. Porsha Williams undoubtedly wakes up to the sweetest face. On September 15, she shared with us a cute video of her five-month-old daughter Pilar, happily waking up.
Baby Pilar can be seen wiggling around in cute floral print pajamas. Porsha also tries talking to her mama and laughs for a while. Pilar smiles looking at the camera and it just melts your heart. What a pure smile she has. Porsha posted the video with the caption "All I need is this smile👑, Good morning y'all!" she captioned the epic morning post.
Also, read about Actress Milla Jovovich is pregnant again? Know about her married life, children
Pilar Jenner went to get her immunization shots and her mood is priceless
Immunization shots are every child's nightmare. I remember freaking out on the thought of it as a kid. Pilar Jhena also had her immunization due on September 10. Mommy, Porsha took the picture of Pilar to Instagram and her mood over immunization is just priceless.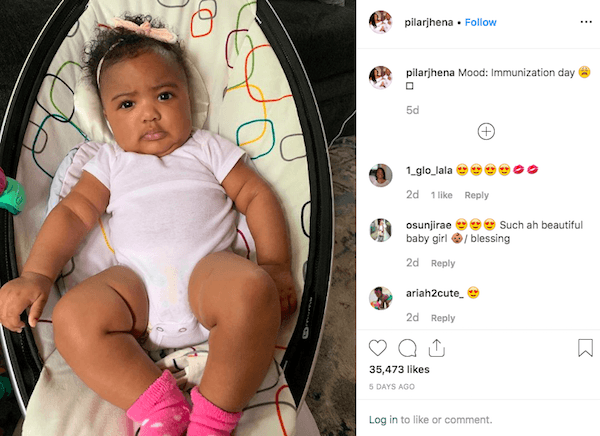 In the picture, Pilar is glaring at the camera with pursed lips and a furrowed brow, and her eyes seem to be shooting daggers at the camera. Although Pilar didn't really have an idea of what was going to happen, she sure could sense it! Porsha posted the picture with the caption "Mood: Immunization Day," with a tired face emoji.
Pilar is soon turning six months old and it's just hard to take it in. Pilar has been growing right in front of our eyes thanks to Porsha and daddy Dennis Mckinley's activeness in updating us on her.
Also, read about Nicole Tuck, wife of DJ Khalid pregnant with the second child! Khaled can't stop gushing over his family! Also, get to know more about Nicole!
Porsha Williams and Dennis McKinley relation
Dennis and Porsha were having trouble with their relationship and briefly broke up over the summer. However, Porsha was seen wearing her engagement ring again. In an interview, she claimed that the couple was working things out together. Porsha Williams and Dennis Mckinley were previously set to tie their knots on New Year's Eve, but there hasn't been an update on it from the pair.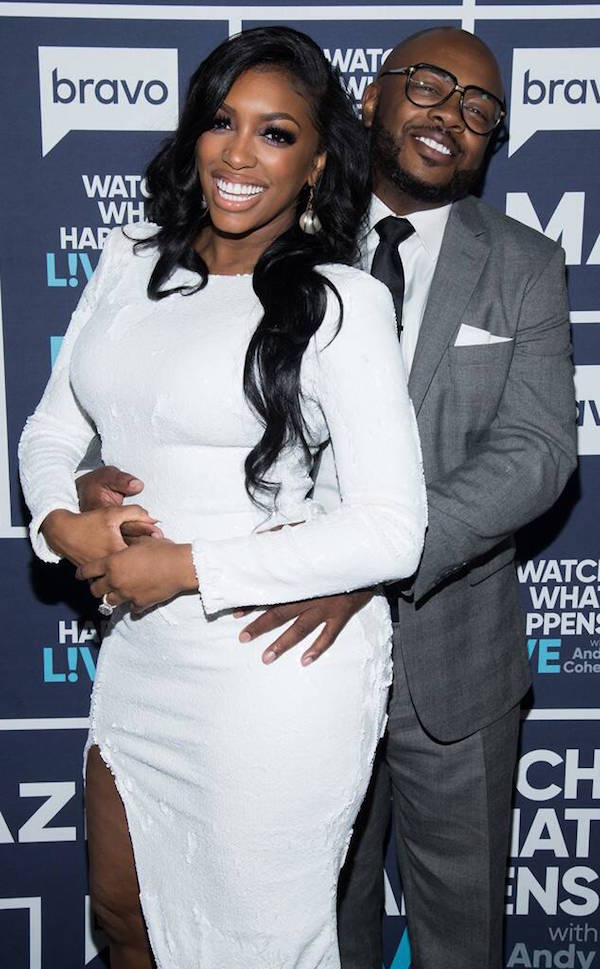 The couple got engaged in the fall of 2018, shortly after Porsha announced that she was pregnant with Pilar. Williams and Mckinley however, went separate ways in June after rumors of McKinley cheating on her surfaced. He was reportedly cheating Porsha with someone from WAGS. However, both Dennis and the alleged other women both denied the accusations of cheating.
Also, read about After a tough year, TV host Jeremy Kyle has some good news! His fiancee Vicky Burton is pregnant with their first child!
A short bio on Porsha Williams
Porsha Williams is an American model, actress, singer, and T.V personality. She is extremely prominent for "Dish Nation" (2011), "The Real Housewives of Atlanta" (2008) and "The Apprentice" (2004). She is a hardworking person and has made a respectable position in the American entertainment field. More bio…
A Short bio on Dennis McKinley
Dennis Mckinley is a well-known American businessman and entrepreneur. McKinley majored in economics and business administration. Currently, he is the owner of Detroit Equilites and the current CEO of QueenVirginRemy.com. The 37-year-old entrepreneur came to fame after rumor of his relationship with the Real Housewives of Atlanta star Porsha Williams.
source: Hollywood life