Pregnant Carrie Underwood receives her Hollywood Walk of Fame Star! Know her happy moment here!
A few months after sharing her pregnancy news, Carrie Underwood has some happy news to share. On Thursday, the country singer received her star on the Hollywood Walk of Fame.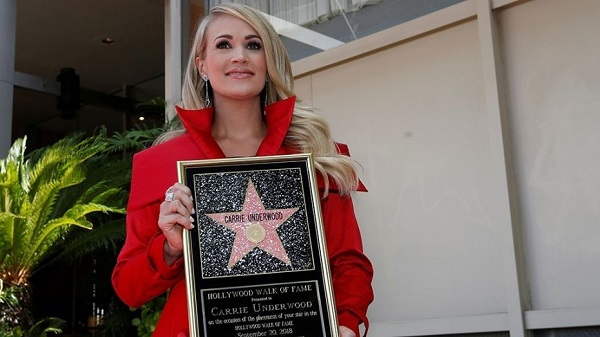 In Hollywood Walk of Fame
The Songstress shed some happy tears as she thanked her family and fans during her speech.
She spoke:
"How is this my life? How does a girl from Muskogee, Oklahoma, end up with a star on the Hollywood Walk of Fame? I'll tell you how — belief. I've been so blessed in my life to have … so many people who believed in me."
Also read: Carrie Underwood's husband Mike Fisher is the "most amazing husband"! Their pregnancy story unveiled here!
Then she went on to mention and thank her husband, Mike Fisher with whom she already has a three-year-old son, Isaiah.
"I met an incredible man, Mike, who thinks I'm so much better than I actually am in every way. Thank you for believing in me as a human, as a wife, as a mom and supporting me through all of this. He believes in me, and we had another little man that believes in me too. Isaiah Michael, I love you so much. You're the best thing we ever did — the best thing. I love you, and I'm proud of you, and I believe in you too."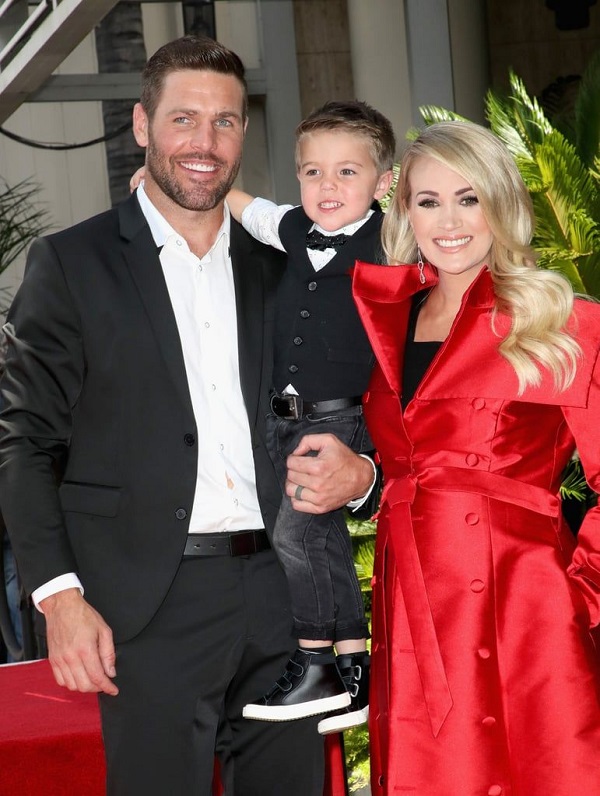 Carrie then went on the express her gratitude and excitement:
"This is absolutely amazing and a dream come true.  … That's how this happens — belief. So believe in people, believe in yourselves and just thank you."
Also read: Demi Lovato is in relapse! She is hospitalized for an apparent drug overdose!
Simon Cowell recalls
Simon Cowell, who was a mentor in 2004 American Idol, also shared his thoughts on Carrie.
"This shy lady walks in and sings 'I Can't Make You Love Me' and the show turned into full color. That was the effect Carrie had on me and the producers and we thought we may have found a great artist here.

After you sang 'Alone' I made the prediction that you would become the best-selling Idol winner, which you are. But I could have never anticipated how successful you've become. You're a role model, a very sweet person, like me we both love animals and it could not be more appropriate that a star is getting a star today."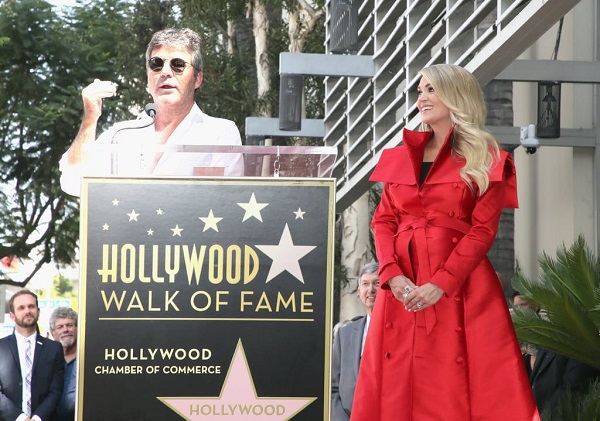 Simon added:
"You had such an impact on the show and had so many people come up to me and say 'I would like a tenth of the success Carrie has. I actually couldn't be more proud of you for presenting you this and you did it your way. I am so happy for you and I'm thrilled to be saying this. I love you and you are a total, total star."
Also read: Country singer Carrie Underwood has revealed her baby bump after the official announcement of her pregnancy!
The heartbreaking news
Only last week Carrie had shared her heartbreaking stories about her pregnancy. In an interview with CBS Sunday Morning, she shared that she had 3 miscarriages in 2 years.
Carrie spoke:
"2017 just wasn't how I imagined it. I'd kind of planned that 2017 was, you know, going to be the year that I work on new music, and I have a baby. We got pregnant early 2017, and didn't work out."

"And that was the thing, in the beginning, it was like, 'OK, God, we know this is, just wasn't Your timing. And that is all right. We will bounce back and figure our way through it. And I got pregnant again in the spring, and it didn't work out. Got pregnant again, early 2018. Didn't work out. So, at that point, it was just kind of like, 'OK, like, what's the deal? What is all of this?'"
Also read: Carrie Underwood cancels shows due to viral infection-induced vertigo and was in a German hospital for three days!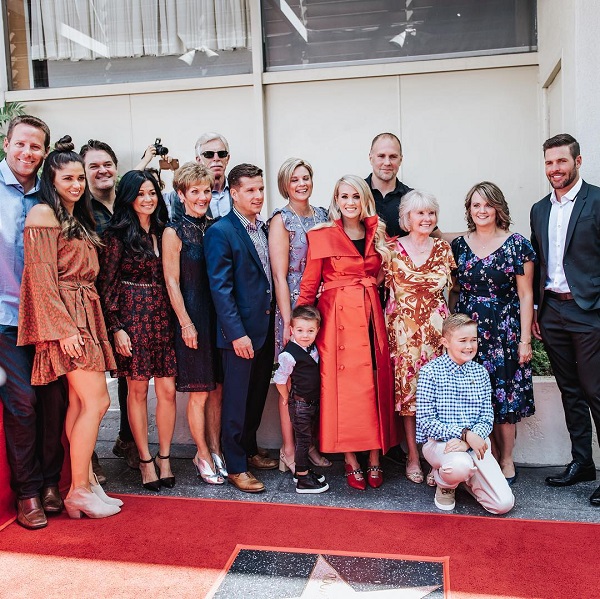 Bio of Carrie Underwood
Carrie Underwood was born as Carrie Marie Underwood on March 10, 1983, in Checotah, Oklahoma, the U.S. Her parents are Carole and Steve Underwood. She also has two older sisters, namely Shanna and Stephanie.
Similarly, Carrie's mother was a teacher at elementary school and father used to work in a paper mill. She got her schooling from Checotah High School where she was an Honor Society member, a cheerleader, and also played basketball and softball. Full bio…
Also read: Carrie Underwood shares on her health with her fans post-fall and recovery!
Short bio on Carrie Underwood
Carrie Underwood is a songwriter and singer belonging to America. She came into the highlight in 2005 as the winner of the fourth season of American Idol. See more…
Reference: (FoxNews, people, Wikipedia)