Glowing Mommy! Pregnant Claire Danes Debuts her Growing Baby Bump at the Golden Globes!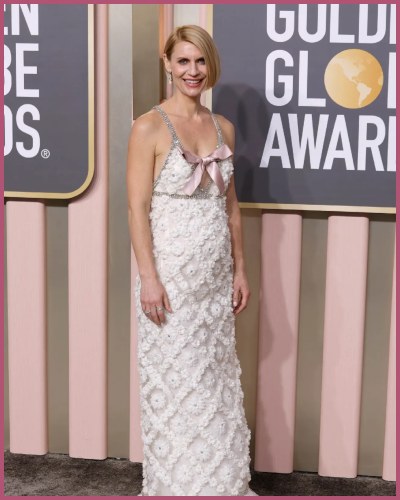 Claire Danes showed her baby bump at the 2023 Golden Globe Awards in  Hollywood.
Just two days before the ceremony, the actress revealed that she is expecting her third child.
Dames looked stunning in a Giambattista Valli Haute Couture gown at the awards.
---
Claire Danes shows her baby bump at the Golden Globes
Claire Danes is expecting a baby and what better place to debut her bump than the Golden Globes?
The Fleishman in Trouble actress looked beautiful in a white floral crystal embellished Giambattista Valli Haute Couture gown. The gown featured a feather hem and a pink bow at the bust.
Danes attended the award ceremony just two days after she announced that she is expecting her third child. On Sunday, her reps said that the Emmy Award winner and her husband Hugh Dancy, 47 are having their third baby.
The duo already share sons Cyrus, 10, and Rowan, 4.
The actress also talked about her pregnancy on the red carpet and said that the baby was not intentional. She said,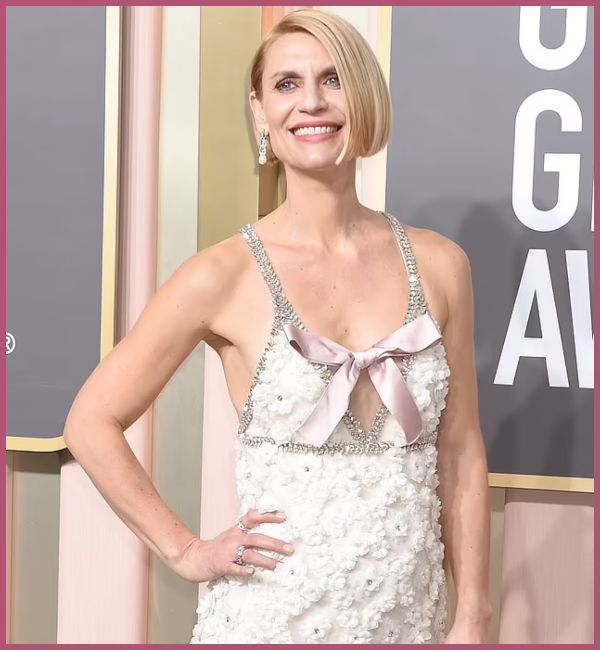 "Eek, I know. Number three. Prego. This one was not intentional,"

"I have Cyrus, he's 10 and Rowan is 4, and this one, yeah. Evenly spaced, but a broad spectrum," 

"We're excited, we're thrilled."
When asked about the sex of the baby, Claire, who is in her second trimester said that the couple does not know what they will be having.
Also, Read Baby Bump at The Globes! Pregnant Hilary Swank Looks Super Excited at the 2023 Golden Globes!
Danes revealed she enjoys being pregnant
The Stardust actress and Hugh first met while shooting for the 2006 film Evening. Their romance started very soon and they tied the knot in 2009, only 7 months after their engagement.
The Homeland actress is very private when it comes to her family life but in 2014 she told People magazine that she used to bring her eldest son, Cyrus to set while shooting for Homeland and that she had no problem with that.
The actress referred to her then-2-year-old son as an actual set baby and claimed that the film set was a great place for kids to be.
Unlike many women, Danes has always said that she enjoys being pregnant and when she was pregnant with Rowan in 2018 during a mini break from work.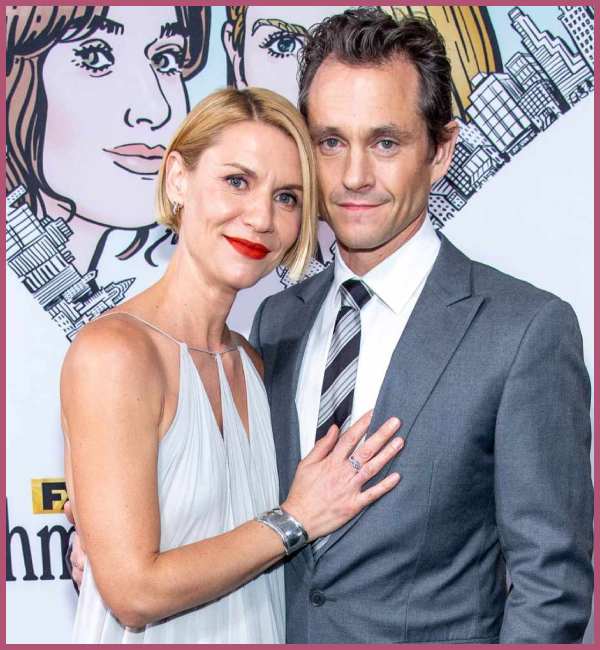 She said at the time,
"Pretty soon I get to retire for a little while and just be pregnant, which I look forward to,"
She added,
"It feels like a huge luxury," 

"When I was pregnant with my first son, I worked until I was in my eighth month, so this feels like a huge gift, to have a chance to kick my feet up a little bit."
This year, Dames,  who is already a four-time Golden Globe winner bagged a nomination for Best Actress in a supporting role in a Limited Series, Anthology Series, or Motion Picture Made for Television for her role in Fleishman is in Trouble.
The actress was also nominated for her performance in the series for the Critics' Choice Award.
Also, Read The Golden Globes are Back! See the Best-Dressed Celebrities at the 2023 Hollywood Award Show!