Pregnant Kelly Kay Shared Heartbreaking Photo of Ultrasounds Alongside the Grave of Spencer Webb!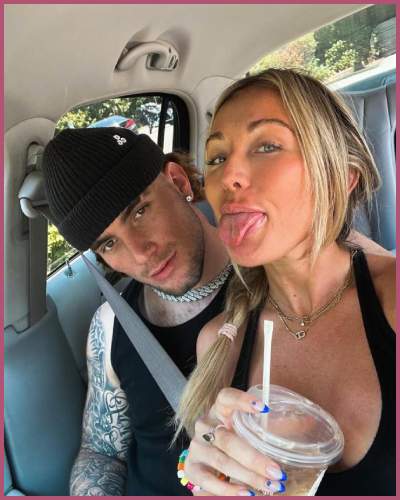 Kelly Kay is crying alongside the grave of late footballer Spencer Webb holding their baby's ultrasound pics.
It's a heartwrenching photo Kelly shared on her Instagram after Oregon Ducks tight end Spencer Webb passed away.
Learn about the pregnancy journey of Kelly and her boyfriend's death.
---
Kelly Kay posts Ultrasound of Baby at her Bf's grave
Kelly Kay is expecting a baby with the late football star Spencer Webb and she is getting emotional each day. The pregnant girlfriend Kelly is sharing the heartwrenching reality of her pregnancy journey.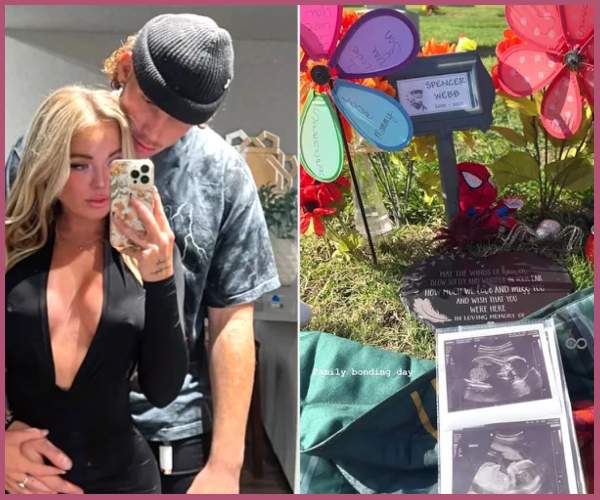 Kay Kelly shared a photo on her Instagram Story from Webb's grave holding her baby's ultrasound. She also added sound track Post Malone, I Fall Apart in the background with the caption including emojis of an infinity symbol, a spider, a web, and a white heart.
Kelly wrote,
"Family bonding day."
Kay had been giving an update on her sad pregnancy without her boyfriend Webb after the announcement in August 2022. She then shared a sign of the forthcoming baby with the baby's sonogram and the words:
"Coming soon: Baby Webb. We created an angel before heaven gained one. All you ever wanted was to be a father…I know you'll be the best one from up above."
Also, Read Cristiano Ronaldo Described Painful Moment of Telling His Kids about Their Baby Brother's Death!
Kelly Kay is fighting each day
It's not the first time Kelly is getting emotional over the mishap but she is learning to smile after she found out she is pregnant.
She then wrote,
"I'm fighting for those moments of happiness and laughter. I'm fighting for my friends and family while they over-pour into my cup and make sure I don't fall. I'm fighting for my son because he deserves a happy, healthy mother."
Talking about her baby's death news on Instagram after her beau dies of an unfortunate diving accident on July 13, 2022, she recalled,
"And I'm fighting because that's what Spencer knew me as and would want. I know the pain will never go away but I'm trying to find peace in those happy moments. Day by day, hour by hour, second by second 🕊️🙏🏼🕷️🕸️."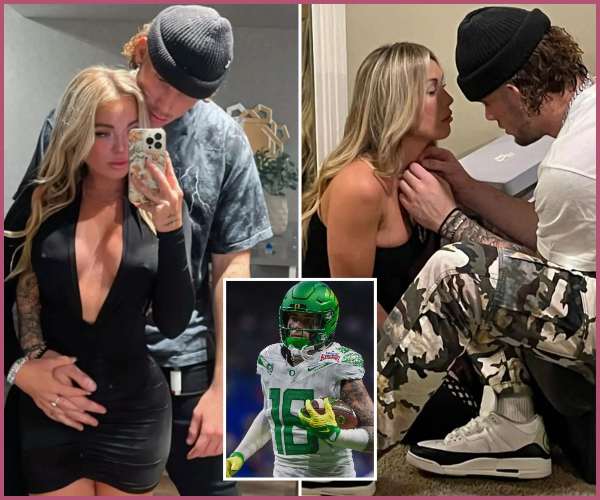 Also, Read Jhene Aiko gave birth to her baby boy after 24 hours of labor; it's her first with Big Sean
How did Kelly reveal her baby's gender?
The Tennanese native Kelly Kay who went Instagram official with beau Spencer Webb on July 12, 2022, lost him the next day tragically.
She is now expecting a baby boy as Kay revealed the sex of their baby on the way with an emotional video on Instagram last month writing,
"I know you picked him out to protect me. He's gonna be a legend just like his daddy. I love you both forever @spider_ #babyspidey."
She had a very special tribute to Spencer while standing on a football field and wearing Webb's number 18 jersey, she pointed to the sky while revealing the baby's gender. Kay was doused in blue Gatorade and then she released a bunch of blue balloons into the sky.
Also, Read Late Football player Spencer Webb's girlfriend Kelly Kay is Pregnant! Who is the father?