How Pregnant Nicky Hilton celebrates a baby shower for her third child?
Nicky Hilton Rothschild is a model, businesswoman, and fashion designer
She is expecting a third child with her husband James Rothschild
She recently celebrates a baby shower for her third child
The two are already a parent to two daughters Lily Victoria, 5, and Theodora "Teddy" Marilyn, 4
The baby shower bash is hosted by Stacey Bendet and Tina Chen Craig
---
Baby Shower Bash!
Pregnant Nicky Hilton had a baby shower as she is expecting her third child with husband James Rothschild. The 38 years old fashion designer is ready to be a mom of three.
Nicky and Rothschild already share two daughters Lily Victoria, 5, and Theodora "Teddy" Marilyn, 4. Alice + Olivia founder Stacey Bendet and beauty entrepreneur Tina Chen Craig hosted the baby shower at a private residence in Manhattan.
The baby shower theme included huge blue balloons, matching cake pops, and a bear-shaped cake with fluffy frosting.
What is the sex of the unborn baby?
The fete had a baby blue theme. According to the theme, the pregnant socialite and her husband are obviously adding a son to their family.
Actually, Hilton's parents spilled the beans in early March that she's having a baby boy while talking to EXTRA at the Elton John AIDS Foundation Oscar Party 2022.
Rick Hilton, 66, told excitedly,
"I can tell you what she's having! 'It's a boy,' It'll be our first grandson."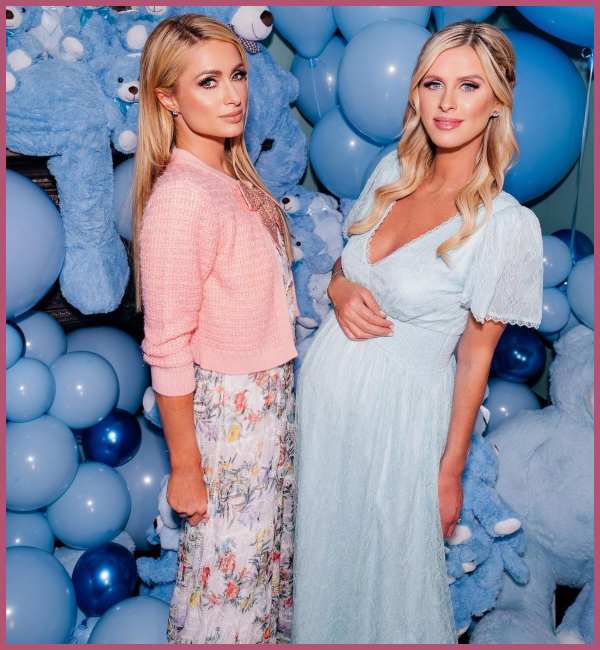 Also read "Nicky Hilton Rothschild, 38 'Pregnant' for the 3rd time with husband James Rothschild; 'Best things in life come in threes'"
However, when Nicky was asked directly about the sex of the baby just months ago, she admitted her 'old-fashioned' mother was reluctant for her to find out the sex of her baby.
At the time, she told,
"I'm finding out soon, maybe. But my mom doesn't want to me to find out. My mom's very old fashioned. She's like, 'I didn't find out for any of you kids. Please, it's the ultimate surprise in life, do not find out. But we'll see."
Baby Shower
Soon-to-be mother sported in a stunning powder blue maxi dress by Alice + Olivia, featuring V-neckline, empire waist, and lace overlay. She added sparkling heels from Aquazzura to complete her looks.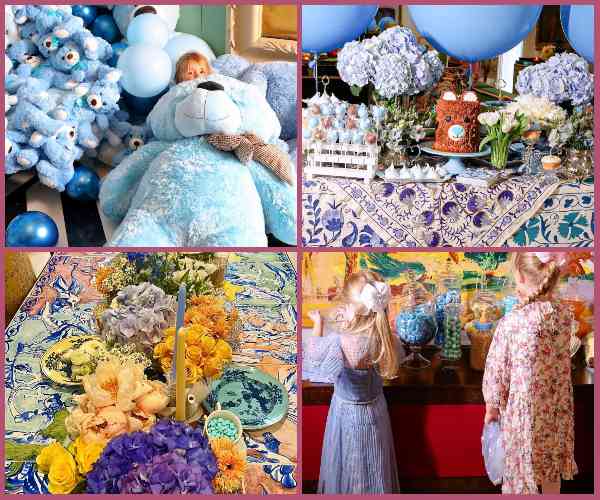 In the event, she seemed to be very close to her due date as her tummy looked large. Nicky had her husband James Rothschild and sister Paris Hilton by her side.
In one of the photographs, Nicky is accompanied by her sister Paris, who looked stunning in a floral print maxi dress with a cute pink cardigan.
Also read "Here Is A Quick Insight To The Married Life Of James Rothschild And Nicky Hilton With Their Children!"
She also added white framed sunglasses in one photograph and as well as pink framed sunglasses with her blonde hair down.
What Nicky Hilton says about her baby shower?
On Monday (May 9), the heiress took to Instagram to share moments by posting a series of pictures from the festivities. At the beginning of the series, she posts a photo of her holding her baby bump as she poses with Paris.
Similarly, another snap features Nicky and Paris smiling with Bendet and Craig in the slideshow. In one of the photographs, Nicky poses alone and shows off the decor of blue balloons and various-sized blue teddy bears.
Alongside pictures, Nicky captioned the post by thanking three of her favorite girls. She wrote on Instagram,
"Showered with so much love at baby boy's sprinkle. Thank you @aliceandolivia, @tinachencraig & @parishilton for filling the room with my favorite people, sweets, treats and pregnancy cravings (hot tamales + dried mangoes). I loved every minute!"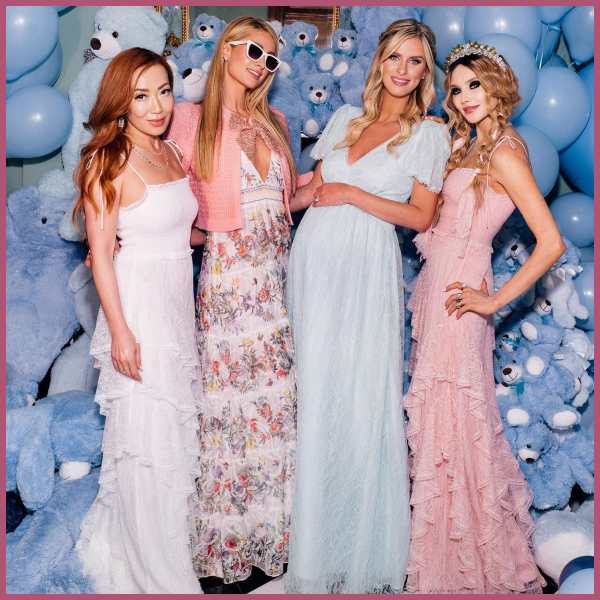 Also read "Paris Hilton's pushes back her fairytale wedding with Chris Zylka! Says "you can't rush something like this""
Short bio on Nicky Hilton Rothschild
New York-born Nicky Hilton Rothschild is a renowned personality. She is an American citizen. Nicky is a model and a businesswoman. Moreover, she is also a socialite and a fashion designer. Mainly, she is famous as heir of the Hilton Family and her association with the Rothschild family after her marriage to James Rothschild. She is active since 1992. See more…