Prenuptial agreements and popular celebrities! Know some of these interesting prenups!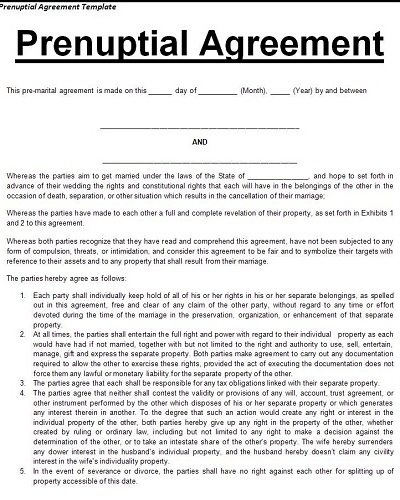 Prenuptial agreements are increasingly being made by to-be-married couples in order to overcome uncertainties of marriages these days and also to safeguard an individual's assets in case of separation results after marriage. These agreements are not enforceable by law in some countries but nonetheless, they may be given their due consideration during the divorce hearings.
The prenuptial agreements of some of the celebrities did make headlines due to their juiciness and uniqueness! So let us quickly go through some of these rather weird prenuptial agreements!
Khloe Kardashian and Lamar Odom-Khloe Kardashian had opted for this prenuptial agreement with Lamar in order to protect her own assets.

Source: US Weekly (Khloe and Lamar)

In 2011, this businesswoman had said:
"Everybody needs a prenup! I mean, I don't care if you make $5 or $5 million, in this day and age…people are crazy, you never know. And when you have businesses together, like we do, you have to protect yourself. It doesn't mean you don't love them."
She had split from her husband in 2013, and though the details of this prenup have not been made public, it looks like Khloe did make a smart move since her net worth is $ 10 million more than that of Lamar Odom's which was $ 30 million n 2017. She did manage to keep her share of the income to herself and did not lose any wealth in this relationship.
Hence in the agreement, it has been pointed out that Mark has to give her a date once at least every week. Besides, Priscilla wants Mark to spend 100 minutes of alone time with her weekly and this has to be outside the office or their home. This does seem rather sweet!
You may like to read Jimmy Kimmel Live! Who is Khloe Kardashian dating after her split from Tristan Thompson?