President of Croatia, Kolinda Grabar-Kitarović cant keep to herself over Croatia win in FIFA! Read about it here!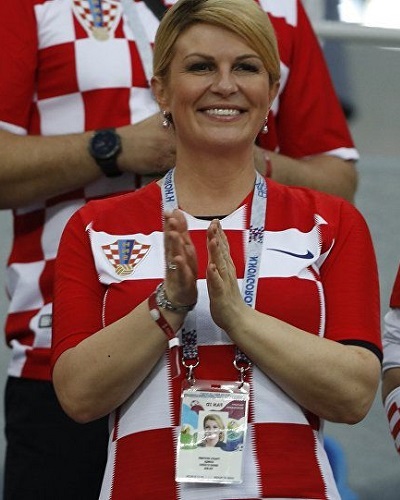 FIFA 2018 has surprised many football fans with a new country, Croatia reaching the finals
And like other football fans president of Croatia, Kolinda Grabar-Kitarović can't contain the excitement for the upcoming finals
---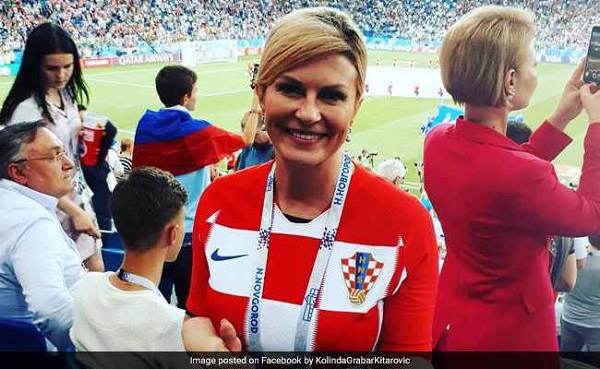 Yes, the president herself could not attend the match against England but she did send her best regards to her team! And they send the English team home.
The first woman president of Croatia broke into a victory dance when her home team won against Russia on July 7. After the winning game, she surprised her players in the locker room to share hugs and congratulations. The quarterfinal game had occurred at the Fisht Stadium in Sochi. She had gained attention when she was seen cheering for her home team and people loved her sports spirit.
In the match against Denmark, she did not join the VIP box in the stadium but rather she watched the game seated along with her fans! She earned massive praise and respect!
She was quoted saying:
 "I wanted to showcase that I am a football fan, like everyone else; I wanted to support the team among other fans in the stands, I put on a shirt with national symbols, whereas the dress code in the VIP zone, which usually presupposes long gowns, wouldn't have permitted such an outfit."
She even flew economy class, ditching her VIP ticket! Yes, she flew with football fans from Zagreb to support her home team. The 50-year-old lady did wear a red formal suit but later took off her coat to show Croatia's red and white check jersey.
Also read: George Weah Bio
Also, her groupie with other football fans was the talk of the day. How down to earth is she?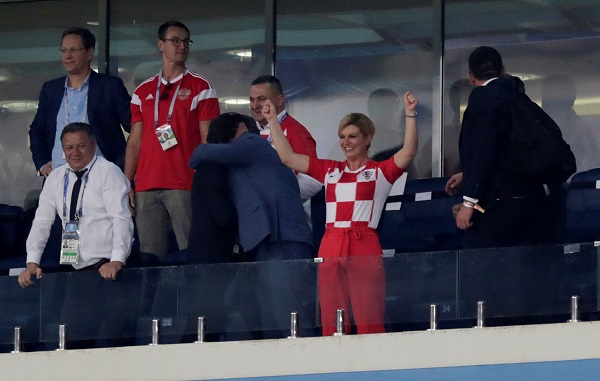 Mini bio
Kolinda Grabar-Kitarović is the youngest (at the age of 46)and the first woman to become the president of Croatia. She took to the office on 17th February 2015.
Kolinda Grabar was born on 29 April 1968 in Rijeka, Socialist Republic of Croatia, Yugoslavia. Her father was Branko Grabar and her mother was Dubravka Grabar. Her family owned a butcher shop and a ranch.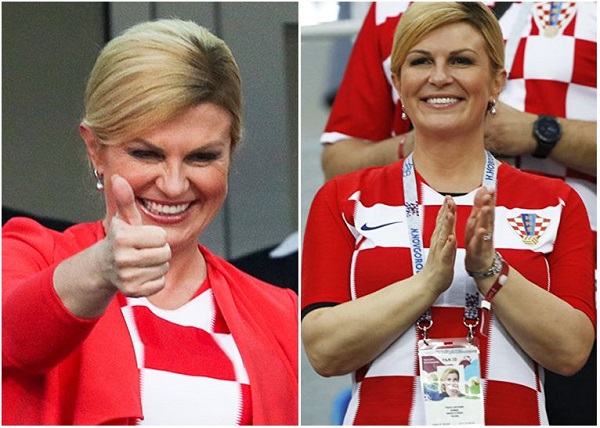 From an early, she was an excellent student. And the age of 17, she entered a student exchange program and moved to Los Alamos, New Mexico. In 1986, she graduated from  Los Alamos High School.
After she returned to her home country, she joined the Faculty of Humanities and Social Sciences, University of Zagreb. From there, she graduated with a Bachelor of Arts in English and Spanish languages and literature in the year 1993. She further excelled in the academic field as she enrolled for a master's degree.
About her personal life, she is married to Jakov Kitarović. The couple had married in 1996 and has two children together. Katarina was born on 23 April 2001 and Luka was born on 2003.  Katarina is a professional figure skater and Croatia's national junior champion.
Also read: Christian Pulisic Bio