Pretty Mike, Nigerian playboy arrives at a wedding with his six baby mamas; all pregnant at the same time!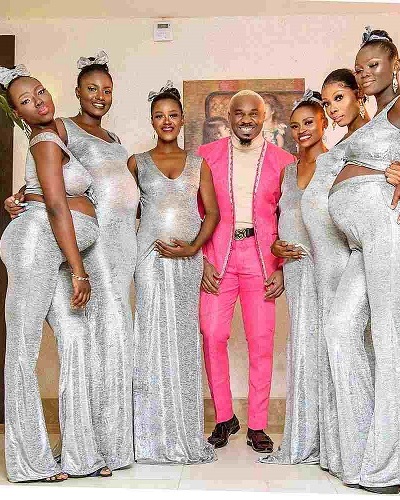 It was a sight to behold! Pretty Mike, a Nigerian playboy, and owner of a club attended a wedding recently.
But he did not have one girlfriend with him.
He brought along with him six of his girlfriends and baby mamas.
---
They all had baby bumps and they all were his babies! They all posed with him for photos at the wedding. The baby mamas were all in matching outfits too!
Pretty Mike and his six baby mamas
Pretty Mike is the owner of a club in Nigeria and he is also a socialite. He happens to be a playboy too. Pretty was invited to a wedding party.
He came to the wedding reception, not with one but six girlfriends. And what was more shocking was that all of them were pregnant with their babies. All of them had visible baby bumps of different gestational ages.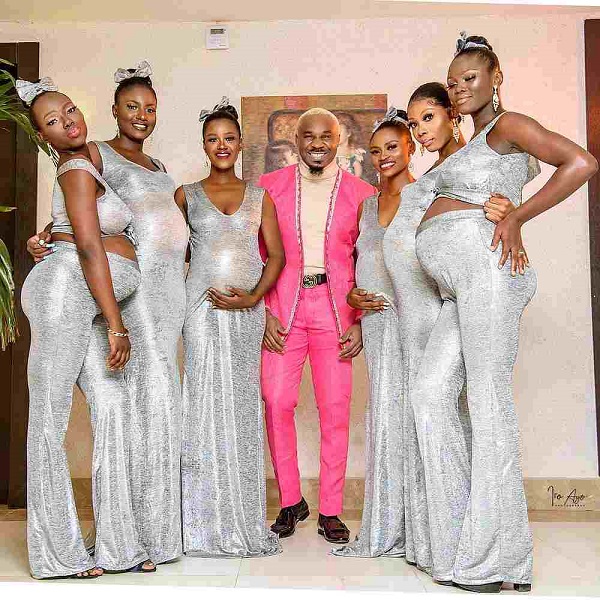 Pretty and all his baby mamas were happy and in high spirits and were smiling at the cameras as they posed for photos with Pretty.
The baby mamas also wore outfits of matching fabrics; it was a silvery shiny material. Pretty was in a bright eye-catching pink suit. He claimed that he has impregnated all of them.
More about the unusual sight
The wedding was that of actor Williams Uchemba. After photos were clicked, they were posted on social media with the background of the people in the snap. And it soon became viral on social media.
People could not believe their eyes at what they saw! It was incredible. Soon social media users began posting their comments under the post.
One follower wrote:
"Pretty Mike needs to be placed in the psychiatric intensive care section, he's obviously exhibiting some symptoms of mental illness,"
Also, read Sister Wives Starrer Kody Brown's Multiple Married Life; Know About The Polygamy On The Show!
Then, what can be said of the mental status of his baby mamas as well? Another fan wrote:
"And for those ladies, 6,000 years of pregnancy will do."
Others took it as a case of bad taste and one wrote:
"Pretty Mike turned up at Williams Uchemba's wedding with six pregnant women,"

"He was there at the door rubbing their belly.

"This is one reason I must have heavy military presence at my wedding venue – you will not come and chase clout on my special day."
About Pretty Mike's life
Pretty Mike has the reputation of a playboy in Nigeria. He openly writes about his relationships on social media. And he talks about the women he has dated and made pregnant. In February 2020, people and readers were amazed when Pretty said that a beautiful woman is not meant for one man.
He said:
"I don't know who needs to hear this, but a beautiful lady isn't meant for only one man, so to keep one to yourself in this Lagos (Nigeria's largest city), you must be capable of doing what 11 men can do,"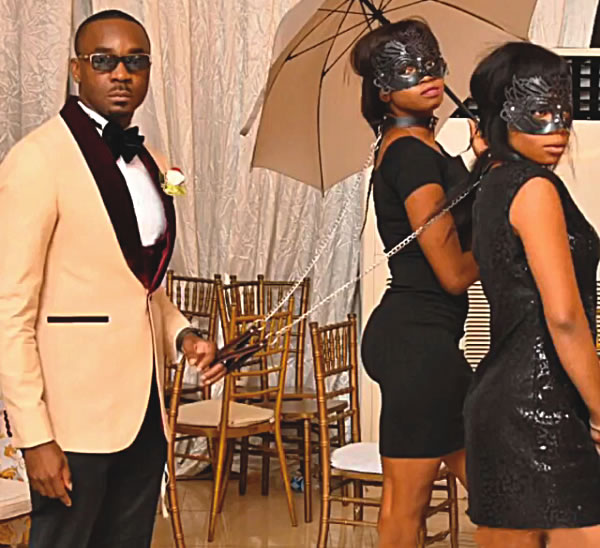 In one of his social media posts, he has put a dog leashes on two of his girlfriends! Absurd indeed! Nigerian law does not recognize polygamous unions. But 12 of its 36 states do recognize it since they have Sharia law. But in Lagos state, it is not recognized.