Prince Harry and Meghan Markle all set to wed this May. Check out who will be the best man and the maid of honor?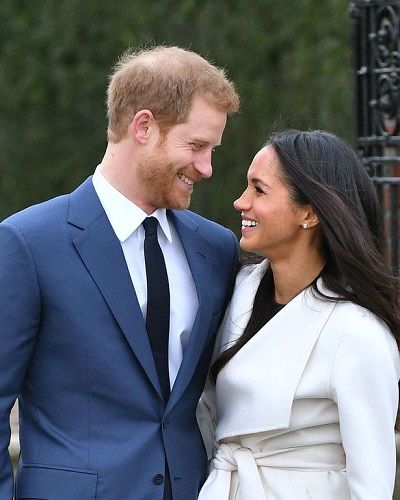 The marriage of Prince Harry and Ms. Meghan Markle will take place at St. George's Chapel, Windsor Castle in May 2018. pic.twitter.com/lJdtWnbdpB

— Kensington Palace (@KensingtonRoyal) November 28, 2017
Prince Harry and Meghan Markle are all set to get married!
Harry proposed to her with a $ 200k diamond ring which was designed by Queen Elizabeth's jewelry designers. The couple will be taking vows on 19 May 2018, in St. George's Chapel in front of 600 guests.
While for Harry, his brother William is reserved to be his best man, but it's not yet revealed who will be Meghan's maid of honor.
Rumors were that soon to be bride, Meghan's close friend Priyanka Chopra will be the maid of honor. But recently she told me that she won't be her bridesmaid.
However she stated how happy she is for her,
"I'm super excited about her and her big day. It's not just going to be life-changing for both of them, it's life-changing for the world that needs to see strong women as icons, and I think Meghan has the potential to be that."
Priyanka also told PEOPLE,
"She's just a really real girl. She's a girl's girl. She's a really relatable young woman who is concerned about the world just like you and I are. That's what I love the most about her. I feel like her authenticity is what's going to make her really stand out in this new life she's going to take on."
But there are some assumptions on the mystery of who could possibly be Meghan's bridesmaid.
1. Jessica Mulroney
Jessica Mulroney is a Canadian fashion stylist and Meghan's very good friend. Jessica is married to former Canadian prime minister, Brian Mulroney's son, Ben Mulroney. The couple tied the knot in the year 2008.
They are coordinating for the style of dress she wants for her big day. So they are often seen together, so she might be her bridesmaid.
2. Lindsay Roth
Lindsay Roth is an author at Northwestern University. Meghan and Roth are college BFF. They are friends for over a decade. Lindsay said,
"We're the kind of friends who can be 3,000 miles away and still be talking about or thinking the same thing, and even texting each other the same thing at the same time miles away."
Also, Meghan was Roth's maid of honor during her wedding.
You may like to read Graham Smith, CEO of the Republic Organization rubbishes Meghan Markle's claim that her wedding to Prince Harry generated revenue for the UK!
3. Sarah Rafferty
Sarah Rafferty is an American actress. Meghan and Sarah are co-stars in the American legal drama, Suits. Their friendship is not just limited to reel life but they are often seen hanging out and having a great time off cameras as well. They keep posting their pictures on their social media handle as well. However, there is very less chance that Sarah could be Meghan's maid of honor.
4.Kate Middleton
Kate Middleton is Prince William's wife and Prince Harry's sister in law. William will be Harry's best man, so there are assumptions that Kate might be Meghan's bridesmaid.
However, Kate's children, Prince George, and Princess Charlotte will be page boy and bridesmaid respectively during the wedding reception.
Also read Know the reason why Prince Harry and Meghan Markle had invited Aunt Sarah Ferguson for their royal wedding!
5. Samantha Markle
Samantha Markle is Meghan's half-sister. However, the siblings are not close to one another. They have not even spoken since the year 2008. It is also said that Samantha is not invited to the wedding but Samantha is very upset about the fact that the strangers are invited to the wedding but not her own family members.
However sources revealed about Samantha,
"She wanted to be nice, to be friends, to say how much she loves her sister – but after years of telling me and the rest of the family how much she hates Meghan, how much of a narcissist Meghan apparently is and what a horrible woman Meghan is, which isn't true at all."
Meghan is not so close to her family and the news is that she has not invited her father Thomas Markle and her other family members. Her uncle Michael said,
"I'm upset and surprised about not being selected but if they don't want me there, then I don't want to go."