Brotherly Love! Prince Louis Wins Hearts with His Sweet Gesture toward his Elder Sister Princess Charlotte at Sandringham!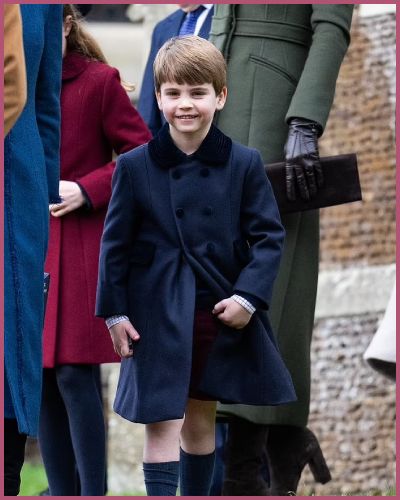 Prince Louis attended his first-ever Christmas walkabout with his family at Sandringham.
Hundreds of royal fans gathered to give members of the royal family their best wishes for the holiday.
Fans gave Prince Louis a bouquet of flowers which he later gave to his sister Princess Charlotte.
---
Prince Louis runs to give flowers to his sister, Princess Charlotte
Prince Louis is a gentleman already.
The young royal joined his family for his first annual church service at St Mary Magdalene church in Sandringham. Fans were glad to see little Louis months after he won hearts with his antics at the late Queen's Platinum Jubilee Celebration.
Before the Christmas service started, the royals greeted well-wishers standing outside the church. Then a royal fan gave the prince a small bouquet of blue-and-white flowers.
A clip of that moment went viral where the 4-year-old Royal runs after his dad, Prince William, Prince George, and Princess Charlotte along the church's path.
Then Louis cries out 'Charlotte!'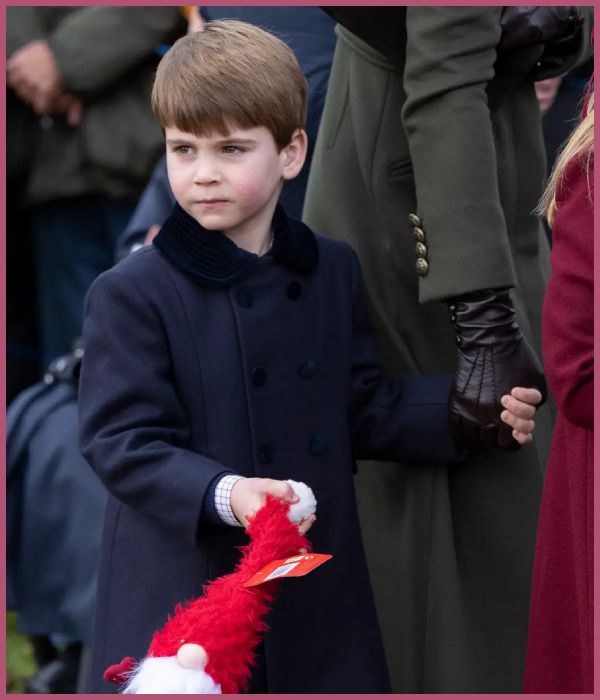 The video shows the fourth in line to the throne holding a Father Christmas toy given by a fan, in one hand, and the bouquet in the other.
The prince's sweet gesture left fans in awe and they can be heard saying 'awww!' as the prince looks back at them-wondering what happened.
William then gently strokes his son's hair as they all continue to walk toward the church together.
Another sweet moment captured on camera was Louis sharing a Paddington bear drawing with his mother, Princess Catherine, and a small child she was speaking with.
The video footage shared by a fan shows Louis asking Lt. Colonel Johnny Thompson if he could show the drawing to his mom.
Catherine, who was busy interacting with the young fan, then takes the drawing and crouches down to show her the art.
Also, Read King Charles III is Saving the title of Duchess of Edinburgh for Princess Charlotte Which will be a Tribute to the Late Queen!
Prince George acted as a guide to Louis for the walkabout
In the background, the jolly fans can be heard wishing the prince a Merry Christmas.
The royal fan named Callan Tavernern who shared the video of the young royal captioned it:
'Moment Prince Louis receives a Paddington Bear picture from Lt. Colonel Johnny Thompson and hands it over to his mummy.'
Fans flooded the comment section with adorable praises for the little boy.
One wrote:
'So cute,'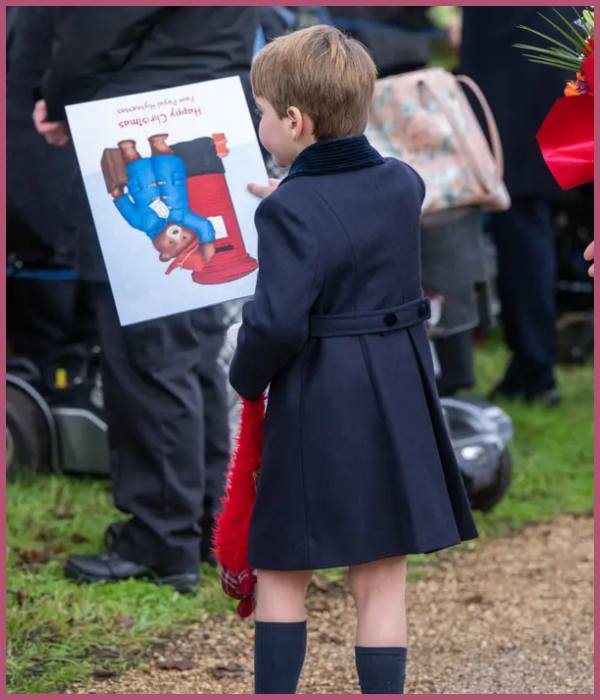 Another one gushed about Catherine's natural ability to wow children and said:
"You can tell Kate is a naturally attentive,'

 'The way she acknowledged Louis while still engaging with the individual is textbook.'
Fans also witnessed a sweet moment of brotherly love between George and Louis as the former guided his younger brother for his first-ever Christmas walkabout.
But Louis proved that he is a natural as he smiled and waved at people waiting outside the church.
Louis looked absolutely adorable in a black coat and a pair of shorts, which is traditional for young royal boys until they turn eight. Princess Charlotte looked cute in a burgundy coat.
Also, Read See How Prince Louis Comforted His Mom Princess Catherine After The Queen's Death!