Prince William, Prince Harry and Duchess Kate hosted a party for children Buckingham Palace; Scroll to see the photos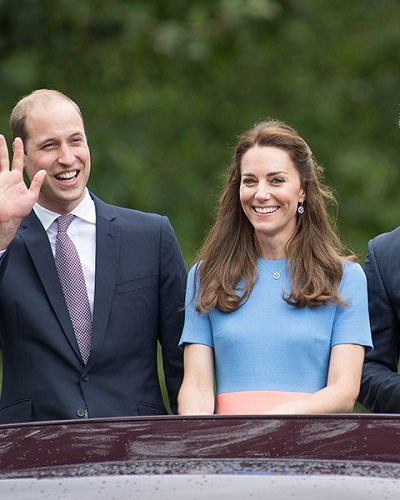 Children mostly enjoy parties as they can have lots of fun over there. All the children in this world are not so fortunate who can be showered with all the good things. Some children lost their parents in the very small age. And giving such children a certain happiness is the most satisfying thing one can ever do. Prince William, Prince Harry, and Duchess Kate threw a tea party for children of British veterans on Saturday, May 13 for such children.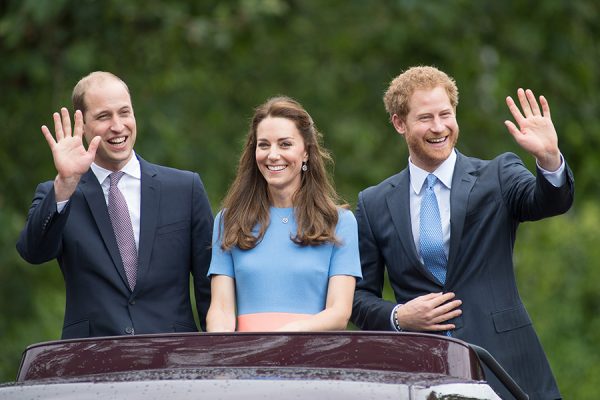 Prince William, Prince Harry, and Duchess Kate hosted a tea party for the children
Prince William, Prince Harry, and Duchess Kate brought the smile in the face of children hosting the tea party for them. They organized a party for children of British veterans on Saturday, May 13 at Buckingham Palace. They invited About 850 kids and teenagers who have lost a parent serving in the Armed Forces. The event was organized at the royal garden. The entertainment from a ventriloquist, magician and more featured the party.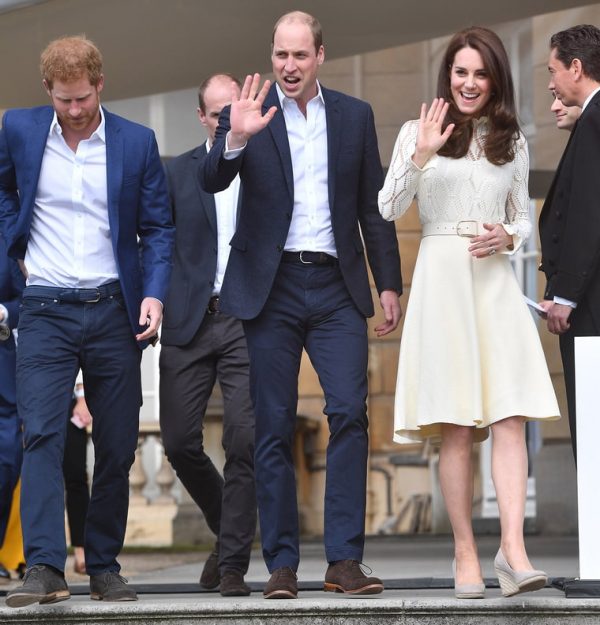 The gorgeous Kate arrived on a Chloe cream lace dress. She talked to the partygoers while Harry was a little more hands-on, trying his hand at plate spinning with a little boy who was dressed as Spider-Man. During the statement, Kensington Palace said:
"Their Royal Highnesses have arranged the event as a way to acknowledge and honour the fact that a number of young children have had to come to terms with the loss of someone very close to them at a young age, having lost a parent in armed service to the country,"  
In one of the photos shared on  Instagram from the event shows Kate talking to a small girl. The adorable picture had the caption:
"The Duchess of Cambridge talks to a girl in the cupcake decorating tent – before meeting with families on the lawn. Over 850 children were invited to Buckingham Palace today for a special party to honour the children of those who have died serving in the Armed Forces."
Another picture from the event had a caption which reads:
"The Duke of Cambridge met families on the lawn outside Buckingham Palace. Their Royal Highnesses hope that their 'Party at the Palace' helps unite children with other families that have shared similar experiences. All of the 850 children invited to Buckingham Palace today have experienced the loss of a parent who died serving in the Armed Forces."
The Royals speak about the struggles they faced after the death of their mother
In the new BBC Documentary Mind Over Marathon, Prince Wiliams opened about the death of his mother Princess Diana. In the preview of the documentary, which aired on  Thursday, April 20 you can see Williams comforting grieving woman. He also talked about his own experience after the loss of his mom at the age of 18. He said:
"The shock is the biggest thing I still feel, 20 years later, about my mother," William says. "People think shock can't last that long, but it does. It's such an unbelievably big moment in your life and it never leaves you, you just learn to deal with it."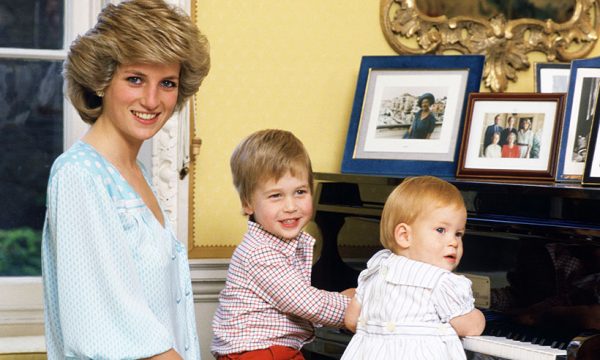 32 years old Harry was just 12 when he lost his mom.  He told The Telegraph for its Mad World "shut down all his emotions" in the aftermath. Furthermore, he added:
"[I would cope by] sticking my head in the sand, refusing to ever think about my mum, because why would that help? It's only going to make you sad, it's not going to bring her back," 
Moreover, he added how consoling, talking to his brother and channeling his energy into boxing helped him through the tough times. He said:
"I have probably been very close to a complete breakdown on numerous occasions when all sorts of grief and sorts of lies and misconceptions and everything are coming to you from every angle,"
Short bio on Prince William
Prince William, Duke of Cambridge, is the elder son of Charles, Prince of Wales, and Diana, Princess of Wales. He is second in line to succeed his grandmother, Queen Elizabeth II, after his father.
In December 2006, he completed 44 weeks of training as an officer cadet and was commissioned in the Blues and Royals regiment. In April 2008, he qualified as a pilot (earning his wings) by completing pilot training at Royal Air Force College Cranwell. He then underwent helicopter flying training in order to become a full-time pilot with the RAF Search and Rescue Force in early 2009. His service with the British Armed Forces ended in September 2013. More bio…