Prince William and Princess Catherine Release Their 2022 Family Christmas Card!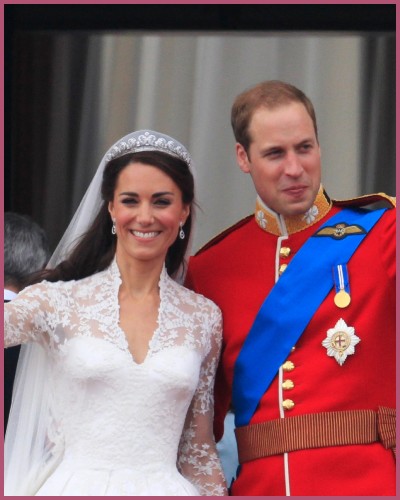 Prince William and Princess Catherine are all set to celebrate this year's Christmas with their family.
The Prince and Princess of Wales released this year's Christmas card alongside their three children.
It is a tradition of senior members of the royal household to release Christmas cards each year.
---
Prince William and Princess Catherine's Christmas card is a happy family portrait
Christmas is around the corner and Prince William and Princess Catherine are getting into the holiday spirit.
On Tuesday, the new Prince and Princess of  Wales released this year's Christmas card which featured a picture of their beautiful family of five.
The new photo showed the royal couple along with their children Prince George, 9, Princess  Charlotte, and Prince Louis, walking hand in hand.
They captioned the official portrait on their social media,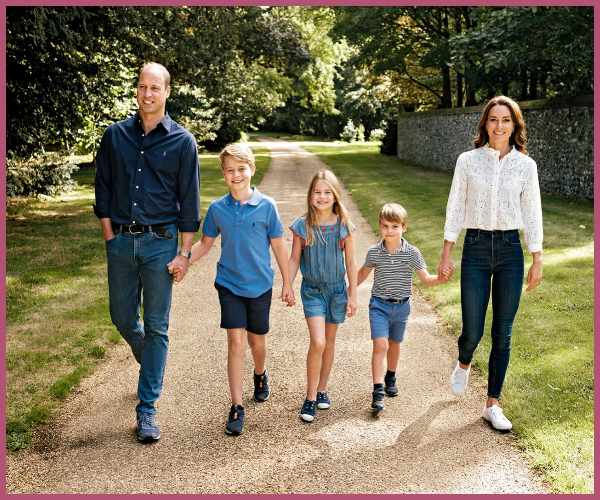 "Sharing a new picture of the family for this year's Christmas card!" 
The picture was taken by photographer Matt Porteous, earlier this year at their residence in Norfolk, England.
The beautiful photo shows the royals taking a stroll outside their home in their casual attires.
William, 40, dressed down casually in blue jeans and long-sleeved shirts. Catherine, also 40, donned a pair of skinny jeans and a white shirt with white sneakers.
The children also wore shorts with short-sleeved shirts.
Also, Read Prince William and Princess Catherine Surprise Fans at Celtic Game During Their 3 Day Visit to Boston!
William and Catherine's Royal Christmas cards over the years
Royal Christmas cards have gotten more relaxed in recent years.
For last year's Christmas, the then Duke and Duchess of Christmas shared a picture of them with their children during a private visit to Jordan.
In the picture, Catherine and Charlotte wore dresses while the boys wore polo shirts and shorts.
A year before that, in  2020, the royals sat on haystacks next to each other looking cozy in sweaters.
The last formal holiday picture that the Cambridges took was in  2017 at Kensington Palace.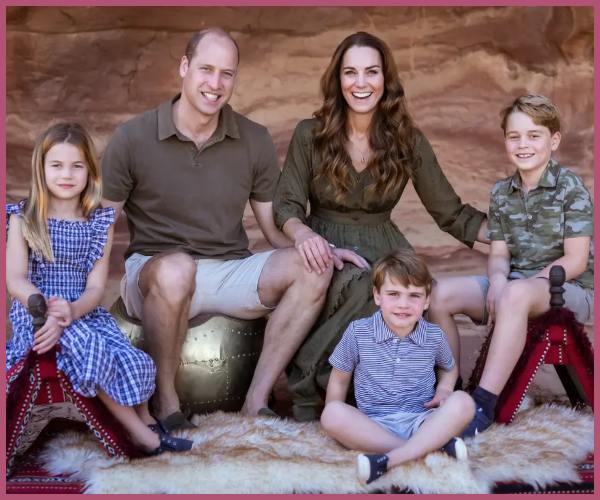 Many fans are a little relieved to see their new holiday card after what was a testing year for the royal family.
This will be the family's first Christmas since her Majesty, The Queen's passing on September 8.
Almost every year, the family gathers at their Sandringham House to celebrate the holiday. But it is going to be very hard for the family this year without the Queen by their side.
This will be Charles' first Christmas as King. The royals have not yet announced where they will be celebrating this year's Christmas. It is also unclear if Prince Harry and his wife Meghan Markle will be present in the UK for the holiday.
It is unlikely that Harry and his wife will join the royal family after releasing their controversial Netflix show which directly aims at the  British Royal Family and the British press.
Also,  Read Sharon Osbourne Wants Prince Harry Back in the Royal Family!