Why did Princess Diana wear two wrist watches in 1981 after her engagement to Prince Charles?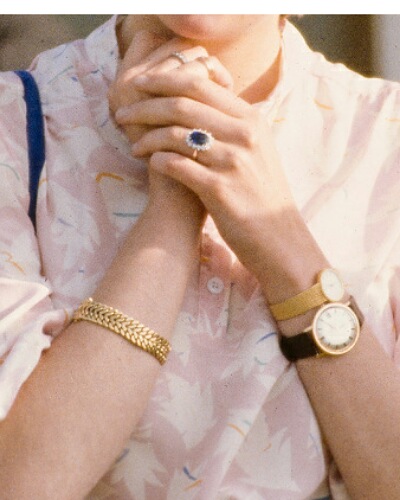 Princess Diana was one of the most elegant royal family member. She used to well-dressed for the occasion always, had great manners, and most importantly had a kind heart. She used to avoid wearing gloves while meeting the general public in order to give them the tactile affection. But surprisingly on one occasion, she was wearing two wrist watches? What could have been the reason for it? Was it accidental or deliberate?
Princess Diana and her two wrist watches
In 1981, Princess Diana and Prince Charles had celebrated their engagement. And just after that, Princess Diana was spotted and photographed in public wearing two watches on her left wrist. She was at the Guards Polo Club in Windsor and was enjoying watching her new fiance playing polo at the club. Everything was okay but the media cameras caught the fact that on her left wrist there were two watches that she wore; one had a black belt and the other golden-colored.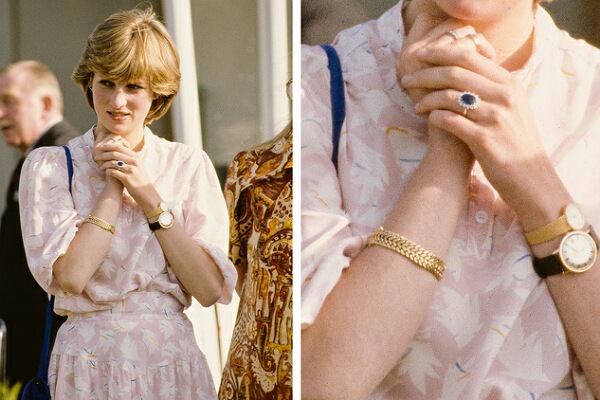 People were wondering why the Princess was wearing two wrist watches. What prompted her to do so?
The story of the two wrist watches
Later, it came to be known that one of the watch belonged to Princess Diana. The golden metallic watch which had a thin strap and body was Princess Diana's. And the other bigger watch with the black broad belt belonged to her fiance Prince Charles. It showed that she cared. The Princess revealed that she was wearing the watch of Prince Charles as a tribute to him and to get him a good luck in his play.
Is it linked to the tradition of the middle ages?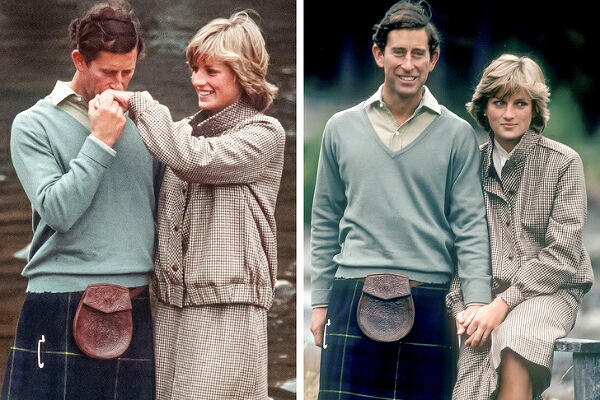 In the middle ages, there was this tradition of tying the handkerchief of a lady to the back of a knight's helmet before a game of joust. The lady's handkerchief was perceived to be a good luck charm. It was a gesture to imply support for the participant in the contest.
Similarly, this sweet gesture of Princess Diana speaks of the passionate love between the two in their relationship at least at the start of their relationship. But unfortunately, the relationship did not last.
The relationship of the couple, Princess Diana and Prince Charles
The couple met first in 1977 in November and at that time, Diana was just 16. Charles was dating her elder sister, Lady Sarah. They got closer when Diana joined him aboard the royal yacht Britannia for a sailing weekend to Cowes. And in November 1980, she met his family in Balmoral which is the royal Scottish residence.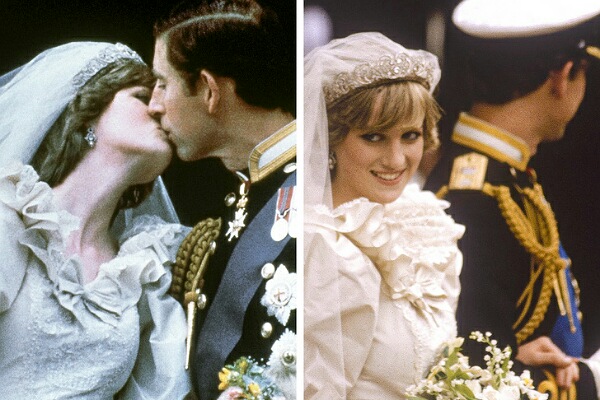 Charles' family liked Diana and the two started dating officially. On 6 February 1981, Charles proposed to her and she accepted it. The official engagement happened a few days later on 24 February the same year.
The couple wed at St. Paul's Cathedral on 29 July 1981. On 21 June 1982, Diana gave birth to their first son, Prince William. And their second child son Prince Harry arrived on 15 September 1984.
But five years after the wedding, differences started creeping into their relationship. Their large age gap of 13 years also had a role to play in it. Besides, Charles was getting close to his best friend Camilla Parker Bowles. Diana had revealed in an interview that there was always a third person in her relationship with Charles:
"Well, there were three of us in this marriage, so it was a bit crowded."
But Diana too started seeing Major James Hewitt.
The differences were widening between the couple and all efforts of reconcilation failed. And in December 1992, they separated. Talking about Prince Charles, Diana had recalled:
"[He] made me feel so inadequate in every possible way, that each time I came up for air he pushed me down again."
The divorce got finalized on 28 August 1996. Diana later dated Dr. Hasnat Khan and Dodi Fayed. But she died in a fatal car accident on 31 August 1997 at Pont de l'Alma tunnel in Paris.
Source: Brightside, Wikipedia