How Priyanka Chopra managed to keep her controversial Grammys gown in place?
Priyanka Chopra received a lot of criticisms and trolls for her exposing unique attire at this year's Grammys. She attended it with her husband Nick Jonas. Her friends and colleagues defended her and she too slammed back at the trolls. And now, Priyanka has revealed the trick that kept her Grammys gown in place.
Priyanka Chopra and her fashion sense
Actress Priyanka Chopra has her own unique fashion choices. But she does know to carry it with style. Lately, her red carpet attire for Grammys 2020 was heavily criticized. Fashion designer Wendell Rodricks said that the 'neckline was going from LA to Cuba' and dress-shamed her. But she clapped back at the trollers and justified her choice.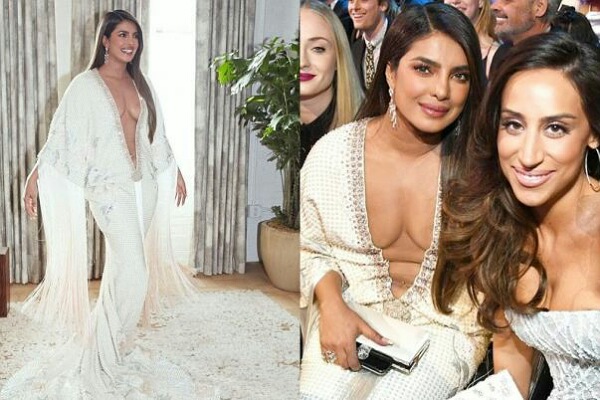 Priyanka revealed that she never steps out of the house unless she feels secure in the dress that she is wearing. She has to feel confident in it.
Priyanka's red carpet gown
The dress that the actress wore for the occasion at Grammys 2020 was a very bold choice. It was a Ralph and Russo outfit which had a very risky plunging neckline going below her navel. It was in an off-white color with small prints over it and having a border. But she pulled it off well. Her husband, Nick Jonas was in a brown round-collared T-shirt with a golden brown suit over it. Both looked adorable together.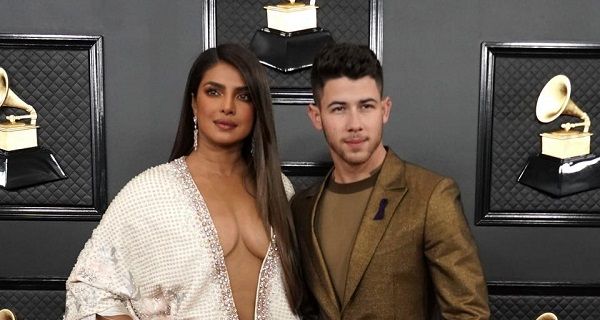 But people and fans were left wondering as to how Priyanka Chopra managed to keep the gown in place. The actress decided to clear people's doubts and has provided answers to their query.
The trick to keep Priyanka's Grammys gown in place
The Grammys gown of Priyanka Chopra was precariously placed and fans feared a wardrobe function. But she revealed what kept the plunging neckline in place.  It was a secret piece of fabric that was responsible for holding the dress together.
Priyanka gave an interview to US Weekly in which she talked about the designers using tulle of her skin color tone to keep the ends together and avoid a wardrobe malfunction. She stated:
"So as much as people might think it would be hard to manage, they found this incredible tulle the same colour as my skin tone and sort of held the dress together with that. So you can't even see it in the pictures but there was no way it would have happened if they didn't have that. It was like a netting."
She added:
"Ralph and Russo, whenever they make couture for me or custom outfits for me, they always do them fitted to my body, keeping these things (wardrobe malfunction) in mind," 
Priyanka Chopra talks more about her clothes designs
The gorgeous actress also revealed that only when she feels super secure in a dress does she step out of her house into the public arena. She told:
"When I decide to wear an outfit I'm not someone who's really nervous because when I walk out of the door, I'm very secure. I don't leave unless I'm super secure," 
Short bio on Priyanka Chopra
One of highly paid and Padma Shri honored Priyanka Chopra is an Indian and Hollywood actress, singer, model, film producer, and philanthropist. She is best known as the winner of Miss World 2000 pageant. She is commonly also known for her role as Alex Parrish on the ABC thriller series Quantico. More bio… 
Source: Indian Express