Rachel Lindsay And Her Fiance Revealed Their Engagement And Wedding Plan; Watch The Couple's Interview In "Live With Kelly And Ryan"
Rachel Lindsay and Bryan Abasolo has finally opened up about their engagement on "The Bachelorette" and their wedding plans on Tuesday's "Live with Kelly and Ryan."
Is the couple planning to tie the knot anytime soon? Or they want to give some time before the wedding?
Here are the further details.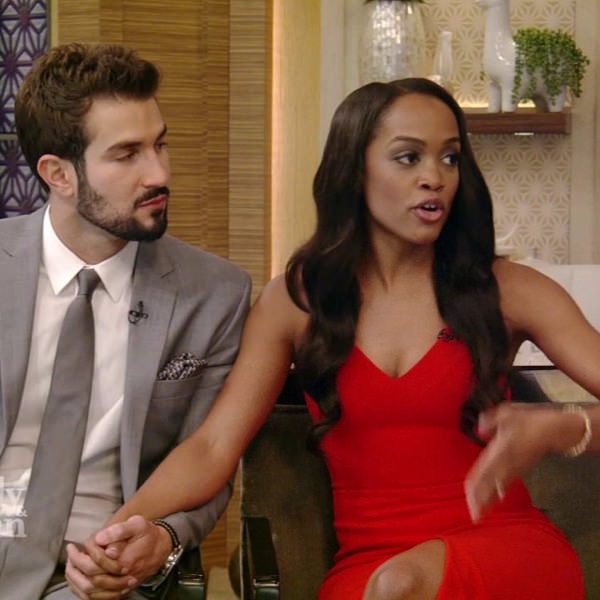 You may also like to read Is 'Bachelorette' Rachel Lindsay already engaged? Know the truth, behind-the-camera details and her real-life
Rachel Lindsay and Bryan Abasolo in 'Live with Kelly and Ryan'
We all know about the relationship of Rachel and Bryan. The couple held their engagement at the finale of 'The Bachelorette'. Recently, they arrived at the set of 'Live with Kelly and Ryan' where they talked about their engagement and wedding plans.
During the conversation, the host of the show Ryan Seacrest explained to his co-host Rita Ora about the 'The Bachelorette Finale'. He revealed that Lindsay chose between Abasolo and Peter Kraus.
Moreover, he explained:
"There was a lot of open-mouth kissing… Peter and Bryan, very good with their tongue. I was really rooting for Bryan."
Ora solved the whole line saying:
"To win a kissing competition?" 
But Seacrest intended he wanted Abasolo to win the whole shebang. In addition, he explained:
 "She gave him the first rose of the season and the final rose. It's storybook, guys"
Moreover, he also shared a snap of his in-the-moment feeling during the proposal.
"Those are real tears. I think I was more emotional than Rachel,"
Meanwhile, when Rachel and Bryan stepped the show, Ora pointed out she was wearing red 'the color of love'. In the show, she also shared her feeling about going public. She explained:
It's so nice. It's the little things that mean so much."
The host of the show, Ryan looked so excited for the couple that he kissed Abasolo on both cheeks to congratulate him. Moreover, in the show, she also revealed that she has "dated a lot of Peters" in years past. Besides, she explained:
 "For Bryan, when I really started to see it was when I had to defend him to my family… That's when I was like, 'It's totally Bryan.'"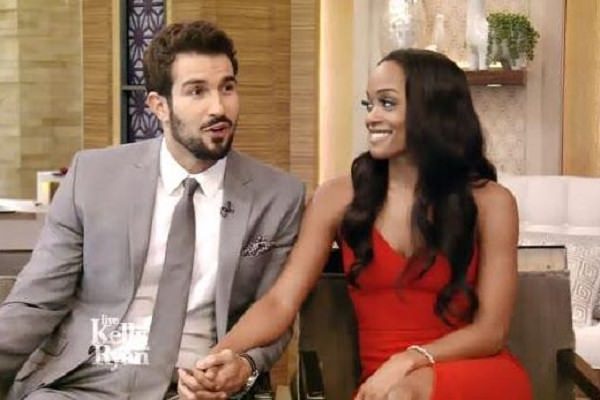 For those who have watched the American Reality Show 'The Bachelorette', we already know that Rachel and Bryan became engaged a few months ago. Though the couple was already engaged, Bryan had to watch the show unfold with the other beaus. In between the talk, Ryan addressed the time and said:
"I was concerned for you. My blood was boiling. He's like a good kisser, too, bro."
In the response, Bryan explained:
 "Obviously it's a little strange to watch your fiancée date 30 other guys… But at the end of the day, I knew she could only be in love with one man, and that's me."
Wedding plans of Rachel Lindsay and Bryan Abasolo
In the show, Rachel and Bryan also opened up about their wedding plans. When the host asked about their wedding plans, Bryan confirmed both of them saying:
"You guys are definitely invited. She wants a winter wedding. Nothing's set yet, so we're thinking about next December, January."  
Moreover, Rachel also added to her fiance:
 "Winter of next year, probably."
She also marked the bashers who have accused her of choosing the perceived runner-up, simply because Kraus wouldn't commit. Furthermore, she explained the whole thing:
"It's so funny to me. I've never been one to settle. I think you can clearly see that I had a lot of love for Bryan and he was the one for me. I would never just choose a ring." 
Also read Past Revealed! Bachelorette Rachel Lindsay and NBA star Kevin Durant Dated in College
More About Rachel Lindsay
Rachel Lindsay is an American attorney and reality TV star. She is one of the most popular television personalities of America who is best known as a contestant in ABC's The Bachelor 2017. See more bio…