Rafer Weigel sacrificed his dreams of being an actor after his father's death and followed his father's footsteps and became a broadcaster. All about his parents, education, wife, children
Rafer Weigel is an anchor and former actor. He worked as a sports anchor at WLS-TV in Chicago. Then in 2014, he joined as a news anchor at KTVI-TV Fox2, 6 pm and 10 pm in St. Louis. But in August 2017, there was news that he is again switching back to Windy City, Chicago.
Rafer got an offer of a higher level position to another Fox station, WFLD (Channel 32) in Chicago and he accepted the offer. He said,
"I would've loved to have stayed in St. Louis; it had become my home. But the chance to go back to my hometown and report is a dream come true."
The general manager of KTVI, Spencer Koch stated,
"We were happy to give Rafer his first main news anchor opportunity. We thank him for his contributions to the station, and we wish him all the best."
Rafer's parents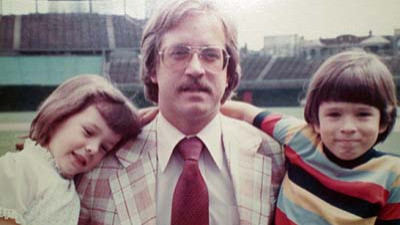 Source: (Childhood picture of Rafer Weigel with his father and sister)
Rafer's father's name is Tim Weigel. He is no more in this world now. In 2001, his father died of cancer at the age of 55 and after the sad demise of his father, he decided to follow his father's footsteps and make his dreams come true. When he got an offer to work in Chicago he said,
I'm excited to return to my home state as a newsman. Sports was a great way to honor my father's legacy, but news is my calling."
But he served as WLS sportscaster in Chicago. His mother's name is Kathy Worthington and she was also . Both his parents worked in Chicago so when he got an offer back in Chicago, he stated,
"I'm so grateful to be coming home to Chicago. The city and its journalistic history are in my blood."
His the grandfather, John Jacob Weigel is the founder of Weigel Broadcasting and he was also the radio announcer of Lawrence Welk. He has two siblings, both sisters phentermine named Jenniffer Weigel and Teddi. His elder sister Jenniffer is a former Chicago television news anchor and author whereas his younger sister Teddi attended high school in 2008.
Education
Rafer did his graduation from Evanston Township High School in the year 1987, and later he attended the University of Illinois at Urbana-Champaign and graduated in 1992. While he was studying, he pursued to be an actor. But after his father's death, his shifted towards broadcasting and journalism.
His relationship and Marriage
In the glamour world of USA, it is so rare to find long-term marriages. When the husband and wife cant compromise for each other, they decided to separate. But Rafer Weigel is not one of those. He is a married man. He is married to his longtime girlfriend, Tiffany Weigel. Tiffany is a photographer. The couple tied the knot in June 2002.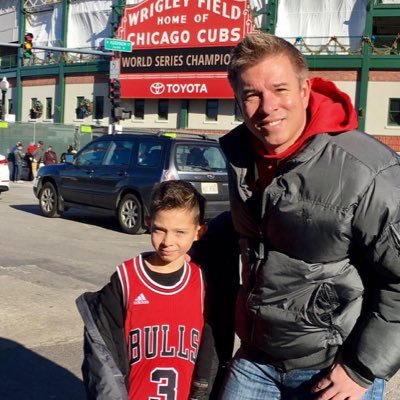 Source: Twitter(Rafer Weigel with his son Heathcliff John Weigel)
They have a child together named Heathcliff John Weigel(son), who was born on 20 November 2009. Heathcliff is named after Rafer Johnson, who is an Olympian.