Bachelor Nation alum Raven Gates and Adam Gottschalk have their second baby on the way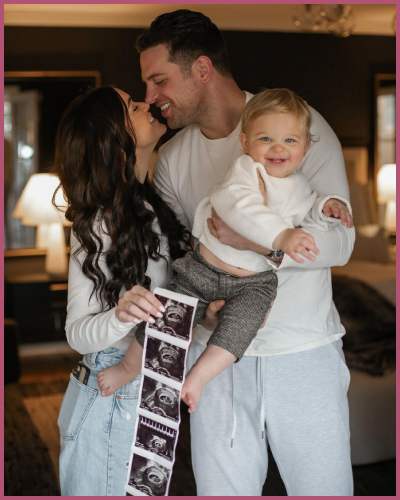 Raven Gates and Adam Gottschalk are expanding their family
The two recently announced the happy news that they are expecting their second child together
Raven and Adam are already a parent to a 1-years old son 
---
Raven Gates is expecting her second baby with Adam Gottschalk
Bachelor Nation alum Raven Gates is currently pregnant with her second baby. The pregnancy news comes almost one year after she gave birth to her first child via emergency C-section.
The pregnant mama, 31, announced the happy news on Monday, January  23, in a joint Instagram post sharing a gallery of adorable family photos, posing and laughing while showing off a sonogram.
In the pictures, the mom and dad matched in white t-shirts with light-was blue jeans whereas the soon-to-be brother opted for a white top and gray pants. They also featured their dog in one of their family photos.
Furthermore, Gates simply captioned the post,
"Baby #2 due in July! Any tips on two under 2? Pray for us!… especially Adam"
The reality tv star also shared another post, a reaction video of her and her husband in which they wrote beside the video, "Censoring Gates diaper change" and later display "Censoring Adams' theory on which time it was".
Also read Pregnant Kelly Kay Shared Heartbreaking Photo of Ultrasounds Alongside the Grave of Spencer Webb!
Similarly, she captions the post,
"A real reaction – Adam is in denial, I am in shock, Gates thinks it's hilarious & Boaz is just checking in on us occasionally. – filmed: November 15, 2022  two under 2! I think we're ready…. Kinda? Due July 2023"
Raven and Adam is already a parent to their 1-year-old son named Gates Zev whom they welcomed in January 2022.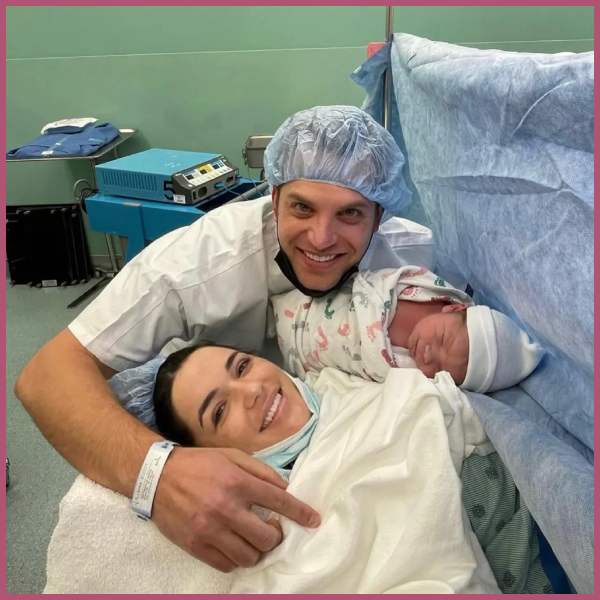 Raven and Adam celebrate Gates's first birthday with a golf-themed bash
The couple celebrated their son's first birthday over the weekend. Raven shared a series of photos from the birthday bash on her Instagram account.
Alongside the adorably documented celebration, she wrote a lengthy message that reads,
"Happy 1 year to my sweet baby. He brings sunshine into a room with his smile & sweet demenour. He loves to be busy like his dad & doesn't sit down for long before he's off running around. The way he lays his head on my shoulder when he's sleepy makes my heart want to explode,"
The boutique owner then gushed over her parenting journey where she shared every detail of her son's activities including his first word i.e, "Bo". She continued,
"The only time he really cries is when his dad leaves for work. He has a naturally hoarse voice that is deep for a baby and it cracks me up. He's very ticklish everywhere! He loves chasing Boaz & especially loves getting in his dog bowl,"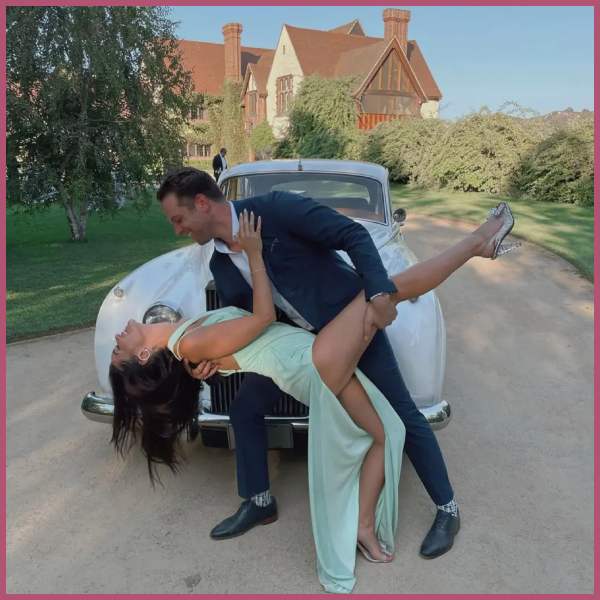 Also read Baby Bump at The Globes! Pregnant Hilary Swank Looks Super Excited at the 2023 Golden Globes!
"His first word was "Bo!"  He's off the charts big & he bulldozes his way through anything to get what he wants but is also as sweet as pie."
Gates then concludes her statement by calling motherhood a "beautiful gift". She said,
"I rock him to sleep every night cherishing these moments because I know one day he won't let me hold him like this. What a beautiful gift it is being your mommy. Adam, now let's go have more babies."
Short bio on

Raven Gates
Raven Gates is an American fashion boutique owner and reality star. She is the owner of her own fashion boutique, Grey Suede established in May 2016.
She rocketed to fame in 2017 after appearing on the reality show "The Bachelor" Season 21 competing for Nick Viall's heart. See more…