Raven Gates and Adam Gottschalk, 'Bachelor in Paradise' alums are getting married!!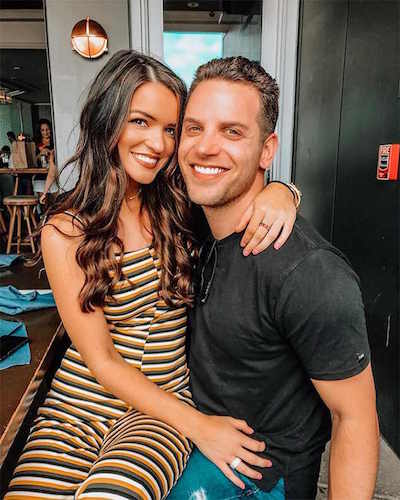 Bachelor of Paradise is known for making lasting relationships and Raven Gates and Adam Gottschalk are no exception.
The 'Bachelor in Paradise' alums Gates and Gottschalk delighted fans over the internet with the news of them walking down the aisle probably soon enough.
---
Update: Raven Gates and Adam Gottschalk became parents in January 2021. It's a baby boy and has been named new baby Gates Zev Gottschalk.
Raven Gates and Adam Gottschalk are officially engaged
Gates and Gottschalk initially met during season four of Bachelor in Paradise and they instantly clicked.
You know when you meet the right person at the right time, it just clicks.
Raven and Adam were always a little different about their whole public affection.
The pair spent most of their time together on the show, however, they opted not to get engaged at the end of three weeks but instead date in real life and see where it goes.
And guess what, it went incredibly well!
The real estate agent from Dallas, Adam Gottschalk proposed to Raven Gates who is a boutique store owner on 31st of May, 2019. Fans are all thrilled to hear the news and equally excited to see them walking down the aisle together.
Both the reality stars took to their Instagram to share the gleeful news. Moreover, they also blessed us with beautiful shots of the proposal.
Also, read about Tara Pavlovic moves on after her split from Sam Cochrane and is engaged to her boyfriend Nick Shepherdson!
A sneak peek of Adam Gottschalk's romantic proposal to Raven Gates
Raven Gates and Adam Gottschalk surprised us with a series of engagement pictures. Gates shared with us via her Instagram the beautiful moments when Gottschalk got down on one knee on a rooftop in Dallas.
And to add more essence to the picture, she paired the moment with lyrics from Shania Twain's "Forever and For Always."
"I'm keeping you forever and for always/We will be together all of our days /Wanna wake up every morning to your sweet face,"
Aww! it couldn't get cuter than this. She showed off her engagement ring while sharing a romantic proposal kiss with Gottschalk.
Also, read about The Pussycat Dolls' Jessica Sutta ties her knot with Mikey Marquart In Malibu. Get an inside of her Malibu wedding!!
Gottschalk talks about his surprise proposal event
An interview with E! News featured Gottschalk, which gave us the backstory of how Gottschalk had surprised Raven with the proposal. Gottschalk explained he had tricked Gates by making her believe they were doing a photoshoot for her online boutique.
He said,
"She thought it was a normal shoot day. We were at the helicopter pad on the roof and Raven had roses in her hand. She was throwing the petals up for cute photos,"

"She did a few practice runs and then the videographer slipped me the ring and once she threw the petals up, I got down on one knee. I blacked out, but I got everything out that I wanted. I legitimately broke down and cried. It took me 30 seconds to pull it together. After I saw the video that the videographer made, I was sobbing for hours."
On Tuesday, Gottschalk gave us the chance of viewing what actually happened behind all the proposal's surprises. He posted a five-minute Instagram video that documented the proposal.
In the video, he shared,
"This weekend has been a work in progress for the last 4 months. I went to bed with you Thursday night as my girlfriend and woke up to you as my fiancé on Friday! I can't believe all the love and support from everyone over the last couple of days."
Last year, the couple interviewed ET and couldn't stop gushing about their relationship. Raven Gates said,
"He is so sweet to all my girlfriends, and the way men treat other women is how they're going to treat you, and how they treat their mother, Adam is so sweet to every woman he comes in contact with. I just love that about him."

"I think it's [her] passion [that I love so much]," Gottschalk expressed. "People may see her as the Southern girl who's so reserved and quiet, but she's really, really smart and she knows how to get herself out of issues very easily. I think that's attractive to have someone who's passionate, but also just empowering in her own way of business." – Adam Gottschalk
After their romantic proposal event, the couple shared they celebrated with their loved ones: family and friends. They were poured with tons of love and support from other members of the Bachelor and its spinoff series. Congratulations! to the pair on their engagement and best wishes for their future together.
Also, read about Celebrities who are likely to get married in 2019!
Short bio on Raven Gates
Raven Gates is an American fashion boutique owner and reality star. She is the owner of her own fashion boutique, Grey Suede established in May 2016. She rocketed to fame in 2017 after appearing on the reality show "The Bachelor" Season 21 competing for Nick Viall's heart. More Bio…
source: brides