Read here about Salma Hayek's rejection of Donald Trump's dating attempts, her miserable feelings at her dog's death and her praise for her new film!
Donald Trump's advances towards Salma Hayek
American-Mexican film actress, producer, and former model Salma Hayek split the beans on 8th June 2017 on Comedy Central's 'The Daily Show with Trevor Noah' about how the present President of America Donald Trump had tried to persuade her once for a date. She revealed that several years ago she had gone to an event with her then boyfriend whom she did not name. She was feeling a bit cold. At that time, Trump walked over to her and placed his jacket over her shoulders. She recalled:
"I turn around and my boyfriend — so charming, so nice — he said hello [to Trump]. [Trump] said, 'I'm sorry, your girlfriend, I saw she was cold.'
Salma Hayek said that after this, Donald Trump kept talking to her boyfriend.
Salma Hayek said that Donald Trump then befriended her boyfriend and invited the couple for a dinner after the event. Remembering the time, Salma Hayek said:
"The whole time, he's talking to my boyfriend. And then he's like, 'If you guys are ever in New York, you can come to Atlantic City, you can stay in my hotel. Give me your number, give me your number.'" 
Salma added that Donald Trump never spoke to his boyfriend after that night, but he then called her and asked her out for a dinner. But he never invited her boyfriend or even mentioned to her about getting him along with her. Donald Trump went on to say that Salma's present boyfriend is not good enough for him. He then said:
"He's not important, he's not big enough for you. You have to go out with me."
Salma Hayek was surprised that even though she had a boyfriend, Donald Trump was asking her out for a dinner date alone. Salma Hayek told him at that time:
"When I told him I wouldn't go out with him even if I didn't have a boyfriend…"
He was offended and planted a story against her in National Enquirer as a payback. The story said that Donald Trump rejected Salma because she was too short. Playing innocent, he then left a message for Salma which read:
'Can you believe this? Who would say such a thing? No, I don't want people to think that about you'.
Salma added:
"He thought that I would try to go out with him so people wouldn't think that's why he wouldn't go out with me."
Salma at that time decided not to respond to his message at all.
Last week, Salma Hayek has slammed Donald's decision to back out of the Paris Agreement and called it an act of stupidity.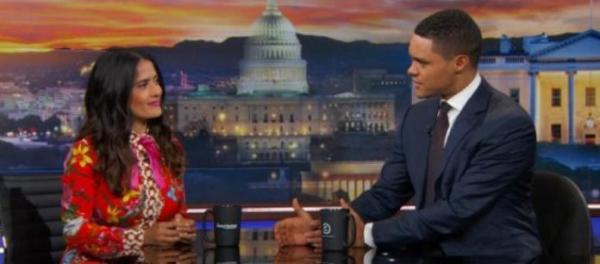 Salma Hayek loses her pet dog
Salma Hayek had a very lovely dog called Mozart whom she had delivered using her own hands. This dog was killed by her neighbor in February 2016. It was found dead on her ranch with a gunshot wound close to his heart. She poured her emotions and wrote on her Twitter:
"I haven't posted for a week as I been mourning the death of my dog, Mozart who I personally delivered out of his mother's womb. He was found dead in my ranch last Friday with a shot close to his heart. I am hoping that the Washington State authorities do justice to this wonderful dog whom in 9 years never bit or attacked anyone. He loved his territory and never strayed away…he was the most loving and loyal companion. He didn't deserve a slow and painful death. #doglover #animalrights #dog#dogoftheday #rip #delivery #washingtonstateauthorities"
She also remembered that the police and everyone around her behaved as if nothing great or wrong had happened. Salma Hayek then called Miguel Arteta her director friend and sobbed:
"I am discovering a whole new America that makes me think that Trump is going to win."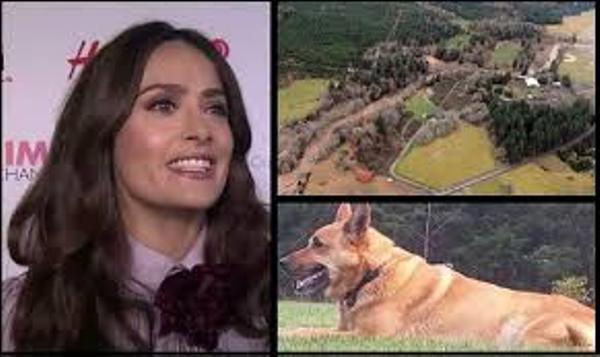 Salma Hayek's dig at Donald Trump
While talking about her new movie 'Beatriz at Dinner', Salma Hayek said in an interview on 11th June 2017 that the film talks about how the world has changed in the last few years. The film deals with the problems that are happening all around the world-development, rich isolation, a lack of empathy for others. It is about conversations at dinner to show the polarization of the world. She says that the film's script is something larger than Trump. She said:
"Trump frequently doesn't make much coherent sense when he's speaking not with a prepared speech, he just dithers from one idea to another without completing a thought, but Mike's Doug, though he's a building mogul, is more representative of thousands of individuals who disregard any viewpoint that's counter to their own personal gain and he can actually present those ideas with a conviction because he's in a bubble of people who all think the same. There's no push back against these ideas unless someone outside the bubble questions it."