Read the latest: Donald Trump's wife, Melania Trump has finally shifted to the White House, her dressing styles and rumors about her cosmetic surgery!
The permanent shift!
American President Donald's Trump's wife Melania Trump has finally made the move to the White House for good. The first lady announced on Twitter on 11th June 2017 that she has shifted to the White House. She has left her $ 100 million New York City penthouse to be beside her husband. Melania Trump, 47 uploaded a photo of the view from her new home and captioned it as:
 "Looking forward to the memories we'll make in our new home! # Moving Day"
When Donald Trump, 70 took over as the President in January this year, it was decided that Melania Trump would stay in NYC with their son Barron to prevent any disruption in the 11-year-old's schooling. It was also officially confirmed that Melania would join her husband at the end of the school year. It was also said that this was the plan right from the start. It has been informed that Barron would be attending St. Andrew's Episcopal School in Potomac, Maryland from fall 2017. Barron seems to be the first boy to reside in the White House since John F. Kennedy Jr. who had stayed in this house in 1963 when he was just three years old. Even before her arrival at the White House, Melania has held several big events there. On 17th April 2017, she had the annual White House Easter Egg Roll celebrated at the South Lawn. At this function, she also read Kathie Lee Gifford's book 'Part Animals' to a group of gathered children. She told the kids:
"Do you know about the book? I really like the book because it shows that we are all different, but we are all the same."
To the larger crowd which was a part of the event, Melania said:
"As we renew this tradition, thank you for joining us. On behalf of the president and Barron, we wish you great fun and beautiful days coming ahead of us."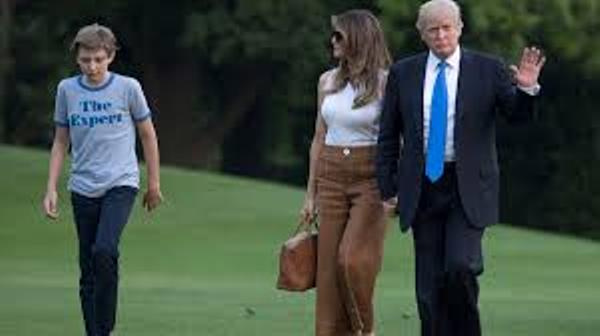 Evolution of Melania's style (1999-2017)
Melania Trump was a Slovenian beauty and a model before she met President Donald Trump and married him in 2005. In spite of having no personal stylist, Melania has always had a refined sense of style and worn elegant attires for all the functions and campaigns. It has only got better with time. In June 1999, she was seen in a strapless shimmering gown with a slit with Donald Trump at the 27th annual Fifi Fragrance Awards in NYC. For the Aida opening in NYC in March 2000, she had adorned a patterned sky-blue gown with a lace neckline. She had a plunging beaded white gown with capped sleeves when she attended the 73rd annual Academy Awards in LA in March 2001 with Donald Trump.
For the Met Gala in April 2004, she was in a strapless black gown with a laced corset accent. She wore a hot-pink halter mini with a plunging keyhole cutout for Shaquille O'Neal's 33rd birthday party in Miami Beach in March 2005. Come May 2005 and she was in a black Alexander McQueen ball gown with a peekaboo white tulle skirt at the Met Gala in NYC. For the 64th annual Golden Globes in Beverly Hills in January 2007, Melania was wearing a periwinkle-blue attire having a draped neckline and a mermaid hemline.
At a reception function at UN in NYC, Melania Trump was dressed in a raspberry halter costume and black peep-toes. She was her fashionable best at the 2010 Michael Kors' New York Fashion Week show in September in a bubblegum-pink sheath with a tulip hemline. She attended the NYC premiere of 'The Dark Knight Rises' in July 2012 in an emerald-fit-and-flare dress and snakeskin stilettos of Christian Louboutin make.
Melania had worn a cream dress with peekaboo slits and bedazzled pumps for the European School of Economics Foundation Vision and Reality Awards in December 2012 in NYC. In April 2015, Melania had adorned a mint gown which an embellished bodice and flutter sleeves when she attended the White House Correspondents Association Dinner in Washington, D.C.
She was in Cleveland in July 2016 for the Russian National Convention. On this occasion, she was in a white Roksanda dress with ruffled sleeves. Melania was sporting an off-the-shoulder Roland Mouret dress at the first Presidential debate in Hempstead, NY in September 2016. She switched to a complete wear for the second presidential debate in St. Louis, Missouri in October 2016. She had a fuchsia pussy-bow Gucci shirt and matching pants. On the Election Day in November 2016, she had a one-shouldered Ralph Lauren jumpsuit.
For the New Year's Eve at Trump's Mar-a-Lago resort in Palm Beach, Florida, Melania played host in a bow-accented Dolce & Gabbana LBD. During her husband's inauguration as the 45th President of the US, there was a private dinner held in Washington, D.C. for his supporters and family. Melania was in a shimmering Reem Acra gown for the event. The next day, she was in a sky-blue Ralph Lauren dress with a matching jacket and gloves, and stiletto pumps.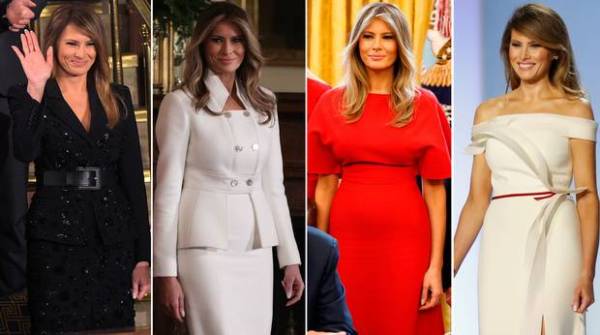 Her nose job?
Melania Trump has come a long way since her modeling days to her being the First Lady of the United States now. There have been widespread rumors for many years about her going under the knife to improve her facial appearance. However, Melania has denied those rumors. In February 2017, she told GQ:
"I didn't do anything. I live a healthy life, I take care of my skin and my body. I'm against Botox, I'm against injections. I think it's damaging your face, damaging your nerves. It's all me. I will age gracefully, as my mom does."
Dr. Jag Chana, a plastic surgeon in Bushey, England is however quite certain that Melania not only gets Botox injected but also has done a nose job. He elaborated:
"Comparing the earlier photo when she is younger and the later life pictures one can see that the nasal shape has changed. The nose is narrower and the tip is more refined."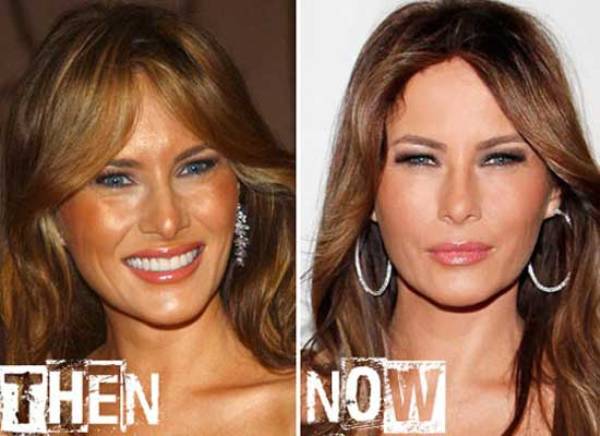 Short Bio on Melania Trump
Melania Trump is a former model who appeared on the cover of Vogue and several other big magazines in the 2000s. She is also a Timepiece and jewelry designer. She is best known as the wife of US president Donald Trump. She became the First Lady of the United States when her husband Donald Trump took office in 2017. More Bio…