Rebel Wilson is back with her bright smile after winning the defamation case! Wilson to be awarded TEN millions after the win!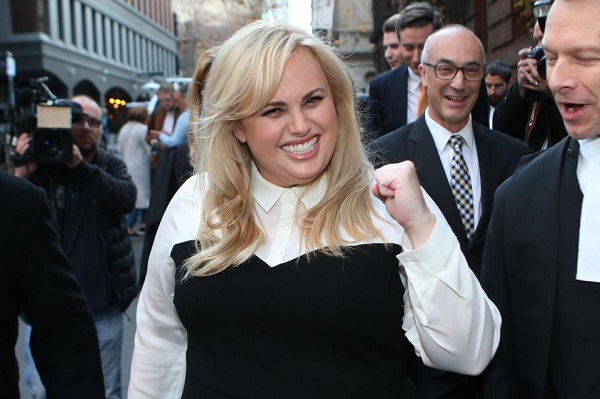 Look at that smile on Rebel Wilson's face! Nothing can stop her from smiling today. She has not only taken over the defamation case against Bauer Media but is also to be getting TEN MILLION DOLLARS as the compensation of her damage.
There are only three words from everyone to her today and that is "Good Job, Rebel". It was not for the money she was fighting but to continue her acting career for as long as she can.
Accusation of dishonesty
The pitch-perfect star, Wilson was accused of being dishonest about her age and name by the eight articles published in Woman's Day, Australian Women's Weekly, NW and OK magazine in 2015.
She had to lose her films and had her career in danger after the accusation. The articles said that she was just 29 years old with a different name and her real childhood. She was given the name of "Serial Liar" by the magazines.
Due to these, she has sacked away from two feature films of 2015 and 2016. She sued Bauer Media, owner of the magazines, in May for the accusation from 2015.
A victory worth it
After Wilson sued Bauer, she had to be in and out of court for three weeks. The three-week-long trial was not easy for Wilson. She herself had to stay in the witness box for six days answering about 40 questions of the judges.
She had to submit all her passport, birth certificate and childhood photos to the court. It was reported that Wilson cried, rapped, laughed and joked in the court.
Though Bauer denied all the evidence, the judge finally decided to take the side of Wilson and declared the result in her favor at last. After winning the case, Wilson came out of the courthouse with all smiles and shine.
She declared about the stain that the magazine had tried to out on her career was removed. She also spoke about why she had decided to go for the case. She didn't want to fight for the case for money but to clear her name and get the reputation back.
She had to suffer from losses. She couldn't do what she loved as her contracts were being canceled again and again. But, now she is glad to get to clear out her name and get do what she liked.
She spoke to the media and said:
"This has definitely been a long and very hard fight. But, I feel that I had to take a stand. I had to stand up to the bully. The reason I'm here is not for damages, it's to clear my name. And the fact that the jury has done that unanimously and answered every single of the 40 questions in my favor I think proves what I've been saying."
You may like to read Flab to Fab! The story of actress Rebel Wilson and her weight loss transformation!
Her lawyer, Mr. Quill spoke about the millions of aware of the damage she could get as he said,
"Defamation in Australia is capped for normal damages at just over $380,000 but if you can prove that you've lost money, lost a contract or a job, then you get the value of that contract or job. In her case, knowing the sort of money she can earn, that could be millions. So you've got normal damages and you've got special damages and the real question is whether she gets special damages because that's where the big money is."
Many celebrity friends of Wilson, as well as her fans, congratulated her for her victory in the social media. Among the celebrity well-wishers were Lleyton Hewitt, Delta Goodrem and many more.
Congrats @RebelWilson ? They have to be held accountable. Justice is done! https://t.co/FHJ1vT6bj1

— Lleyton Hewitt (@lleytonhewitt) June 15, 2017
Congrats @RebelWilson
Woman's day has been a disgraceful magazine for a long time,hopefully this makes them report facts & stops the rubbish

— Shane Warne (@ShaneWarne) June 15, 2017
congratulations @RebelWilson ! sock it to them!!! #CrushedIt

— Carly Steel (@carlyjsteel) June 16, 2017
??LOVE and RESPECT for the INCREDIBLE @RebelWilson. ENOUGH is enough of media lies. #TRUTH xo❤️

— Delta Goodrem (@DeltaGoodrem) June 16, 2017
Wonder Woman was kick-ass awesome!

— Rebel Wilson (@RebelWilson) June 15, 2017
We too congratulate Rebel Wilson for winning the case and hope you will get more movie contracts in the future.
Also read Have they split again? Miley Cyrus seen alone at the Grammy Awards function without husband Liam Hemsworth!
Short Bio on Rebel Wilson
Rebel Melanie Elizabeth Wilson is an Australian stand-up comedian actress, writer, and producer, popular for her role in Pitch Perfect (2012) and Pitch Perfect 2 (2015). And now she is currently shooting for her upcoming movie Pitch Perfect 3. Wilson's other popular work includes Bridesmaid, Bargain! and Super Fun Night. More Bio…