Rejection for a hug from Jerry Seinfeld when Kesha asked for between an interview is going viral all over! Click for more details!
The painful rejection by Jerry Seinfeld when Kesha asked for a hug is going viral everywhere. He refuses a hug from Kesha when she interrupted Seinfeld in the middle of an interview on Monday.
He has also given some explanations regarding this topic. He claims about the reason why he discarded for giving a hug to Kesha.
Refusal of Kesha's hug by Jerry Seinfeld
The relatable video about the information is the following:
In an interview on Monday night, the singer-songwriter approached the comedy legend of the red carpet for a National Night of Laughter and Song event at the Kennedy Center in Washington, D.C., enthusiastically introducing herself and professing admiration for Seinfeld's work.
In the above video, the clear rejection for a hug by Jerry Seinfeld when Kesha asked for is shown clearly, The video is going viral and it had been the topic of gossip for the public as well as audiences.
When Jerry Seinfeld was attending an interview, Kesha suddenly interferes and says,
"I'm Kesha, I love you so much! Can I give you a hug?". Then, Jerry Seinfeld responds by refusing to hug by saying "No thanks."
He even said no thanks twice and avoided to hug Kesha. And again Kesha said "Please? A little one?"
Clarification given by Jerry regarding his own refusal of Kesha's hug
Kesha, the Tik Tok pop star of 30 approached the comedian of 66, Jerry Seinfeld while he was being interviewed at the National Night of Laughter and Song event at the Kennedy Center.
But the comedian had refused to give a hug. She tried for two times but his reply remained the same. Jerry Seinfeld had given some clarification by explaining the reason to not to hug Kesha.
You may like to read Gwyneth Paltrow and Brad Falchuk are to wed today! They had a rehearsal dinner party at Jerry Seinfeld's house!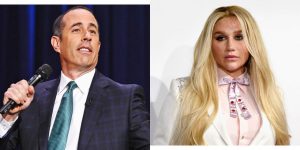 "I'm 63, I don't know every pop star…I don't know everyone. I was right in the middle of an interview, it was a little off When you get to be my age and you've done a couple things, you have your own reality, in my reality, I don't hug a total stranger. I have to meet someone, say hello. I gotta start somewhere … a hug is not the first moment of a human, two humans. I never did that."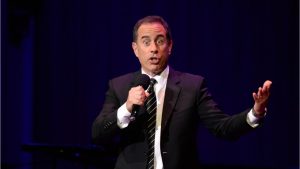 "I got a borderline harassment case here! sure he would've liked her" but he just didn't know who she was. And though he didn't end up ever giving Kesha the hug, he did say the two laughed about it backstage. She was very nice about it, we laughed about it."
After the rejection for the hug, when Kesha walked away, Seinfeld told the reporter
"I don't who that was."
When the reporter mentioned that she was Kesha, Jerry Seinfeld still remained confused.
Also read Celebrity couples with alternative living arrangements as a secret to long-thriving marriages!
Short Bio on Jerry Seinfeld
Jerry Seinfeld is an American comedian, producer, actor, and writer too. He was best known as he co-created and starred in the sitcom Seinfeld, which ran on NBC from 1989 to 1998.
It was one of the most popular television comedies of all time.  He is known for playing a semi-fictional version of himself in the sitcom Seinfeld. More Bio…
Short Bio on Kesha
Kesha is an American pop singer. She is best known for her music and more for her legal battles with the producer. She is also a songwriter and a rapper.
Her music and image propelled her to immediate success with her debut album. She has also been involved with animal rights and LGBT activism. More Bio…