Everything You Need To Know About The Relationship Of Bryce Hall And Addison Rae; Is It Rumored Romance Or Dating?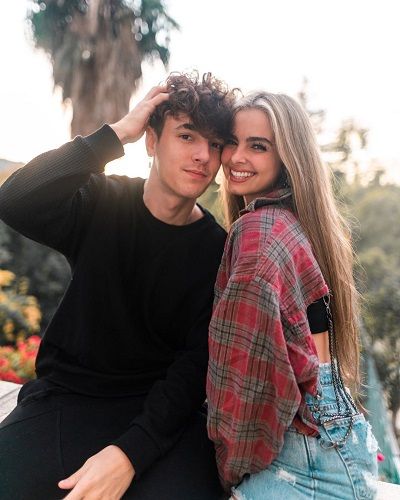 Addison Rae and Bryce Hall took over their follower's hearts with their flirty dances on the video-sharing app 'TikTok'.
The couple started getting millions of views on their videos and a huge number of followers with their videos.
---
However, as per the news, the couple parted their way, but their constant meetup of them led to people thinking they are back together.
Back in May, when Hall got arrested for drug possession with his friend Jaden Hossler. At the time, there were rumors that Rae paid for their bail from jail to which she never confirmed or denied the news.
Are Addison and Bryce still dating?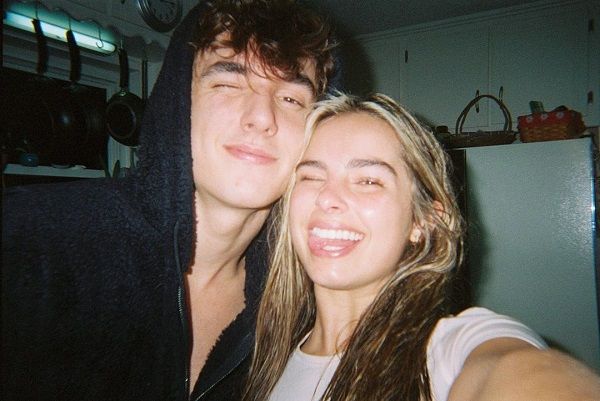 People go back and forth with the idea of them still dating or them breaking up as they still hang out. Though they are open to their fans that they are still friends, however, fans think it's more than friendship.
Back in January, during an interview, Rae mentioned they are better as friends. Furthermore, she also deleted the kissing photos which went trending on the Internet.
The pair decided not to speak about their relationship status and the rumors of their romance were all over the internet.
Rae and Hall continuously made videos and also posted pictures together and this became very confusing to their fans and followers.
Back in April, Hall revealed on Instagram live that he want to get back with Rae, however, a few days back he stated they are still friends.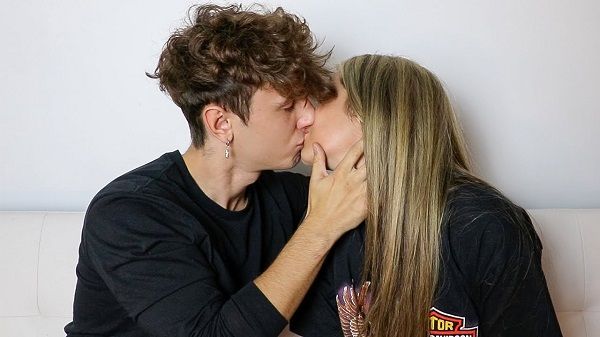 Addison Rae revealed they are only friends
Rae's mom made it clear with her tweet that they are not dating anymore. However, in June, the tweet Bryce about Addison again gave the hint that they are back together to their fans.
With all the ongoing rumors about their relationship, Rae posted a dance video of two which had the lyrics of 'My Man'. After the video went live on TikTok, their fans started pointing out the lyrics and commenting on the video.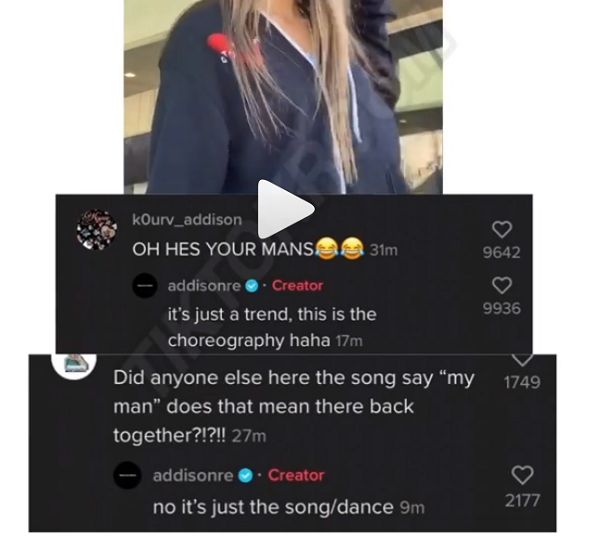 Though the Tiktoker has not yet made any official statement about their relationship, she replied to one of the comments of her fans on her viral video.
She replied to the query of one of her fan's comments asking her if Bryce is her man.
The Tiktoker replied to the question by saying:
 "It's just a trend, this is the choreography, No it's just a song/dance"
Despite denying their relationship, Addison and Bryce still reunite for many YouTube videos and Tiktok videos. They also make appearances on each other's Instagram frequently.
Meanwhile, neither of them has given their official statement and made a clear response to their friend's question.
You may also read- Sarah Jessica Parker launches her new reality dating show on Showtime called Swipe Swap!
More About Addison Rae
American Addison Rae is a TikTok star, Instagrammer, YouTuber, and social media personality. She is best known for her lip-sync, dance videos, and her regularity on her TikTok account. As of December 13, 2019, she appeared on the 19th Annual Streamy Award at the Beverly Hilton Hotel. See more bio…
You may also read- Relationship Advice Of Jennifer Garner; What Did Garner Say To Her Fan?