Relationship Of 'Duck Dynasty' Star John Luke Robertson With His Wife Mary Kate!! Know What He Said About His Married Life, And His Book
'Duck Dynasty' star famous for his family television reality show 'Duck Dynasty' John Luke Robertson often talks about his married life and wife Mary Kate in the media.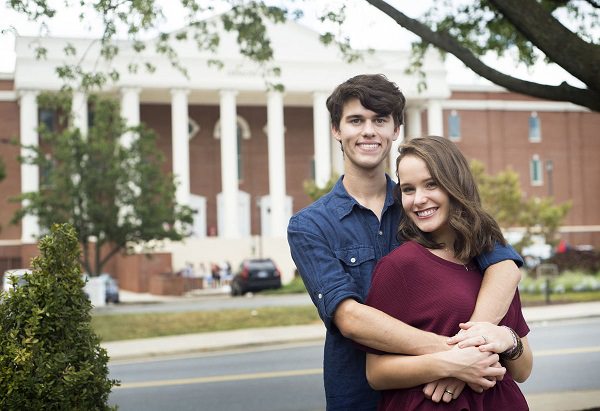 The oldest son of Willie and Korie Robertson who tied the knot with his girlfriend last year stayed in highlight about his marriage and also his book.
John Luke Robertson talks about his married life and his book
John Luke though is of young age but he has been balancing both college and married life. And after that, he also managed to write a book 'Young and Beardless'. No doubt, he is the inspiration for all the young people out there.
He wrote the book with the inspiration from his wife Mary Kate and hopes other would live their life to the fullest. John got engaged to Mary in October and then tied the knot on last year July. John talked about his book with ABC before his book released.
"Chronologically, the book starts right before we got engaged and then it ends when we get married. It really shows our whole story from late dating to engagement to the wedding. She really had a lot of influence on what I talked about and she put a lot in there for the younger female audience. I'm glad her influence got to be included."
Alongside his own love life and relationship, he also focused the people who are between 18 to 25 years. Furthermore, he described his book:
"I think we have more opportunities and resources at our disposal than any other generation before us. And I think that a lot of the time, we waste all of that on Netflix. Our culture, you get respect by watching 25 hours of a TV show. I watch a lot of TV, but there is so much more we could be doing with our time."
As managing life with college, relationship, and career is not the easy job. John describes his juggling life saying:
"We always have dinner together, that's the staple. No mater what's going on, what we are doing, we always have dinner together … [Also] at night, we do school work and whatever else we are working on,"
Moreover, he also describes his married life with his wife Mary:
"Just being able to be with her everyday … going to college with her, building a house and moving into a house with her, that's just been so fun,"
This adorable couple is enjoying their married life happily with each other. They often share their snaps in their social media accounts.
More About John Luke Robertson
John Luke Robertson is a television personality. He holds American citizenship. Notably, he is a prominent figure among the public for appearing in the Robertson family show, "Duck Dynasty." The show follows the lives of Robertson family. It aired from 2012 to 2017. Additionally, he is also an author. See more bio…