Relationship Advice Of Jennifer Garner; What Did Garner Say To Her Fan?
Jennifer Garner is one of the famous actresses of the Hollywood industry. She has gained huge fame and millions of fans all around the world.
The actress who started her career back in 1995 has made her remarkable performances in movies like Sasha, Zoya, and her first lead role in Rose Hill.
Garner has made her place on her fan's heart not only with her amazing performance but also her great interaction with them. Recently, she gave a heartfelt message to one of her fan who was upset.
Relationship advise of Jennifer Garner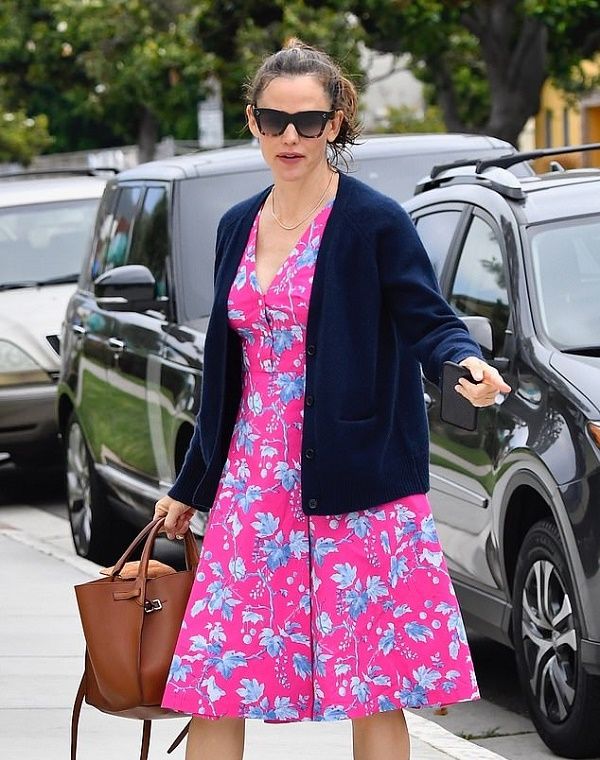 Garner is constantly making several posts on her social media to entertain her fans and followers on this quarantine period.
She tried to spread positivity on her Instagram account through her posts and interacts with her fans too.
Recently, when the whole world is going through a pandemic, she tries to uplift her fan's mood with her silly quarantine outfits to Biscotti recipes.
In one of her posts, when she saw a sad comment from one of the fans, she decided to handle it in her own way.
That fan made a comment on her post saying:
"I wish I had your happiness and feeling of security. And I don't say that resentfully because you present yourself as a good and kind person. Your actions show you to be good and kind,"
Moreover, the fan also mentioned her getting about an abusive relationship with her husband. She further wrote:
 "It's that I have finally gotten the courage to tell my husband to leave after years of emotional abuse and I feel like I will never find happiness or security. I find a sense of balm from seeing yours but it's also mixed with a winsome feeling because I don't think I'll ever be there. He is so vindictive and powerful and I have nothing and no one. Why am I saying this to a stranger? I really don't know."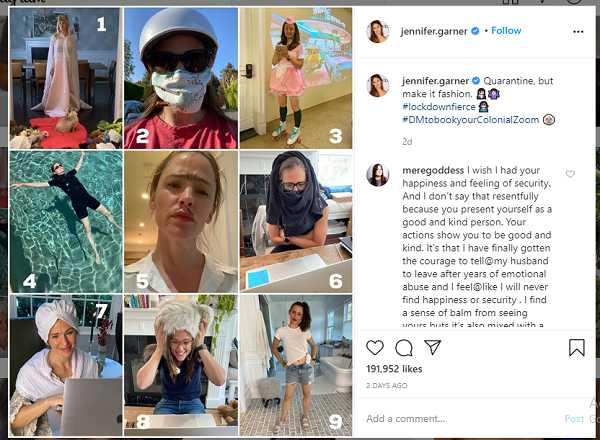 Jennifer herself who parted her ways with her husband  Ben Affleck, in 2018 after a long separation replied to the comment of the woman.
Additionally, the actress wrote:
"Your heart sounds heavy, I am so sorry. Hopefully you have powerful women in your corner, reminding you of your strength and your worth. Hopefully, you are able to calm your mind with prayer/meditation/ exercise/ art. Laughter will come and really ― it is worth fighting for. Until then, all of my love. "
Garner parted her ways with the father of her children after 10 years of their marriage. The former couple has three children Samuel, Seraphina, and Violet together.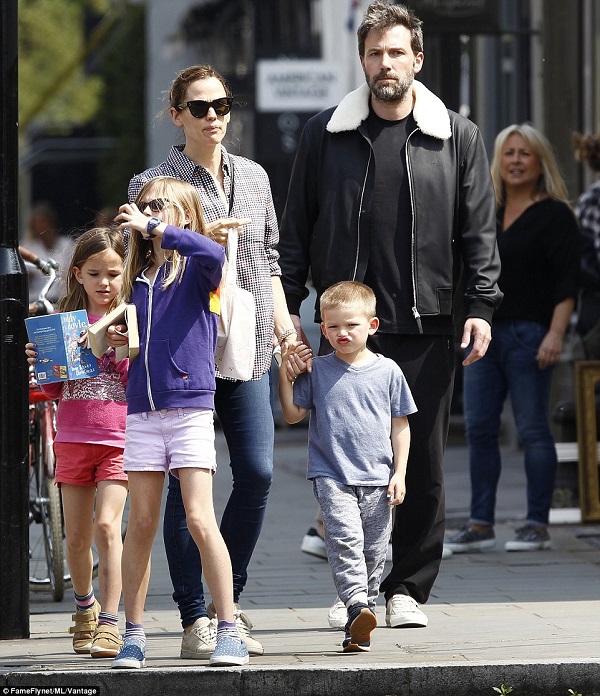 You may also read- Relationship Guide; Man Of Other Zodiac Sign Compatible With The Cancer Woman!
More About Jennifer Ganer
Jennifer Garner is an American actress and producer. She has portrayed a role in CIA secret agent Sydney Bristow in the thriller series Alias. For her performance on the series, she won a Golden Globe Award, and a SAG Award. She also received four Emmy Awards nominations. See more bio…
You may also read- Ryan Seacrest and Shayna Taylor have ended their seven years' old on-off relationship!